From the Trousseau of Mrs. Cromwell Brooks 1922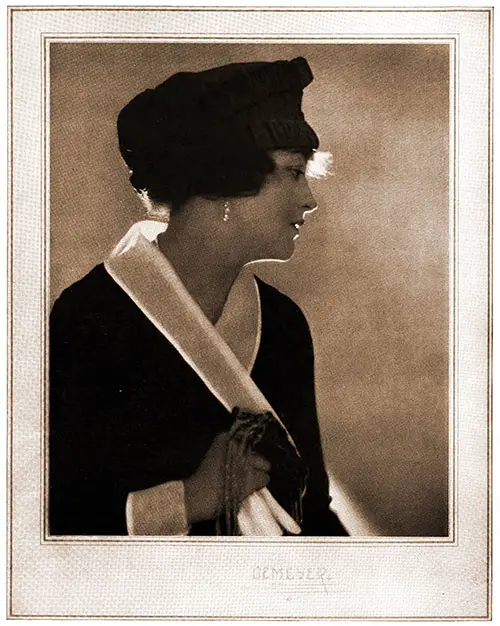 Mrs. Douglas MacArthur, Formerly Mrs. Cromwell Brooks (Neé Louise Stotesbury), Is the Only Daughter of Mrs. Edward T. Stotesbury of Philadelphia. Her Recent Marriage To Brigadier-General Douglas MacArthur, the Commandant of the United States Military Academy at West Point, Was an Event of Unusual Interest. General MacArthur Has the Distinction of Being the Youngest General in the American Army. Vogue Magazine, 1 April 1922. GGA Image ID # 15faeed82f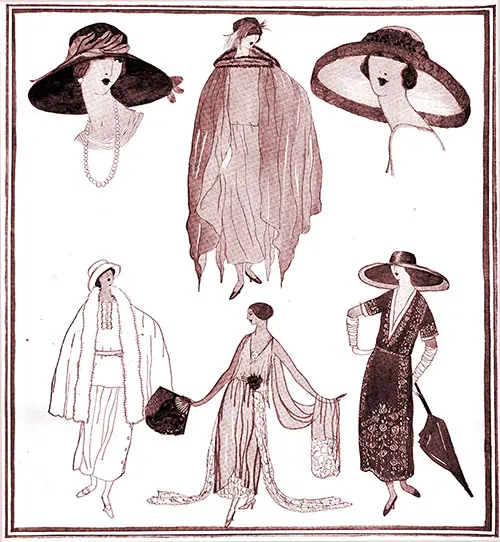 From the Trousseau of Mrs. Cromwell Brooks 1922. Vogue Magazine, 1 April 1922. GGA Image ID # 15faf805b7
(Above Left) The cape and frock combination, which clearly intends to rule the world of sports this season, is here developed in white kasha, and white rabbit forms the revers and collar; this costume and that above, middle, from the Lichtenstein Millinery Company
(At the upper left) The summer sun may gild the crown of this Lanvin hat of orange timbo straw and lend brilliance to the great oak leaves of felt, but the wearer rests securely in the protecting shadow of its wide and drooping brim, which affords both shades and becoming background; from Bendel
(Above Center) For evening wear, Frances has designed a gown on lines similar to those of the wedding gown. It is of orchid chiffon combined with silver lace. The latter trims the scarf and makes entire panels on the skirt, and a knot of orchids accents the girdle
(Upper middle) Mrs. Brooks' "going away" costume is of beige crepe; from the Lichtenstein Millinery Company. The cape is lined with lighter chiffon and collared with summer ermine in straight bands, and the hat is a Frances model in matching (ripe, trimmed with a drooping spray of burnt goose feathers.
(Above Right) The red for which the spring mode had so marked a fancy appears in a handkerchief linen frock of tomato red, with a matching hat of very thin straw widened by a band of tomato red tulle. The frock is embroidered in white cotton and edged with net; from Bendel
(At the upper right) To accompany the light frocks of summer afternoons, Mrs. Brooks has chosen a hat of jade Neapolitan straw to which Frances has given one of the becoming borders of narrow black lace. A wreath of black velvet grapes encircles the low, round crown of green straw.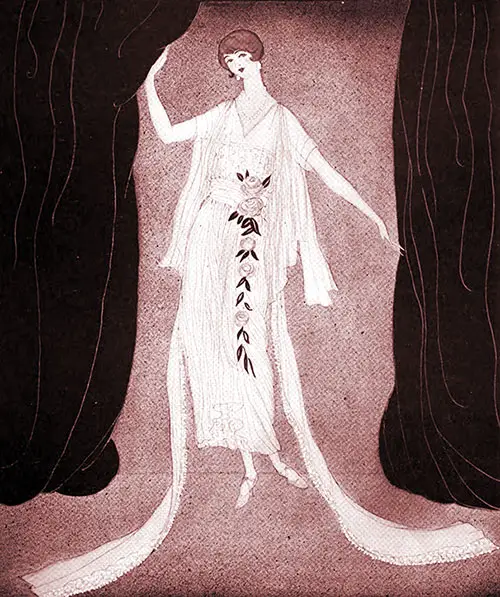 At the Recent Wedding of Mrs. Cromwell Brooks and Brigadier-General Douglas Mac Arthur, at "El Mirasol," the Home of the Bride's Mother, in Palm Beach, the Wedding Gown Was a Happy Combination of Peach Chiffon and Cream Color Bruges Lace, Designed by Frances. Softly Draped Chiffon Veiled the Lace of the Straight Slip and Floated in Airy Draperies From the Sleeves, While Long Chiffon Panels Edged With Bruges Lace Made a Double Train. White Camellias Fell in a Long Spray From the Wide Girdle. GGA Image ID # 15fb184840
"Selections from the Trousseau of Mrs. Cromwell Brooks," in Vogue Magazine, New York: The Vogue Company, Vol. 59, No. 7, 1 April 1922 (Early Paris Openings and Brides Number), pp. 56-57 & 74.