The Bride's Trousseau - 1912

This spring's brides are rejoicing over the opportunity fashion has afforded them of being picturesque. Among their trousseau gowns, several charmingly feminine frocks may be included, which by their very quaintness lend the impression that the wearer has just stepped out of the frame of some old portrait of the 1830 period.
This originality can be attained even though the frocks are fashioned at home by a talented seamstress rather than at one of the high-priced shops.
Taffeta will figure largely both as a gown and suit material this spring, no other material approaching it in popular favor. The very fact that a gown is made of these silk stamps it immediately as of this spring.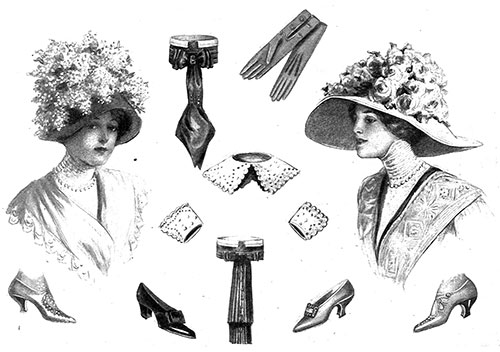 A soft, lustrous quality and only the better grade is used, for our grandmothers assure us that it is useless to make up anything but the very best sort of taffeta.
Speaking of grandmothers, many a hint as to how to fashion frayed taffeta fringes, how to make corded seams, heavy cord trimmings, pullings of taffeta, and how to bind scallops can her grandmother give the June bride.  
It is just these little old-time touches, so familiar to the older generation, which gives to this season's frocks the quaint effect which stamps them as really smart.
The fact that so much hand-work is to be used makes it possible to fashion these gowns at home.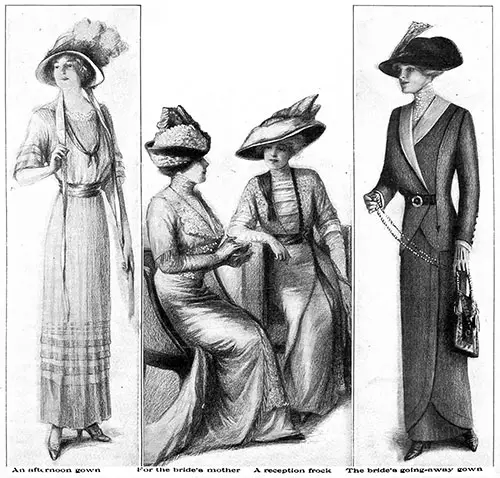 The other gowns are for the bride's trousseau. The frock for the bride's mother to wear at the wedding is developed in smoke-gray crepe météore—a fabric that is next to taffeta in popular favor. The collar and front are of cream lace, and a pretty silk fringe is the trimming.
"The Bride's Trousseau" in Harper's Bazar, New York, Harper & Brothers Publishers, Vol. XLVI, No. 3, March 1912, p. 135.
Editor's Note: Some terminology used in the description of women's clothing during the 1800s and early 1900s has been changed to reflect more modern terms. For example, a women's "Toilette" -- a form of costume or outfit has an entirely different common meaning in the 21st century. Typical terms applied to "toilette" include outfit, ensemble, or costume, depending on context.
Note: We have edited this text to correct grammatical errors and improve word choice to clarify the article for today's readers. Changes made are typically minor, and we often left passive text "as is." Those who need to quote the article directly should verify any changes by reviewing the original material.