Novelties and Negligee Christmas Gifts - 1912
Simple and Dainty Negligees for Christmas Gifts 1912
GH 1912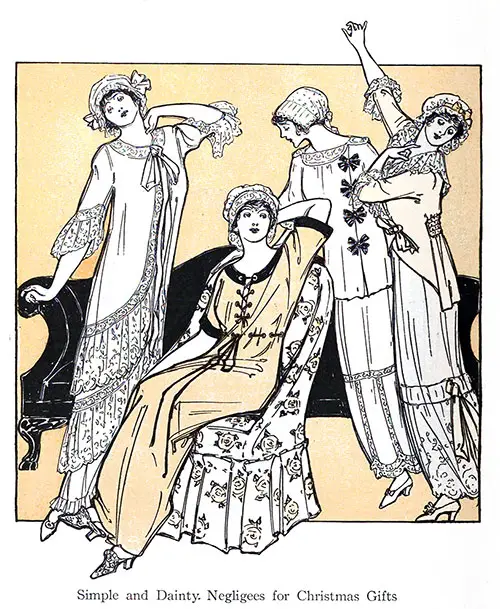 Simple and Dainty. Negligees for Christmas Gifts. Good Housekeeping Magazine, December 1912. GGA Image ID # 1647460979

No. 436 - Cop of net or a lingerie material with bows at the side and trimmed with lace.
No. 437 - Three-quarter negligee with flounces of lace or plaitings of the material headed with lace bands.
No. 438 - Quaint cap with shaped lace ruffle, longer in the back.
No. 439 - One-piece gown, lacing in the front and with the slight fullness held in at the Empire waist line. No. 440 - Pretty cap of embroidered muslin with the fullness caught in the back.
No. 441 - Combing jacket with lace, or embroidered, collar and epaulettes, and fastened with bow of ribbon.
No. 442 - Well-cut petticoat, fastening on the left side. Can be used as easily for a plain skirt as one trimmed with lace.
No. 443 - Dainty cap of net with shaped lace frill and bow and rose of satin ribbon.
No. 444 - Simple negligee of silk or muslin with shirrings in the back, cutaway fronts and a soft ruffle of lace which may be omitted.
No. 445 - Pretty lingerie skirt with puffing concealing the ribbon and deep lace or embroidery flounce.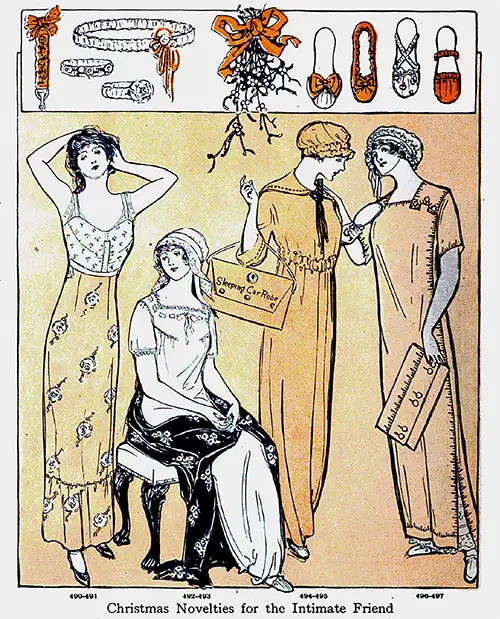 Christmas Novelties for the Intimate Friend. Good Housekeeping Magazine, December 1912. GGA Image ID # 1647af238d
No. 490 - Four-gored petticoat in flowered silk with habit back and fastening over the left hip. Very scant
flounce at the bottom.
No. 491 - New brassiére of eyelet embroidery with becoming lines.
No. 492 - Night-robe with yoke effect outlined with beading. Small slightly puffed sleeves set in with beading.
No. 493 - Van Dyke cap with lace ruffles
No. 494 - Pullman robe of silk with adjustable elastic band at the waist and deep collar with embroidered dots. A case of the silk holds the robe.
No. 495 - Cap of silk to match the Pullman robe.
No. 496 - Kimono of any silk or crepe material outlined with a long and short stitch. The garment slips over the hood and fastens on the shoulders. The case matches the kimono.
No. 497 - Silk cap with lace frill and ribbon rosette at the side with ends
"Simple and Dainty. Negligees for Christmas Gifts," and "Christmas Novelties for the Intimate Friend," in Good Housekeeping Magazine, New York: Good Housekeeping Magazine, Vol. LV, No. 6, Whole No. 410, Our Christmas Number, December 1912, pp. 664 and 818.