Ladies' Corset-Cover No. 3393 - 1890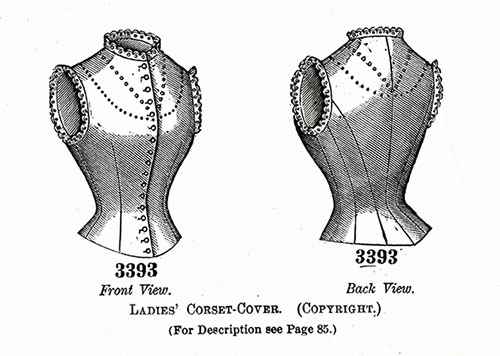 No. 3393. — This corset-cover is illustrated made of white cambric and trimmed with Hamburg edging. The close, smooth adjustment is performed by single bust darts, under-arm and side-back gores and a curving center seam.
The closing is made with buttons and button-holes, and at the neck is a frill of edging. The arms-eyes are trimmed with similar edging. Perforations made in the pattern and shown in the illustrations support a low, round neck and a V-shaped neck.
Costume Options
Cambric, linen, lawn, muslin, or any other material suitable for underclothing will make up well in this way.
The decoration may consist of washable lace, embroidery, crocheted edging, ruffling, feather-stitching, etc., and it may be simply or elaborately disposed, according to personal taste.
Pattern Information
We have pattern No. 3393 in thirteen sizes for ladies from twenty-eight to forty-six inches, bust measure.
To make the garment for a lady of medium size will require a yard and a-fourth of material twenty-seven inches wide, or a yard and an-eighth thirty-six inches wide.
Price of pattern, 10d. or 20 cents.
"Ladies' Corset-Cover [No. 3393]," in The Delineator: A Journal of Fashion, Culture, and Fine Arts – Midsummer Number, New York: Butterick Publishing Co., Ltd, Vol. XXXVI, No. 2, August 1890, P. 85 (For Illustrations see Page 87).
Note: We have edited this text to correct grammatical errors and improve word choice to clarify the article for today's readers. Changes made are typically minor, and we often left passive text "as is." Those who need to quote the article directly should verify any changes by reviewing the original material.