Ladies Underwear Fashions - 1904
February 1904 underwear fashions feature corset covers, ladies' closed umbrella drawers, and a ladies' square-yoke night-gown.
Ladies' Corset-Cover No. 7387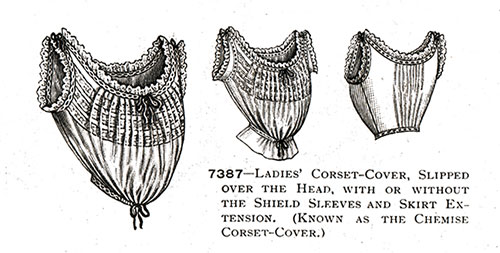 7387—Ladies' Corset-Cover, Slipped over the Head, with or without the Shield Sleeves and Skirt Extension. (Known as the Chemise Corset-Cover.)
Description
An attractive corset-cover of chemise shaping is displayed in fine white cambric with a dainty elaboration of point de Paris edging and insertion and ribbon-run beading.
A narrow band may serve as a stay for the gathers regulating the fulness at the top or it may be drawn in by a band of beading and ribbon.
The corset-cover may be extended to form a skirt and held in at the waist-line by a belt of the beading, or it may terminate at the waist and be finished to accord with the top.
The front puffs out prettily, while the back is drawn in tightly. Seams achieve correct shaping on the shoulders and under the arms, and lace and beading gently finish the armholes when the shield sleeves are not used.
Dressmaker Options
Sheer linen lawn will be used in this design with a decoration of Valenciennes lace and hand embroidery. Swiss, dotted, and plain, dimity, linen, nainsook, long-cloth, and wash silk may be employed with good results.
Pattern Information
Pattern 7387 is in 9 sizes from 30 to 46 inches, bust measure.
For the medium size, it will require 1 1/4 yard of material 36 inches wide, with 3 yards of beading 1/2-inch-wide for neckband and trim.
Price of pattern, 15 cents.
Ladies' Closed Umbrella Drawers No. 7391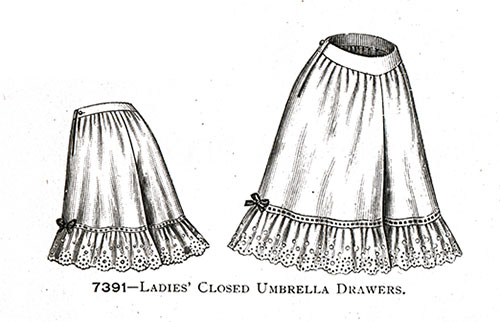 7391—Ladies' Closed Umbrella Drawers.
Description
Edging and beading run with pale-blue ribbon daintily trim the drawers here represented in French batiste. A center and inside leg seams provide shaping, and buttons and buttonholes affect the closing at the sides.
The drawers are in umbrella style and are gathered at the top where they join the yokes, the one in front being slightly pointed.
Dressmaker Options
Cambric and nainsook are favorite selections and may be ornamented with point de Paris edging and insertion.
Muslin, long-cloth, linen, and China silk are also extensively used and are; usually decorated with lace or embroidered edging and insertion or medallions.
Pattern Information
Pattern 7391 is in 9 sizes from 20 to 30 inches, waist measure.
For 24 inches waist, it needs 1 7/8 yard of material 36 inches wide.
Price of pattern, 15 cents.
Ladies' Square-Yoke Night-Gown No. 7392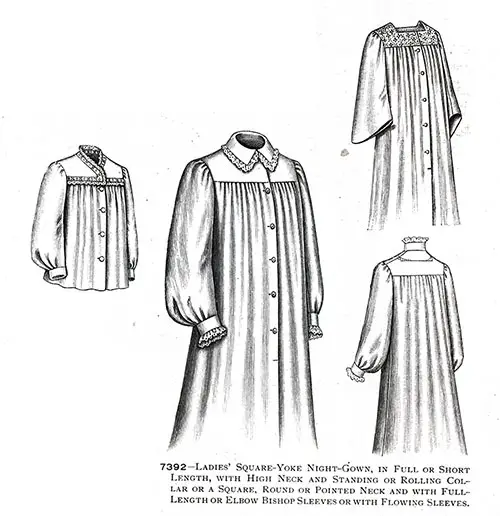 7392—Ladies' Square-Yoke Night-Gown, in Full or Short Length, with High Neck and Standing or Rolling Collar or a Square, Round or Pointed Neck and with Full-Length or Elbow Bishop Sleeves or with Flowing Sleeves.
Description
The night-gown pictured on this page is simple in design and construction.
Cambric was used for its development, and embroidery supplied the decoration.
A square yoke supports the gathered front and back, which may be in full or short length, and the closing is arranged in front with buttons and buttonholes through a slash.
A standing or rolling collar may complete the neck when it is high, or a square, round or pointed neck may be adopted instead. Full-length and elbow bishop sleeves, as well as flowing sleeves, are provided.
Dressmaker Options
Nainsook, long-cloth, muslin and mazalea are well suited to the development of this design. A comfortable nightgown may be in pink-and-white or blue-and-white striped outing flannel and trimmed with torchon lace.
Viyella, Canton flannel, and flannelette are also recommended for Winter wear, and fancy stitching in a delicate color will give a nice finishing touch.
Pattern Information
Pattern 7392 is in 9 sizes from 32 to 48 inches, bust measure.
For the medium size, the full-length gown will need 6 yards of material 36 inches wide, and the short one 3 5/8 yards in the same width; in either case, 3/4 yard of all-over embroidery will be required for the yoke.
Price of pattern, 15 cents.
"Ladies Underwear [No. 7387, 7391 & 7392]," in The Delineator: An Illustrated Magazine of Literature and Fashion, Paris-London-New York-Toronto: The Butterick Publishing Co. Ltd., Vol. LXIII, No. 2, February 1904, p. 214.
Note: We have edited this text to correct grammatical errors and improve word choice to clarify the article for today's readers. Changes made are typically minor, and we often left passive text "as is." Those who need to quote the article directly should verify any changes by reviewing the original material.