Lingerie and Negligees - 1912

One of the daintiest of the season's sets of underwear made by a spring bride, including only a gown and a combination of drawers and corset-cover, is made of white crêpe de Chine. This was purchased at a sale early in the year while everything was being marked down.
The gown is made with the low, round neck and an elbow-length sleeve set in with delicate beading. The sleeve and neck are finished with hand-scalloping and embroidered one-inch eyelets through which is run a one-inch satin ribbon.
This ribbon holds the sleeves in above the elbow, forming a puffed effect, and a two-inch scalloped ruffle—a new feature of this season's nightgowns. A beautiful hand-embroidered motif trims the front of the gown below the ribbon eyelets.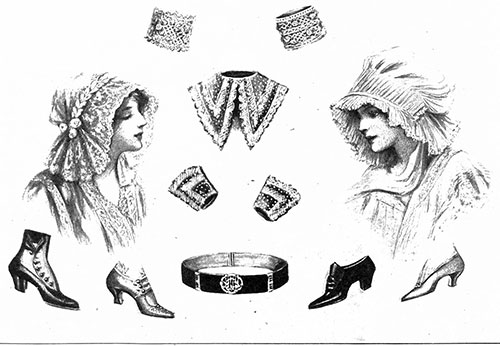 The combination is cut on fitted princess lines; the gores set together with narrow beading. Scalloping finishes the neck of the garment, with the eyelets below for the draw-string.
An embroidered motif trims each side of the front. The armhole is hand-scalloped, and the lower edge of the rather narrow drawers.
Eyelets strung with ribbon were added two inches above the lower edge of the drawers, and this ribbon pulls up, forming knickerbockers, a novel feature of the new undergarments.
Combination drawers - and - corset - cover garments are cut to fit perfectly and button up the front or back, the former being the most practical style.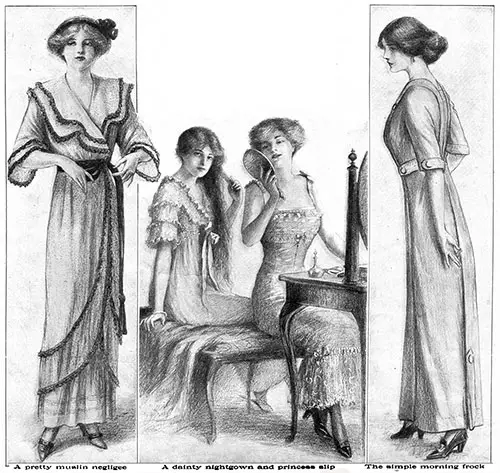 Princess corset cover-and-petticoat combinations, designed to wear beneath the different summer gowns of various sheer fabrics, such as voile, embroidered batiste, and muslin, are included in every trousseau this spring.
Much could be written about the new boudoir caps. The bride of today takes particular delight in fashioning these with her own fingers, and some very artistic and becoming ones are made. Fancy all-over lace and dotted net are used.  These are made in the Dutch style.
"Lingerie and Negligees" in Harper's Bazar, New York, Harper & Brothers Publishers, Vol. XLVI, No. 3, March 1912, p. 134.
Editor's Note: Some terminology used in the description of women's clothing during the 1800s and early 1900s has been changed to reflect more modern terms. For example, a women's "Toilette" -- a form of costume or outfit has an entirely different common meaning in the 21st century. Typical terms applied to "toilette" include outfit, ensemble, or costume, depending on context.
Note: We have edited this text to correct grammatical errors and improve word choice to clarify the article for today's readers. Changes made are typically minor, and we often left passive text "as is." Those who need to quote the article directly should verify any changes by reviewing the original material.