The Submarine Review - October 2003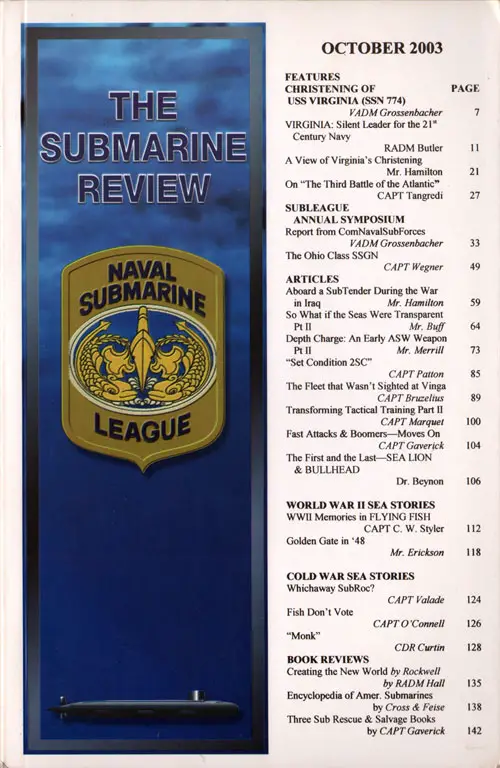 Front Cover, The Submarine Review, Naval Submarine League, October 2003. GGA Image ID # 1cfdf093a8
The October 2003 issue articles include Christening of USS Virginia, Virginia: Silent Ieader for the 21st Century Navy, On "The Third Battle of the Atlantic," The Ohio Class SSGN, and More.
Table of Contents
Christening of USS Virginia (SSN 774)
VADM Grouenbacher
Virginia: Silent Ieader for the 21st Century Navy
RADM Butler
A View of Virginia's Christening
Mr. Hamilton
On "The Third Battle of the Atlantic"
CAPT Tangredi
Sub League Annual Symposium
Report from ComNavalSubForces
VADM Grossenbacher
The Ohio Class SSGN
CAPT Wegner
ARTICLES
Aboard a SubTender During the War in Iraq
Mr. Hamilton
So What if the Seas Were Transparent Pt II
Mr. Huff
Depth Charge: An Early ASW Weapon Pt II
Mr. Merrill
"Set Condition 2SC"
CAPT Patton
The Fleet that Wasn't Sighted at Vinga
CAPT Bruzehus
Transforming Tactical Training Part II
CAPT Marquet
Fast Attacks & Boomers—Moves On
CAPT Oaverick
The First and the last—SEA LION & BULLHEAD
Dr Beynon
WORLD WAR II SEA STORIES
WW1I Memories in FLYING FISH
CAPT C. W. Styler
Golden Gate in '48
Mr. Erickson
COLD W AR SEA STORIES
Wichaway SubRoc?
CAPT Valade
Fish Don't Vote
CAPT O 'Connell
"Monk"
CDR Curtin
BOOK REVIEWS
Creating the New World by Rockwell
by 'RAUM Hall
Encyclopedia of American Submarines
by Cross Feist
Three Sub Rescue & Salvage Books
by CAPT Gaverick
THE SUBMARINE REVIEW is a quarterly publication of the Naval Submarine League. It is a forum for discussing submarine matters, be they of past, present, or future aspects of the ships, weapons, and men who train and carry out undersea warfare. The REVIEW intends to reflect not only the views of Naval Submarine league members but all who are interested in submarines.
Articles for this magazine will be accepted on any subject closely related to submarine matters. Content, timing, and originality of thought are of primary importance in selecting articles for the REVIEW. Article length should be no longer than 2500 to 3000 words.
Authors should prepare topics requiring more extended treatment in parts for sequential publication. Electronic submission is preferred with either MS Word or Word Perfect as acceptable systems. An accompanying 3.5" diskette will significantly assist if a paper copy is submitted.
The Submarine Review will pay a stipend of up to $200.00 for each major article published. For shorter Reflections. Sea Stories, etc.. $100.00 is usual. Book reviewers are awarded $52.00, a remarkable figure to honor the US submarines lost during World War II.
Annually, three articles are selected for special recognition, and an additional honorarium of up to $400.00 will be awarded to the authors. Papers accepted for publication in the REVIEW become the property of the Naval Submarine League.
The views expressed by the authors are their own and are not to be construed as those of the Naval Submarine League. A specific reference to that fact will accompany the article in those instances where the NSL has taken and published an official position or view.
Comments on articles and brief discussion items are welcomed to make THE SUBMARINE REVIEW a dynamic reflection of the League's interest in submarines. The success of this magazine is up to those persons with such a dedicated interest in submarines that they want to keep the submarine past alive, help with present submarine problems and be influential in guiding the future of submarines in the US Navy.