July 1966 Approach: The Naval Aviation Safety Review Magazine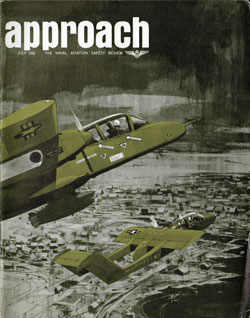 vo approach No 1

Our product is safety, our process is education and our profit is measured in the preservation of lives and equipment and increased mission readiness.
Contents
Strike One, You're Out
By LCDR R. E. Post
Spot The Hazard
The New Boss
RAWS
By LCDR J. B. McDaniel
Operations Safety Symposium
By LTJG S. G. Gross
Guessing Game
Underwater Ejection
Survival Field Test
So Who You Kidding, Tiger?
By LT R. E. Atkins, MC
Sea Survival
33 Man Machine Complex
By C. I. Barron, MD
Class Always Tells
The Case for Tech Pubs
By LCDR C. E. Witkowski
DEPARTMENTS
Short Snorts
Anymouse
Headmouse
Flight Surgeons' Notes
Maintenance Notes
Murphy's Law
Letters
IBC Lift and Drag
CREDITS
Cover: OV-10 Painting by Robert Tourt, Courtesy North American Aviation, Columbus, Ohio
Pages 6 and 32: Photos Courtesy Ed Holm, Naval Institute Proceedings
Page 15: Photo Courtesy of Author

RADM Paul D. Buie, Commander,
NavWeps 00-75-510
Purposes and policies: Approach, published monthly by the U. S. Naval Aviation Safety Center, is distributed to naval aeronautical organizations on the basis of 1 copy per 10 persons.
It presents the most accurate information currently available on the subject of aviation accident prevention. Contents should not be considered as regulations, orders or directives and may not be construed as incriminating under Art. 31, UCMJ.
Photos: Official Navy or as credited. Non-naval activities are requested to contact NASC prior to reprinting APPROACH material. Correspondence: Contributions are welcome.
The editors reserve the right to make editorial changes which they believe will improve the material without altering the intended meaning. Reference to commercial products does not imply Navy endorsement.
Views of guest written articles are not necessarily those of NASC. Requests for distribution changes should be directed to NASC, NAS, Norfolk, Va. 23511. Phone: Area Code 703, 444-3641 (days), 444-4331 (Nights, weekends, Holidays) Att: Safety Education Dept., if you are receiving the magazine free because of military or commercial contract status with the Navy .
IF YOU ARE A PAID SUBSCRIBER, address all renewals and change of addresses to Superintendent of Documents, Washington, D. C. 20402. Subscriptions: Single copy 35 cents; 1-year subscriptions $3.50; 2 yrs., $7.00; 3 yrs., $10.50; $1.00 additional annually for foreign mailing.
Printing: Issuance of this periodical approved in accordance with Department of the Navy Publications and Printing Regulations, NAVEXOS P-35. Library of Congress Catalog No. 57-60020.

U. S. Naval Aviation Safety Center
CDR Stephen Oliver, Head, Safety Education Dept. A. Barrie Young, Jr., Editor
LCDR J. B. McDaniel, Managing Editor
LT J. B. Pugh, Flight Operations Editor
J. T. LeBarron, Research/Ass't Flight Ops Editor J. C. Kiriluk, Maintenance/Ass't Managing Editor J. A. Bristow, Aviation Medicine/Survival Editor Robert Trotter, Art Director
Blake Rader, Illustrator
F. L. Smith, DMC, Production Control Harry Culbertson, PH1, Photographer
F. W. Chapin, J01, Editorial/Production Associate P. D. Lucas, J02, Editorial/Production Associate

Contributing Depts.

Accident Investigation, Head, LtCol W. L. Walker Aero-Medical, Head, CAPT R. E. Luehrs, MC
Analysis and Research, Head, CDR D. A. Webster Maintenance and Material, Head, CDR V. R. Knick Records and Statistics, Head, CDR J. T. Simons, Jr.

approach/My 1966
Only Change is Permanent
We frequently hear it said: "When we get through this emergency, or this crash program, or this special situation, things will settle down and we can get back to normal." Many of us have longed for a stable state. To yearn for normalcy is certainly "normal."
However, the history of the Navy has been one of continued change. This change throughout our history simply parallels the changes which have taken place throughout the world—changes in all aspects of civilization: scientific, technological, and sociological.
It is plain to see that not only is change here to stay but the rate of change is increasing. It is well recognized that the rate of change throughout the world, in all of civilization, down through the ages, has been steadily increasing.
It has been said that scientific and technological changes in the world are increasing at a rate which is proportional to Time raised to a power—at an experimental rate!
It is essential, therefore, that we recognize this ever increasing rate of change in the world about us in order that we may continue to effectively meet the needs of the modern society which we serve. Many of our present day methods, procedures, and equipment will not adequately meet the needs of tomorrow.
Consequently, we must place a high premium on creativity. Relying only on experience as a basis for solving our problems will become less effective as the rate of change in this world increases.
If we are to meet the needs of tomorrow, we must encourage imaginative, creative thinking. In times like these, creative imagination can be of equal importance with time-honored experience.
—Adapted from the "Engineer's Digest," USCG