Approach - Diverting Carrier Aircraft - January 1961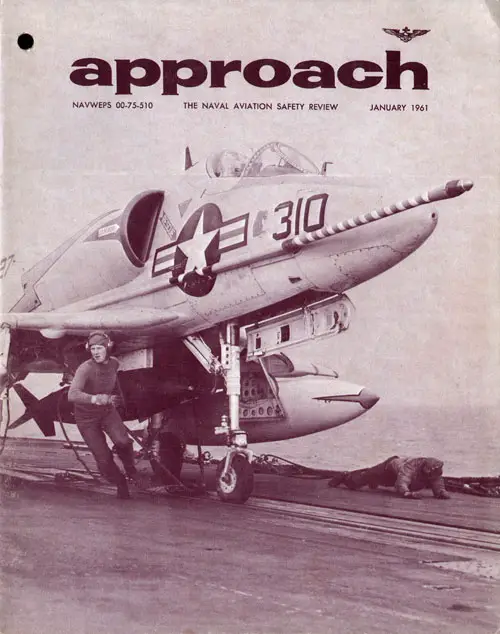 APPROACH Vol. 6, No. 7, January 1961
The Naval Aviation Safety Review
Published by U. S. Naval Aviation Safety Center
IN THIS ISSUE
Bingo Fuel
Fuel Computation For Diverting Carrier Aircraft To Landing Fields 3
'C' Notes
Carrier Flight Operational Tips 8
Match for Met Man
A Wartime Forecaster Gets a Line on Local Weather From the Natives 10
Target for Today
Incidents Submitted by Any mouse 13
Headmouse
Technical Questions and Answers 16
Pedal Pushers
Aircraft Braking Technique 18
Rub-A-Dub-Dub
Two Pilots Struggle for a One-Man Raft 24
Details, Details
Events Leading to A4D Accident 26
Slide Out!
Narratives of F3D Bailouts 28
In the Blind
Ejection and Survival After F4D Collision 30
Notes from Your Flight Surgeon 34\
Runaway!
Inadvertent Operation of Afterburner Causes F4D To Jump Chocks 36
Down but not Locked
Mechanic-Induced Wheel Retractions During Maintenance 42
Notes & Comments on Maintenance 45
It Could Be YOU
FOD Prevention 46
Murphy's Law
Crossed Wires in Fuel Pump Cause F8U Explosion 47
From the Back Cover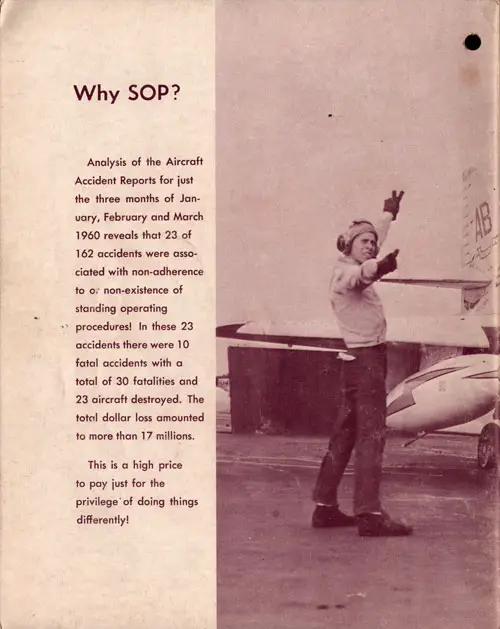 Why SOP?
Analysis of the Aircraft Accident Reports for just the three months of January, February and March 1960 reveals that 23 of 162 accidents were associated with non-adherence to a non-existence of standing operating procedures! In these 23 accidents there were 10 fatal accidents with a total of 30 fatalities and 23 aircraft destroyed. The total dollar loss amounted to more than 17 millions.
This is a high price to pay just for the privilege of doing things differently!
Publication Information
Purpose and Policies: APPROACH is published monthly by the U.S. Naval Aviation Safety Center and is distributed to naval aeronautical organizations on the basis of 1 copy per 12 persons.
It presents the most accurate information currently available on the subject of aviation accident prevention. Contents should not be construed as regulations, orders or directives. Material extracted from Aircraft Accident Reports (OpNays 3750-1 and 3750-10), Medical On. cer's Reports (OpNav 3750-8) and Any. mouse (anonymous) Reports may not be construed as incriminating under Art. 81.
UCMJ. Photos : Official Navy or as credited, Non-naval activities are requested to contact NASC prior to reprinting APPROACH material.
Correspondence: Contributions are welcome as are comments and criticisms. Views expressed in guest-written articles are not necessarily those of NASC.
Requests for distribution changes should be directed to NASC, NAS Norfolk 11, Va., Att: Literature Dep't.
Printing: Printing of this publication approved by the Director of the Bureau of the Budget, 31 Dec 1957.
Subscriptions: Single copy 30 cents; 1-year subscription $3.25; • 75 cents additional for foreign mailing.
Superintendent of Documents, U. S. Government Printing Office, Washington 25, D. C.
Library of Congress Catalog No. 57-60020.