Swedish Sponge Cake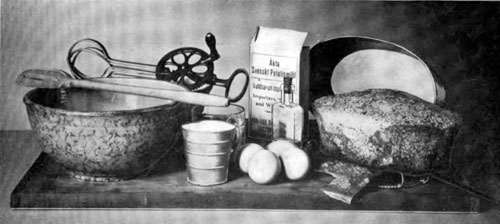 This recipe, using potato flour, makes a very tender sponge cake. Baked in a charlotte russe pan, the center may be removed to leave a hollow shell. Fill this shell with whipped cream, flavored and sweetened. Serve with a Bavarian cream preparation or ice cream.
Ingredients
4 Eggs
1 Cup of Sugar
1/2 Cup Potato Flour, siftted
3/4 tsp Cream of Tartar
1/4 tsp of Baking Soda
1/4 tsp Salt
2 tsp Lemon Extract
Directions
Beat, separately, the whites and yolks of four eggs. Beat one cup of sugar into the yolks, then add half a cup of potato flour, sifted with three-fourths a level teaspoonful of cream of tartar, one-fourth a teaspoonful of soda, and one-fourth a teaspoonful of salt. And, lastly, add two teaspoonfuls of lemon extract and the whites of the eggs.
Bake in a moderate oven (350°F) for forty minutes.
Source: Boston Cooking School Magazine of Culinary Science and Domestic Economics, Volume IX, No. 2, August-September, 1904, P. 87-88