Mom's Sloppy Joe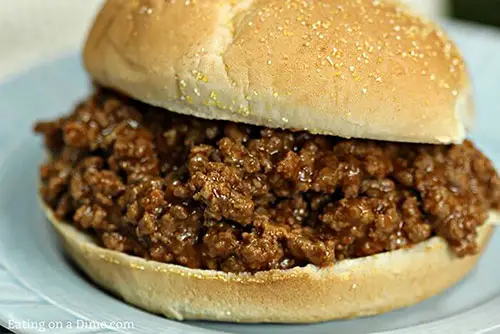 Mom's recipe for Sloppy Joe has been pleasing kids for decades. Simple and easy to make, we looked forward to every time she made this!
Ingredients
1 Lb. Ground Beef
3 Tbsp. Chopped Onion
1 Cup Celery
1-8 oz can tomato sauce
2 Tbsp. Catsup
2 Tbsp. Lemon Juice
1 Tsp. Salt
1 Tbsp. Brown Sugar
1/4 to 1 Tsp. Chili Powder (to taste)
Pinch of Dry Mustard
1 Tbsp. Cornstarch
Directions
Brown 1 pound of ground beef with 3 tablespoons of chopped onion. Cook 1 cup of celery in 1/2 cup of water in microwave.
Combine remaining ingredients and add to meat mixture. Simmer at least 1 hour or longer. Makes 6 sloppy jo's or serve over rice, elbow spaghetti, English muffins (top with a sprinkling of grated cheese and broil) or serve as the topping for a stuffed baked potato.
Minced Beef (Spanish Style)
2 pounds of lean beef
3 good-sized tomatoes
1 egg
1 teaspoonful of salt
1/2 dozen sweet peppers
1 onion
1 tablespoonful of butter
1 saltspoonful of pepper
Put the meat twice through the meat chopper; add to it the egg, salt and pepper. Work this well together and form it into a box, the bottom and sides of which are about one inch in thickness.
Place this on oiled paper in the bottom of a baking pan; run it into a very quick oven for thirty minutes, basting once or twice with a little melted butter. Have ready the filling, in fact, it is better to make this first, and keep it hot over water.
Put a tablespoonful of butter into a saucepan. Add the onion that has been chopped fine and the peppers that have been cut into strips; stew on the back part of the stove for twenty minutes.
Peel, cut the tomatoes into halves and press out the seeds. Cut the flesh into three or four pieces, add to the pepper mixture, cook twenty minutes longer, add salt and pepper.
When ready to serve the box, lift it carefully, put it into the center of a heated platter and fill it with the stuffing. Send at once to the table. This is attractive, economical and palatable.