Anchovy Sandwich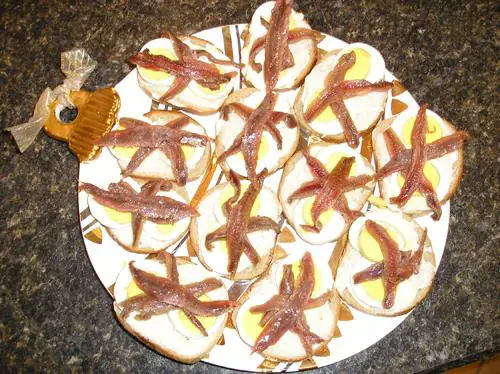 The Danish Open-Faced Anchovy Sandwiches have been served every Christmas for as long as I can remember (1950s). The sandwich was the favorite of my Grandfather who emigrated from Trondheim, Norway in 1913 to the United States. The sandwiches are easy to make and taste great for those who love the taste of Anchovies.
List of Ingredients
Butter or Margarine
Hard Boiled Eggs, sliced thin (egg slicers work great and are highly recommended)
Flat Anchovies. Swedish Anchovies are less salty than the Mediterranean style. Use whichever style you prefer)
Pepperidge Farm Dark Pumpernickel Party Sliced Bread or Similar small-sized bread
Directions for Assembly
Butter one side of the hors d'oevre sized Dark Pumpernickel Bread Slices
Lay one slice of hard-boiled egg (or more as needed to fill the size of the bread slice)
Take the flat anchovies and lay they crisscrossed across the top of each egg slice.
That's all it takes. Delicious when served within a few hours. Can be refrigerated for a short time (up to a few days). Freezing not recommended.
This open-faced sandwich is perfect for holidays and special occasions.