Kringla Cookie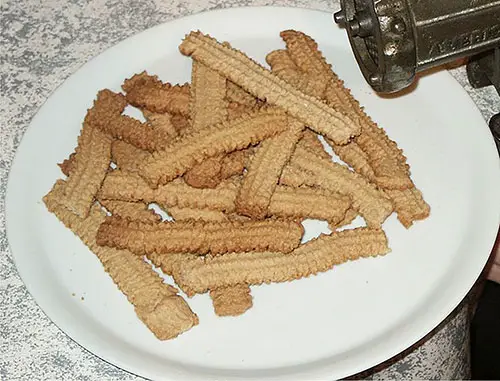 The Kringla or Spritz Cookie is a family favorite at Christmas. These delicious cookies are easy to make. They are similar in taste to the popular Danish Butter Cookie, so these cookies often disappear quickly. While many prepare it in strips as shown in the photograph, you can also make an "S" with your cookies for a more unique presentation.
Ingredients
1 Cup of Sugar
1/4 Cup of Butter
1/4 Cup of Shortening (or Butter may be substituted)
2 Eggs
2 Cups Flour
2 Teaspoons Baking Powder
1 Teaspoon of salt
1 Cup Sweet OR Sour Cream plus 1/2 Teaspoon of Baking Soda
1 Teaspoon lemon flavoring or 1/2 teaspoon of nutmeg
Directions
Mix together the sugar, butter/shortening and eggs. Sift the dry ingredients together and add to this the Sweet/Sour Cream and flavoring. Fold this in with your other ingredients that will create a soft dough.
On a hard surface, put a light coating of flour and roll to about 1/4 inch. Cut the rolled dough into portions approximately 1 1/2 inches long by 1/3 inch wide. Form into a figure "S" and place on a coated cookie sheet. Bake at 350 degrees until a light brown. Makes approximately 3 dozen cookies.
The portions can also be made using a Cookie Press (Highly Recommended) and use the star-shaped cookie disk for forming the "S"

Recommended Holiday Options:
For the Christmas season,
Add Green food coloring to the ingredients and decorate with Cinnamon Hots.
Use the tree shaped disk and make Christmas Tree cookies - using the Green food coloring and decorating with Cinnamon Hots will add greatly to the presentation of these delicious cookies.
For Valentine's Day, add Red food coloring and hape the cookies into a heart and top with Cinnamon Hots.