Krumkake Norwegian Cookie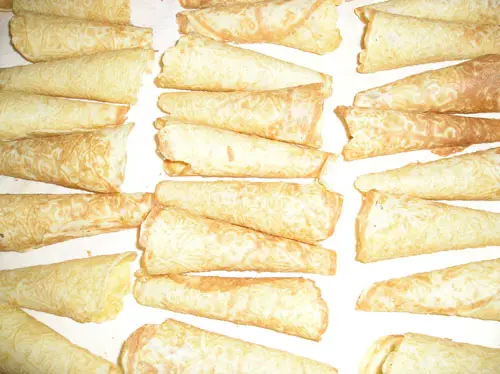 Krumkaka is a Norwegian delicate but very delicious cookie that is made using batter and a Krumkake Iron. They are made similar to waffles by pouring a tablespoon of batter for each Krumkaka in a krumkake Iron, heating for approximately 30 seconds and quickly removing the flat krumkaka and rolling them using the special funnel shaped molding tools. Once they cool, they keep their shape but are very delicate. Our family makes 1 1/2 batches and when finished keep them in metal cans until ready to eat.
Krumkaka Ingredients
Single Batch (Yields approx 60 cookies)
6 Eggs, well beaten
1 Cup of Sugar
1 Cup of Melted Butter
1/2 Teaspoon of Salt
1 Cup of Flour
2 Teaspoons of Flavoring *
One and a half Batches (Yields approx 90 cookies)
9 Eggs, well beaten
1 1/2 Cups of Sugar
1 1/2 Cups of Melted Butter
3/4 Teaspoon of Salt
1 1/2 Cup of Flour
3 Teaspoons of Flavoring *
* Flavoring options include Almond, Vanilla, Sherry, Lemon or Cardamom
Directions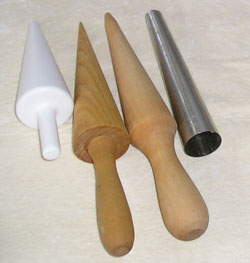 Beat eggs well. Add sugar, melted butter, salt and flavorings and beat well. Stir in flavorings.
Put approximately 1 tablespoon of batter for each form (most irons make two krumkaka at one time, some of the older stove top models make a single krumkake). Heat until lightly brown. If it stops steaming, it's done. Remove and quickly role on form (See photo at right).
Store in tight container.
Serving Suggestions:
Serve as is with Ice Cream or fill with whipped cream and raspberries right before serving.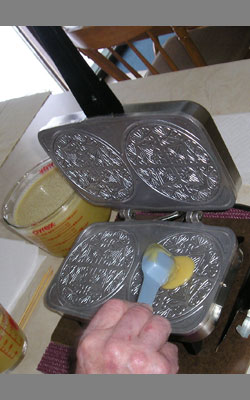 Pouring the Krumkake batter on the iron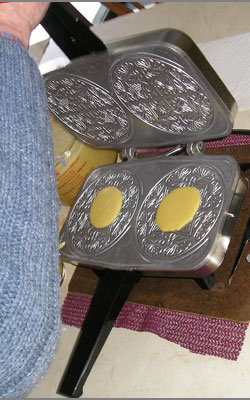 Krumkake batter ready to heat in the iron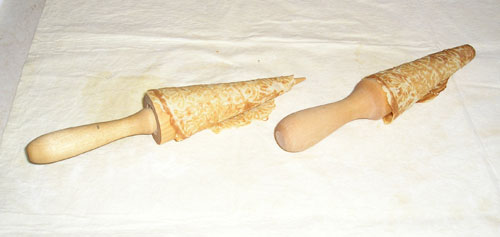 Krumkaka Cooling on the Forms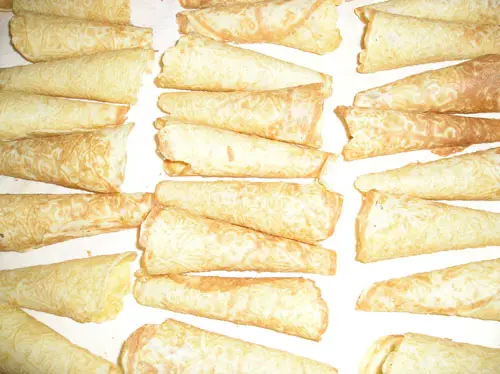 Finished Krumkaka Cookies