Potato Dumplings - Klubb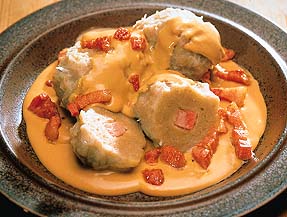 Photo: Bengt Wilson Source: Tourist Magazine Norway
Recipe for a good, old fashioned Norwegian dish:
Klubb (potato dumplings)
(Serves 6) (Measurements by weight)
750 grams [26.5 ounces] raw potato, grated
250 grams [8.75 ounces] boiled potato
200 grams [7 ounces] barley flour
salt
Mix the raw, grated potato with the flour immediately to stop the potato turning brown. Mash the boiled potato, mix with the grated potato and add salt to taste.
Roll the potato mixture into balls the size of snowballs and leave to simmer in salted water for app. 30 minutes. Make sure there is enough water in the pan so that the dumplings are not touching.
Serve with goat's cheese sauce and meat.
Potato dumplings with bacon and «duppe», marvelous!
Food from the region of Trøndelag
- the great variety of Norwegian culinary traditions
by Svein Magnus GJØNVIK, national chairman of the Norwegian association of master chefs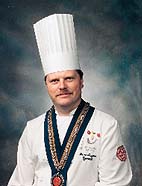 Master Chef, Svein Magnus Gjønvik
The region of Trøndelag has long traditions of cooking and food, all closely connected to the natural ingredients found in the local area.
We take fish from the sea and the many lakes, and meat comes not only from the farms but also from the different game in the forests and mountains.
And we have corn, milk and other agricultural products from our farms.
Master Chef
Svein Magnus GJØNVIK
The food we prepare naturally changes with the times, but in Trøndelag, many of our cultural and culinary traditions are still very much alive. Pizza and hamburgers are all very well on the right occasion, but in Trøndelag, our cuisine is based on using fresh ingredients, customs and traditions.
In days of old, around the 19th century, there was a vast difference between the food served from day to day, and at celebrations. During the week, the most common meals were herring and porridge, while fresh meat and soured-cream porridge were served on special occasions. Along the coast, people ate a lot of herring and other fresh fish, while further inland the fish was salted or cured.
The thin crispbread, flatbrød, was also a large part of this diet, which is why corn was so important. For many regions, flour was a real "gift from God". Around this time, the people of Trøndelag had divided their days into mealtimes. Åbit was served at 6.00, consisting mostly of barley cake, fried ham and potatoes.
In the autumn, black pudding was used instead of ham. For dugurds at 11.00, soup, boiled meat and mashed vegetables were on the menu. And for non at 17.00, they ate barley meal or potato cakes with a matured cheese and whey.
Nattvol was the last meal of the day, usually served at 20.00, and consisting of herring and potatoes, a thick milky porridge or the like. The food had to be nourishing for the hard manual labor on the farm or at sea, and meals were always a social occasion.
Traditional dishes on today's menus
Today, things are very different. Not only have we changed our diet and customs, we have also been heavily influenced by food from abroad. But despite this, many of our restaurants have begun to include a lot of traditional food on their menus.
As a visitor to Norway, you are sure to find many good restaurants with traditional dishes of meat and fish which will give an interesting insight into the Norwegian cuisine.
This return to traditional dishes only goes to show the hard work our predecessors put into preparing good, quality food. The old, traditional dishes such as lutefisk (dried cod prepared in a potash lye), cured meats, herring, salted fish and game are all popular today.
Fish has seen a rebirth on our tables. And as in the old days, beer is once again a popular drink with our meals, served alongside a small glass of Aquavit - which is made in Trøndelag!
What better way to spend your holiday in Trøndelag than on a discovery of traditional food and drink? There are numerous good restaurants - in towns, countryside, by the coast and in the mountains - waiting to welcome you as their guest.