Jenny's Cardamom Bread Recipe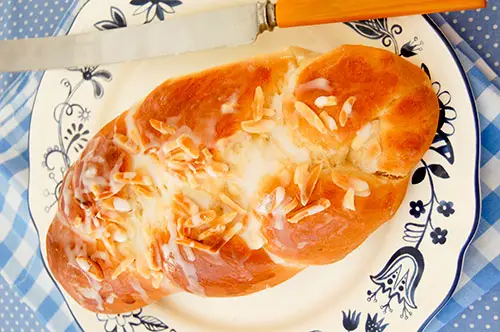 Cardamom bread is a delicious sweet taasting cardamom-spiced bread made in a braided style in an oblong pan. Scandinavians often serve cardamom bread with coffee.
The cardamom seed, an old-fashioned flavor which is still sometimes found in Scandinavian breads and candies, seems to combine more satisfactorily with the flavor of honey than some of the spices which are better known in our kitchens.
List of Ingrediants
 2 Packages Red Star Active Dry Yeast
1/4 Cup Warm Water with 2 Tsp Sugar (heat to 105 Degrees)
2 Cups Half And Half (Heat To Scald And Cool)
1 Cup Sugar
1 Tsp Salt
3 Eggs, Slightly Beaten
2 Heaping Tsps of Crushed Cardamom
1 Stick Butter (Melted And Cooled)
7 to 8 Cups Flour (Sifted)
1 Egg Beaten With 2 Tbs Milk mixed in
Pearl Sugar Or Raw Sugar Crystals
Preparation Instructions
Proof the yeast by dissolving the yeast in the warm sugar water and let stand for 5 minutes until the yeast bubbles.
In a large bowl, combine the yeast mixture, the cooled half-and-half, sugar, salt, cardamom, eggs and 4 cups of the flour.  Beat until smooth.  Add the melted butter.
Gradually stir in enough of the remaining flour to make stiff dough.  Turn out onto a floured board and cover and let stand for 15 minutes to let the dough relax.
Knead the dough, adding small amounts of flour until the dough loses its "stickiness" and is smooth and elastic.
Place the dough in a greased bowl, turning to grease all sides.  Cover the bowl and let dough rise in a warm place until doubled in bulk.  Punch dough down.  Turn the dough out onto the board and divide into 3 or 4 parts.  Divide each part into three portions.  Roll each portion into a rope.
Braid three ropes together to make a loaf.  Pinch the ends together.  Place on a lightly greased baking sheet and repeat with the remaining portions of dough. 

Let rise in a warm place (covering the loaves) until almost double in size. 
Brush the tops of the loaves with the egg/milk mixture and sprinkle with the pearl or raw sugar crystals. 
Bake at 350 degrees for 10 minutes, reduce heat to 325 and continue baking until lightly browned.  Do not over bake.

Cool and enjoy!
From the Gjenvick-Gjønvik Archives © Larry & Deann Gjenvick
The Secret is the Cardamom Spice
The cardamom is the fruit of a perennial herb, with thick, fleshy rhizomes and erect, leafy stems, 4 to 8 feet in height, and long, branched' inflorescences which arise near the ground, which is indigenous in West and South India, in the rich, moist forests of Canara, Mysore, Coorg, Wynaad, Travancore and Cochin.
In these districts it is cultivated to a considerable extent by both native growers and Europeans. It is difficult to say what the total acreage under this crop is in South India, but of recent years, with an improvement in prices, large areas have been planted up, and some of the tea and rubber estates have also considerable areas under cardamoms. and there are big estates where nothing else is grown in the Anamalais and Malabar, while many of the coffee estates of Coorg and Mysore cultivate cardamoms in the gullies and ravines.
Two species are grown, the Malabar cardamom, with prostrate fruit-bearing stems and a small pod, and the Mysore cardamom, with upright fruit-bearing stems and a large pod.
The crop is grown in ravines and damp, shady places, and on the floor of the jungles after the undergrowth has been removed. Very little cultivation is done, and no manures are applied.
The plants bear in their second year from planting out of the nurseries where they are raised from seed, and after a time they are thinned out and re-planted.
The cardamom flowers in April and May, and the fruits are gathered in September and October. When ripe they are broken from the scape with a stalk attached so as not to split the pod.
They are dried in the shade, graded, and sold. A few planters complete the process of drying artificially in hot-air chambers, and others bleach the pods with Sulphur fumes and produce the very best varieties.
This latter process, however, involves a lot of trouble, and it is usual to market them in the dry and unbleached condition.
There is a large demand for cardamoms in India as a spice, while in England and Germany they are used in the manufacture of medicines, in North Europe as a spice for flavoring cakes and in the preparation of liquors.
The essential oil extracted from the seeds is used in perfumery in France and America. The demand, and consequently price, is variable, but of late years both have advanced considerably, and a good deal of new areas have been opened in this cultivation.