Rommegrot Sweet Cream Porridge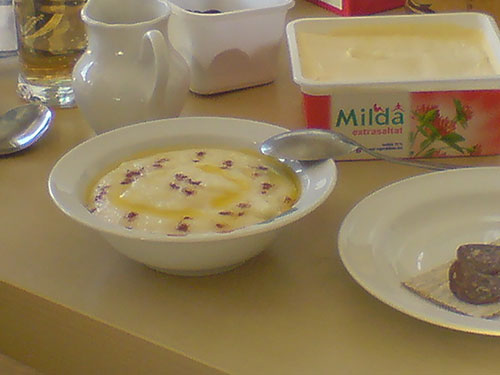 The delicacy in question turned out to be a delicious concoction called "Cream Porridge," a dainty eaten by the peasants at marriages and other special festivals. Made with cream and flour instead of with oatmeal it is served hot in great bowls . Learn to make this delicious tradittional Norwegian holdiay recipe for RØMMEGRØT (Sweet Cream Porridge) from the GG Archives of Family Recipes.
1 gallon Heavy whipping cream
4 c. flour
2 Tbsp. sugar
1 Tbsp. salt About milk
1 egg, well beaten
Put cream into a large 10-qt. kettle. Put milk in to a 4-qt. kettle over medium heat. Bring cream to a boil over medium/moderate heat and boil cream for 20 minutes; sift in flour gradually to prevent lumps while stirring.
Continue cooking over moderate heat, stirring to bring out butterfat; remove butter as soon as it forms and save. Add scalded milk gradually, stirring until mixture is smooth. Add salt and sugar and cook about 5 minutes more.
Stir in one well beaten egg. Serve hot with drawn butter fat, sugar, and cinnamon. Can freeze any leftovers. You need to add warm milk when reheating in a microwave or a saucepan until the right consistency. Serves 25
From the Gjenvick-Gjønvik Archives © Larry & Deann Gjenvick
Alternate Recipe
A smaller recipe calls for:
1 Pint heavy whipping cream
1/3 cup flour
1/2 tsp salt
1 Tbsp sugar
1 C scalded milk
Boil cream in heavy pan 15 minutes, stirring slowly. Remove from heat and sift in flour, beating constantly. Add sugar and salt and stir over low until the butter comes out. Pour butter off as it comes and keep warm to serve. Add milk, beat smooth. Serve hot with the drawn butter and cinnamon sugar.
Submitted by K. H. Gauger
What is Porridge?
PORRIDGE—Proper name of "mush," which is but a provincialism. Made of oatmeal, cornmeal, graham meal, fine hominy or grits, ground rice, farina, graham farina, cracked wheat, rolled oats, etc. Some of these need to be soaked in water for some hours before cooking. They are all made into porridge by simply boiling in the requisite quantity of water, and best if in a double kettle or bain-marie.
Milk Porridge.
Take one tablespoonful of flour and one of Indian meal; mix them to a paste with cold water. Have in the double-boiler two cups of boiling water; stir the wet meal and flour into it and boil twenty minutes; then add two cups of rich milk (Heavy Cream) and a pinch of salt. Boil fifteen minutes longer, stirring frequently. Serve with sugar and milk added to the porridge while it is hot.