Danish Kringle Recipe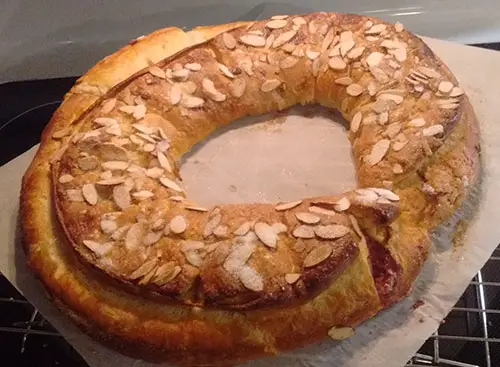 Old Danish Kringle (Dansk Smørekringle): This old Danish pastry is legendary. It symbolizes the "rygge" which means "comfortable and good" life. There is a secret to Kringle baking: the dough is made with the butter rolled in -- not mixed or blended with a fork or pastry blender.
List of Ingredients
1 tsp. salt
1/2 c. sugar
1 c. milk
2 eggs, lightly beaten
2 cakes compressed yeast OR 2 pkgs. dry yeast
1-1/2 c. soft butter
2 c. flour or more
1/2 tsp. grated lemon rind
A few cardamom seeds
butter filling
ground nuts
granulated sugar
1 egg
milk
ground, slivered almonds
Take 1/2 of butter (3/4's c.) and roll between 2 sheets of wax paper until very thin. Chill.
Mix salt and sugar. Add 3/4 c. milk and eggs. Add yeast soaked in 1/4 c. milk heated to lukewarm. Add butter, and cream all ingredients together with fingers. Add enough flour to make a medium stiff dough. Add grated fresh lemon rind and cardamom seed. On a lightly floured board, spread the dough to an 8 x 12" rectangle. Place chilled rolled butter sheet on half of rectangle. Fold the unbuttered half of the dough over the buttered half. Roll out to 8 x 12" again. Fold in half again. Roll again to an 8 x 12" rectangle. Fold in half. Chill dough 2 hours in the refrigerator.
Cut in 4 strips lengthwise. For 4 kringle's, roll strips out to 18 x 2-1/2". Spread filling in the middle and fold ends over. Sprinkle with ground nuts and granulated sugar. Form in pretzel shapes and let rest in a warm place 45 minutes to rise. Brush with a mixture of equal parts egg and milk; sprinkle with sugar and ground slivered almonds. Bake in a preheated 375 oven for 12-15 minutes or until a delicate brown. Yield 4 kringle's. These freeze well.

Larry Gjenvick
Butter Raisin Nut Filling:
1-1/2 c. water
2 c. brown sugar
1-1/2 c. golden raisins
2 Tbsp. cream
1/2 c. soft butter
1/2 c. chopped almonds OR other nuts
1/2 tsp. cardamom seeds
Bring to a boil water and raisins. Drain off the liquid. Let cool. Cream butter until very soft; add cardamom and blend well. Add brown sugar and enough cream to enable you to spread mixture easily. Mix in raisins and chopped nuts and blend well.