Danish Pastry - Kringle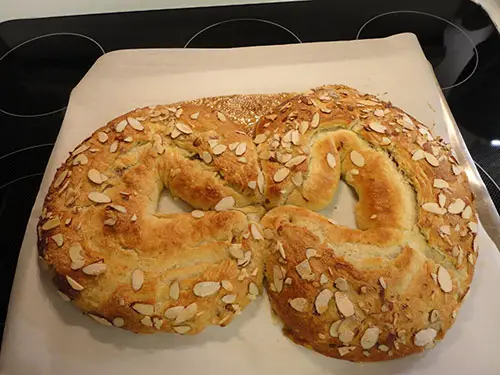 Finished Danish Pastry Known as Kringle. A Gjenvick Family Favorite for Decades. This Kringle Made with Love by Larry Gjenvick. GGA Image ID # 175e292aba
The Gjenvick-Gjønvik Family have a long history in our love of pastry, especially the Danish Kringle. My father, Larry Gjenvick, would go with his father to the Egeqvist Bakery in Minneapolis during the early 1930's.

Egeqvist Bakery was known for their unique and incredibly delicious Kringle. My dad remembers the pleasant and delightful aroma from the vast array of freshly baked rolls, cakes, bread and other baked goods. Like many other folks during the depression, they had little money to spare for these goodies.
My grandfather, Ludvig, somehow managed to purchase the incredible Danish Kringle from Egeqvist on special occasions. As my father's culinary and baking skills continued to improve, he always believed he could make Kringle too.
He found a recipe from the Olesen's Danish Bakery in Racine, Wisconsin that he modified through trial and error until he satisfied that his adapted recipe closely resembled the delicious Kringle from Egeqvist Bakery.
My efforts are not always perfect, but its Scandinavian "soul food" that is always so special and satisfying. Here is my version of Danish Kringle. Try it and enjoy!
Ingredients:
¾ cup butter  (Use 2 sticks of butter, but leave in fridge so they are very firm- see instructions below)
1 pkg yeast
¼ cup warm water (about 100 degrees)
¼ cup lukewarm half and half cream
¼ cup sugar
½ tsp salt
1 tsp. lemon extract (or almond extract or vanilla)
1 tsp. ground Cardamom
1 egg
2 cups sifted all-purpose flour
Photographic Instructions Courtesy of Larry Gjenvick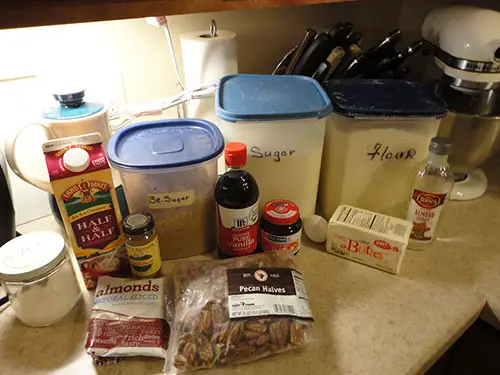 Kringle Ingredients. Butter, Yeast, Half and Half Cream, Sugar, Salt, Lemon Extract, Ground Cardamom, Egg, and All-Purpose Flour. GGA Image ID # 175ae4aec2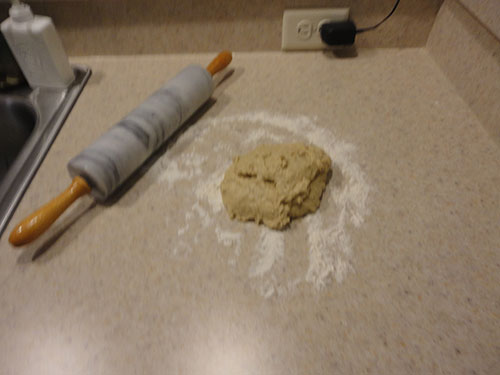 Step 1: Kringle Dough, Ready To Roll Out Sitting on a Bed of Flour. GGA Image ID # 175b17edd9
Step 2: Kringle Dough Rolled Out. GGA Image ID # 175b1a8e9a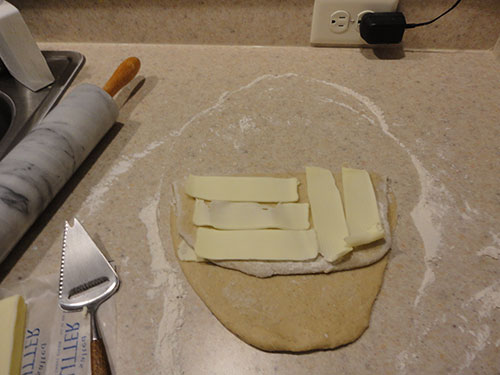 Step 4a: Adding Butter to the Kringle Dough. GGA Image ID # 175b5af00a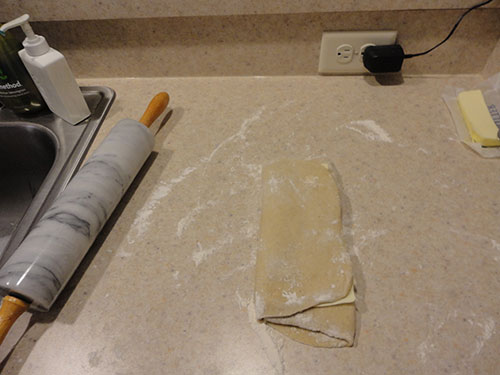 Step 4b: Folding the Additional Butter Into the Kringle Dough. GGA Image ID # 175ba20e82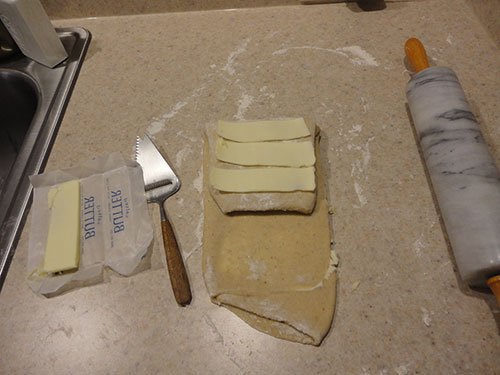 Step 5: Folding and Adding More Butter To the Kringle Dough. the Cheese Cutter Is Used To Slice off the Butter. GGA Image ID # 175bd2eb77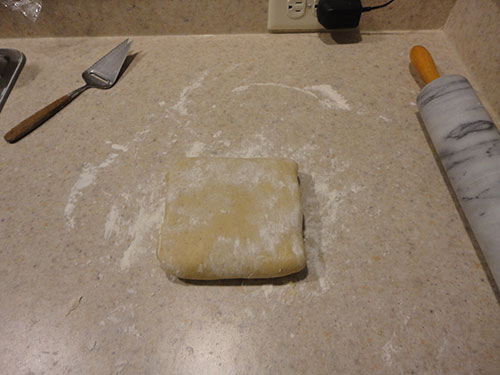 Step 6: The Kringle Dough is Ready to Roll Again. GGA Image ID # 175c02758d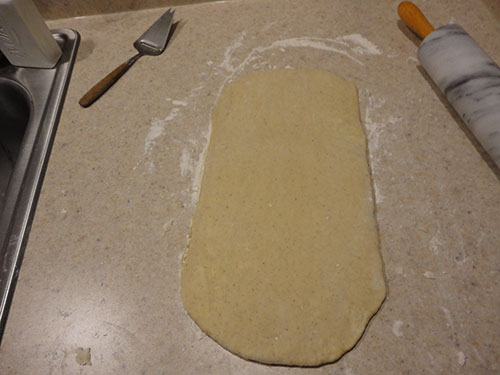 Step 7: Rolling the Kringle Dough Flat Again. GGA Image ID # 175c18e422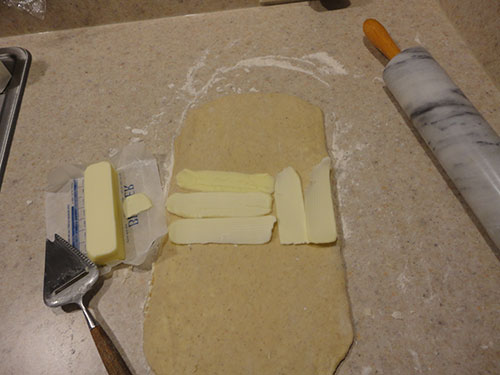 Step 8: Adding More Butter Again to the Kringle Dough. GGA Image ID # 175d25200e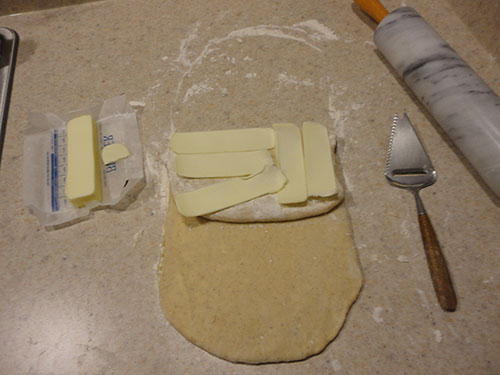 Step 9: Fold and Add More Butter to the Kringle Dough. GGA Image ID # 175d535a88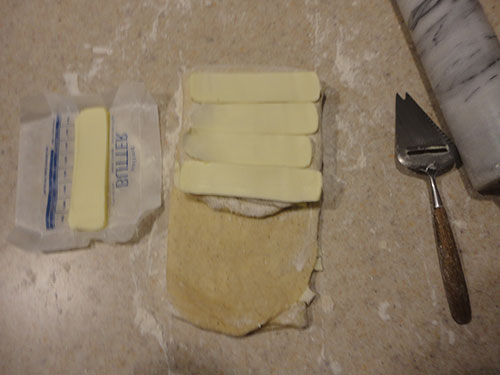 Step 10: Add More Butter and Fold the Kringle Dough Again. GGA Image ID # 175d616573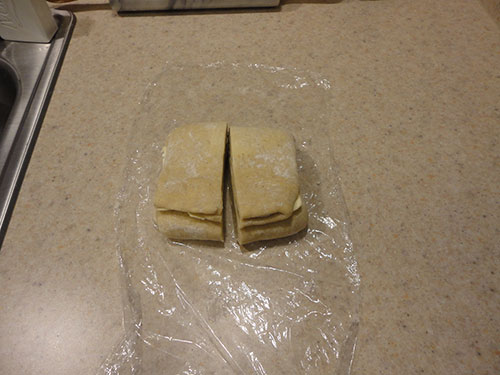 Step 11: Cut the Folded Kringle Dough in Half and Place in Plastic Wrap. GGA Image ID # 175d61a05b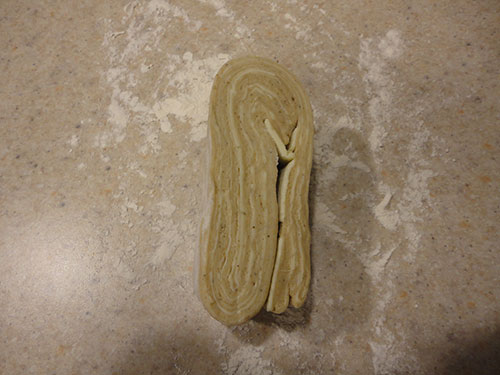 Step 12: A Side View of Folded Kringle Dough, Layered with Butter. The Many Layers of Butter Gives the Kringle its Flaky Texture. GGA Image ID # 175d79a849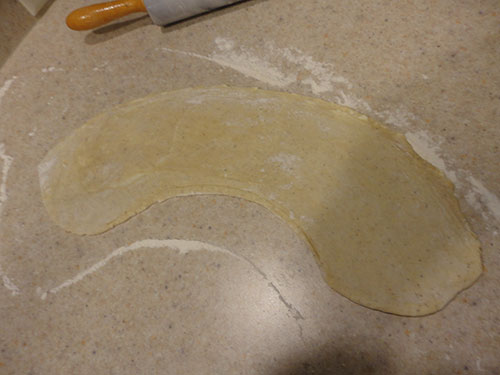 Step 13: Rolling Out the Kringle Dough One Last Time. GGA Image ID # 175e0e0312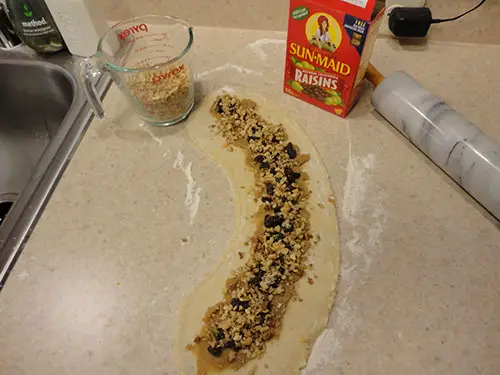 Step 14: Adding the Filling to the Kringle Dough. GGA Image ID # 175e26fe95
Procedure:
Chill 2 sticks of unsalted butter so that they are very cold and very firm. Sift the flour and add to the 2 cups of sifted flour the salt and Cardamom and then re-sift about 3 times to blend well.  Set aside.
Dissolve the yeast in the warm water along with a tsp. of sugar in at least a 2 cup measuring cup or bowl and let is set until the yeast is all bubbly and almost fills the container.
Put the yeast mixture into a mixing bowl and add the warm milk, sugar, flavoring of your choice, and the egg (which has been lightly beaten).  Mix well and then add the 2 cups of flour and continue to mix until smooth.  The dough should not be sticky but smooth and silky to the touch.
Roll out the dough on a well-floured board to about an 8 x 12 inch rectangle.  Now take one of the well-chilled butter sticks and, by using a cheese slicer, make as thin of slices of butter as possible, placing the butter slices on 2/3 of the rolled out dough. 
Fold the uncovered third of the dough over the middle third, and then fold the remaining third over the top. 
Now repeat the process by slicing more butter over 2/3 of the dough and repeat the folding process so that you now have a roughly square piece of dough that is 9 layers thick. 
Wrap the square of dough in plastic wrap and place in the refrigerator for at least 30 minutes. You should have used approximately 2/3 of the stick of butter.  Just set it aside for later use.
Now roll out the dough again to about an 8 x 12 inch rectangle. 
Using the 2nd stick of chilled butter, repeat the process of adding slices of butter to 2//3's of the dough, folding the same way, adding the butter slices and folding thus making a square of 18 layers of dough and butter. 
Again wrap in plastic wrap and refrigerate for at least 2 hours.
Recipe for the filling:
1 cup brown sugar
1/3 cup butter (use the rest of the left over from the sticks you sliced above)
Pinch of salt
½ of an egg white
Cream together until smooth and well mixed and set aside.
Now you can also chop some nuts (walnuts or pecans work well).
Putting it All Together
Cut the dough into 2 equal pieces. 
Lightly roll one piece at a time, until the piece is about 6 inches wide and about 20 inches long. 
Spread center third of dough with the butterscotch filling, then add fruit, nuts, raisins or use less of the butterscotch filling and fill in with jam such as raspberry or strawberry.
Fold one of the long edges over the filling in the middle, moisten the other edge and fold over the top to completely cover the filling, sealing well. 
Put the Kringle on a greased baking sheet (use one with a raised edge in case the filling breaks out and leaks onto the sheet).  Form the Kringle into an oval shape, pressing the ends of the Kringle together to form a continuous circle – or you may leave in one long strip.
Cover the Kringle with plastic wrap and set in a warm place for about an hour.  Brush the top with a mixture of the rest of the egg (you saved it didn't you?) beaten with a dash of half and half. 
Sprinkle the top with some chopped nuts and some sliced almonds and finally a light sprinkle of sugar.
Bake at 350 degrees for about 25-30 minutes or until golden brown, and place on rack to cool.
This recipe recreates the Kringle that I remember from my youth.  Be creative with the recipe and adjust according to your own taste.  Use a variety of fillings or just bake it without any topping and when cool and lightly frost with a Buttercream frosting and top it off with chopped nuts if desired.
Buttercream Frosting: 1/2 stick of softened butter, a teaspoon or so of flavoring such as Almond or Vanilla and enough powdered sugar to made a smooth, spreadable frosting.
Now, after how many hours, it's time to pull up a chair, get out the knife and slice into your own home-baked Kringle- indeed a treat fit for a king or queen- you are all royalty you know – just enjoy!