The Trend in Luxurious and Practical Blouses 1922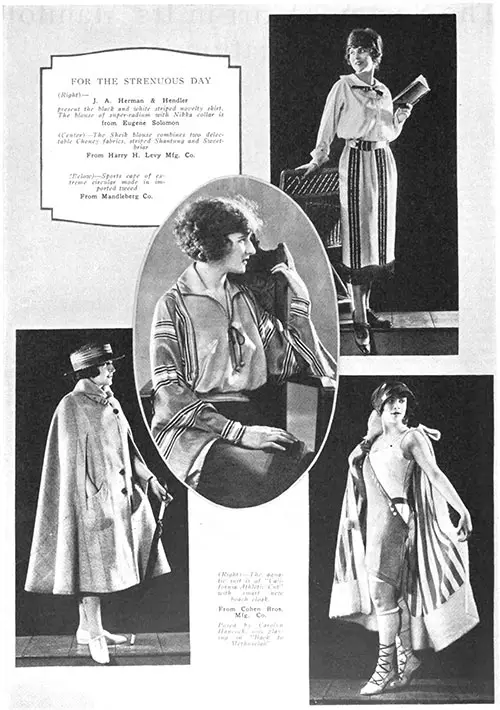 Fashions For the Strenous Day (Top Right) — J. A. Herman & Hendler present the black and white striped novelty skirt. The blouse of super-radium with Nikka collar is from Eugene Solomon (Center) The Sheik blouse combines two delectable Chenev fabrics, striped Shantung and Sweet- briar From Harry H. Levy Mfg. Co. (Below Left)—Sports cape of extreme circular mode in imported tweed From Mandleberg Co. (Below Right) The aquatic suit is of "California Athletic Cut" with smart new beach cloak. From Cohen Bros. Mfg. Co. Posed by Carolyn Hancock, now playing in "Back to Methuselah"
The Gilet Mode and Low Placed Girdle Newly Interpreted in Wide Fabric and Color Choice
The highest type of blouse production as it stands revealed today inclines to three silhouette extremes—an excessive fulness of sleeve with the equally full waist section brought abruptly into the normal waist line by a soft sash tied at the back or with a tuck-in-line; again the extreme fulness brought in a low wide, flat belt and the new "draped" blouse which presents a clinging fulness of gathered underarm seam and of Casaquin length.
There is also the new gilet blouse, full at the back under narrow sash ties or buckled strap and long straight Cromwell "Jerkin" fronts or the fronts of English and French waistcoat derivation of the eighteenth century.
It is difficult to say offhand when a more interesting development has appeared from the standpoint of fine textures, hand and machine embroidery, color development and finely considered details.
Oddities of fabric choice introduce extreme prints of the interior decorator's list of exclusive patterns which do away with added details save plain tone piping. Rectangular lines of machine stitchery with inlays of vivid color are presented upon grey, beige, white, yellow and flesh tones.
Lame thread embroideries emulate Turkish and other near-East figurations, to which are added the accents of fine spangles on cotton, linen, chiffon, broadcloth, or satin crepe creations. Peasant embroideries have by no means reached their concluding hours upon blouses.
They merely incline to new developments which bring back high color and black upon white, ivory, and beige with new effects. Stripes applied, and striped fabrics are elements which enter into sleeves, collar and cuffs or stripes cut from cretonne, silk or linen prints.
There is a general tendency to bring crepe de chine forward for revival and the reversible crepes.
There are to be noted handkerchief linens, cotton crepes, organdies, Rodier cottons, superfine voiles, innumerable sports silks; hand blocked crepes, silks, satins and cottons; leather painted, embroidered, stamped and perforated; cire laces; ribbon treatments; beadcraft innovations; felt, broadcloth and chamois applique upon the various crepes in fantastic designs and new metal clip developments which now show an enamel in gayest colors.
Earlier in the season a good deal was heard of a hand knotted filet mesh variously developed for gowns of formality in flouncings. This hand knotted filet now enters into exquisite blouse creations replacing the hand drawn work features.
Set in in bands two inches wide, it offers very interesting support to odd figurations of self-fabric, fine lame, ribbons and occasionally a filet motif in color. Not only linen threads are so employed, but chenille and ribbozene are also so used.
Sleeve Developments
That important feature, the sleeve, in the superior designing now offered by leading houses of the couture, ranges from the cape just topping the arm through every length, shape and size except the leg o' mutton.
This, however, with the gauntlet cuff, will by degrees invade the blouse world as it is already introduced in chiffon, georgette and the finer crepes, in gowns, usually reaching to the finger tips.
The peasant sleeve, the medieval square, the bell and the elbow length, all have their place in blousedom. Necklines no longer adhere to the bateau. This has its rivals in a shallow square, an oval line, pointed and surplice fronts.
Flat collars are shown on many French blouses in varying lengths and widths. The standing version of one and two inches high are especially attractive when in white or colored organdie.
Practical Modes
In the domestic blouse of practicality the sports blouse is of first consideration. The slip-over in its many practical interpretations ranges from ivory crêpe satin to cotton prints. It also has a recognized standing in various loop textures, being frequently combined with Canton and crepe de chine.
Silk jersey novelties, which last year were supposed to have reached the very climax of over-production, are merely taking new forms.
Practical modes in blouses suitably worn with the simpler types of tweed and homespun suits will revive interest in the pleated front shirt with the long-cuffed sleeve in voile, dimity, the plain and plaid tissues, silk and cotton ginghams. Oriental silks crepe de chine, and the expensive cotton crepes of various weaves.
Within this range of tub blouses, nicety of finish and the use of baby Irish and fine filet edgings on rever collars, cuffs and the Peter Pan collar shown in single, double, and triple finish to the neckline indicate the popular priced lines for which a nation-wide demand is already moving.
The use of piping in both two and three contrasted colors and at least two contrasted textures offer the popular alternatives with the all-white practical blouse. Plaid and stripe colorings also enter into these creations as do pindot, polka dot and disc prints.
Reversing the method, these solid effects are employed with white piping, a mode which for the Winter Resorts showings enjoyed considerable display and received sufficient recognition to establish the inexpensive cotton blouse in color grounds with white figurations and piping as in the tub silks.
Pin tucks have come into their own again along all lines of dress production and are nowhere more at home than upon the inexpensive cotton blouse well-made and of a good grade of voile, dimity, clotted swiss or organdie.
Much ingenuity has brought forward an attractive plaiding in the pin tucking of collars, vests, solid fronts and backs and the complete all-over handling.
The use of odd patterns in cretonnes and chintzes has been introduced into the blouse field as in dress resign as one of the season's most effective offerings.
Owing to the interest displayed in the gilet, it may be found in both its sleeveless forms and as the detail of a conventional blouse foundation in which case the collar and cuffs are elaborated by use of the figured fabric.
The Altman blouse department has displayed most resourceful handling of the novel Rodier cottons in both the sleeveless gilet and its more conventional interpretations in the collared and cuffed models.
"The Trend in Luxurious and Practical Blouses: The Gilet Mode and Low Placed Girdle Newly Interpreted in Wide Fabric and Color Choice," in The American Cloak and Suit Review: Devoted to the Women's and Children's Ready-to-Wear Trades, New York: John M. O'Connor & Co., Vol. XXIII, No. 4, April 1922, p. 130-131.