Ladies Blouses and Sleeves 7430 7395 7411 - 1904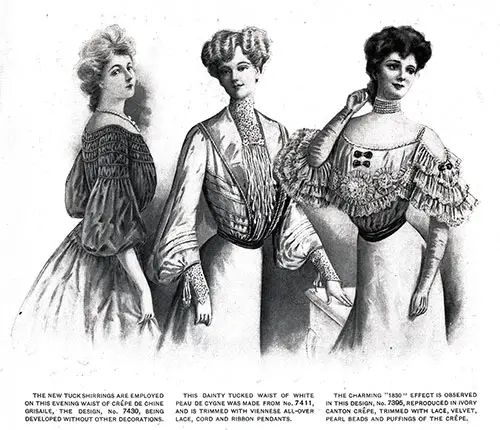 The new tuck shirrings are employed on this evening waist of crêpe de Chine grisaile, the design, No. 7430, being developed without other decorations. This dainty tucked blouse of white peau de cygne was made from No. 7411, and is trimmed with Viennese all-over lace, cord, and ribbon pendants.
The charming "1830" effect is observed in this design, No. 7396, reproduced in ivory canton crepe, trimmed with lace, velvet, pearl beads and puffings of the crêpe.
Ladies' Blouse, with Tuck Shirrings No. 7430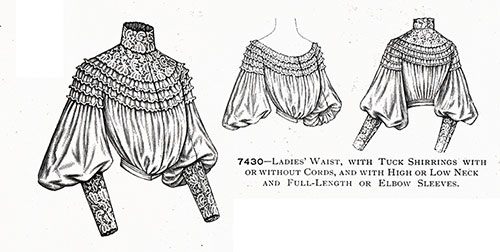 7430—Ladies' Blouse, with Tuck Shirrings with or without Cords, and with High or Low Neck and Full-Length or Elbow Sleeves.
Description
Tuck shirrings are introduced on some of the most attractive designs in frocks and separate blouses, and a pretty example is here displayed in white crepe de Chine and all-over thread lace.
A snug lining acts as a foundation for the blouse proper which is surmounted by a round yoke and has its fulness at the top regulated by tuck shirrings with or without cords, that in front being allowed to droop gracefully over the crush girdle, while at the back it is drawn down snugly.
The mode, which extends well over the shoulders, closes in front, and is completed with a standing collar.
Tuck shirrings in the sleeves accentuate the drop-shoulder appearance, and the voluminous puffs sag modishly over two-seam linings having simulated cuffs of lace. Provision is made for a low neck and elbow sleeves as well.
Dressmaker Options
Soft, diaphanous materials are best adapted to such modes and excellent results are obtainable in Liberty satin, crepe de Paris, mousseline, chiffon velvet, veiling and voile.
Pattern Information
Pattern 7430 is in 6 sizes from 32 to 42 inches, bust measure. For the medium size, it needs 4 3/8 yards of material 27 inches wide, with 1 yard of all-over lace. Price, 20 cents.
Ladies' Blouse in "1830" Style No. 7395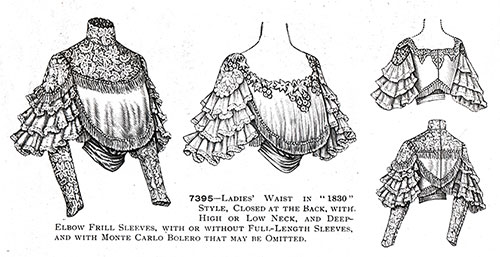 7395—Ladies' Blouse in "1830" Style, Closed at the Back, with High or Low Neck, and Deep-Elbow Frill Sleeves, with or without Full-Length Sleeves, and with Monte Carlo Bolero that may be Omitted.
Description
A modish bodice m the prevailing "1830" style is here represented in cream-colored crepe de Chine in association with Irish crochet lace and with a dainty elaboration of silk fringe and ruchings of net.
Gathers regulate the fulness of the blousing front and the backs that close invisibly at the center. The Monte Carlo bolero lends distinction to the blouse, which may have a high neck with standing collar or be cut low and finished with applique.
Deep elbow sleeves frilled to give a fluffy effect are a novel feature and may be made with or without full-length sleeves extending over the hands. A deep girdle is crushed about the waist in keeping with current fashions, and if a plainer appearance is desired the bolero is omitted.
Dressmaker Options
White lace and chiffon will develop fashionably, and black mousseline voile is extensively employed for evening gowns.
Pattern Information
Pattern 7395 is in 5 sizes from 32 to 40 inches, bust measure.
For the medium size, the high-necked waist needs 4 1/8 yards of crepe de Chine 24 inches wide, with 2 1/8 yards of all-over lace 18 inches wide; and the low-necked waist 3 yards of material 27 inches wide, with 1/4 yard of all-over lace.
Price, 20 cents.
Ladies' Tucked Blouse No. 7411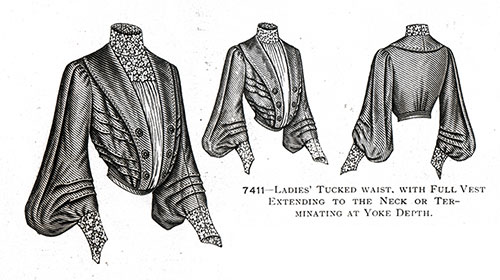 7411—Ladies' Tucked Blouse, with Full Vest Extending to the Neck or Terminating at Yoke Depth.
Description
Crepe de Chine in a pale violet shade, chiffon and all-over lace were combined in the smart bodice here pictured, and fancy buttons supplied the ornamentation.
A revers is a noticeable feature of the design, which has tucked fronts opening over a full vest extending to the neck or cut off and joined to a yoke.
The back is slightly fulled at the waist-line, which is defined by a folded belt and the blouse is made over a snug lining.
A standing collar is worn. Broad box-plaits are arranged in the sleeves which have tucks crossing the seam and droop over the two-seam linings that extend in points over the hands.
Pattern Information
Pattern 7411 is in 8 sizes from 32 to 46 inches, bust measure.
For the medium size, it needs 5 1/2 yards of material 20 inches wide, with 1/2 yard of all-over lace 18 inches wide and 5/8 yard of chiffon 45 inches wide.
Price of pattern, 20 cents.
"Ladies Waists and Sleeves [No. 7430, 7395 & 7411]," in The Delineator: An Illustrated Magazine of Literature and Fashion, Paris-London-New York-Toronto: The Butterick Publishing Co. Ltd., Vol. LXIII, No. 2, February 1904, p. 200-201.
Editor's Note: Some terminology used in the description of women's clothing during the 1800s and early 1900s has been changed to reflect more modern terms. For example, a women's "Toilette" -- a form of costume or outfit has an entirely different common meaning in the 21st century. Typical terms applied to "toilette" include outfit, ensemble, or costume, depending on context.