Ladies Blouses, Shirt-Waists and Sleeves 7402 7416 7421 - 1904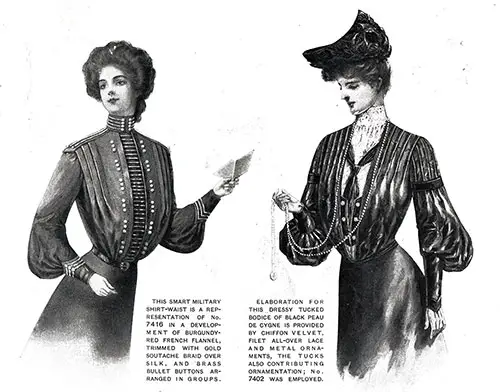 This smart military shirt-waist is a representation of No. 7416 in a development of burgundy-red French flannel, trimmed with gold soutache braid over silk, and brass bullet buttons arranged in groups.
Elaboration for this dressy tucked bodice of black peau de cygne is provided by chiffon velvet, filet all-over lace and metal ornaments, the tucks also contributing ornamentation; No. 7402 was employed.
Ladies' Tucked Blouse No. 7402
7402—Ladies' Tucked Blouse, with High or Pompadour Neck and Full-Length or Elbow Sleeves, and with or without the Girdle Belt.
Description
Lustrous cloth in a pale shade of violet was selected for developing the charming bodice here illustrated and was happily associated with silk and panne velvet in a deeper shade of violet and guipure lace. Appliqué band and gold filigree buttons afford pleasing ornamentation.
The fronts are tucked at the top and separate to disclose the vest of all-over lace. Tiny revers of the panne and a silk tie are added with good effect, and the bodice is topped by a standing collar, although it may be cut out in Pompadour out-line.
Tucks modify the back, which is smoothly fitted, and a close lining sup­ports the waist.
Two-seam linings, with or without points over the hands or terminating at the elbow, are used as a foundation for the full puffs tucked in cap depth and drooping modishly at the back.
A silk girdle belt is folded about the waist and fashionably completes the mode, or a plain belt may be worn instead.
Dressmaker Options
Pinkish mauve Liberty satin will develop attractively from this design, and crepe de Chine retains its favor for fancy blouses.
Changeable silk showing lavender and pink will contrast effectively with black velvet, and a vest of white mousseline will add a dainty touch.
Chiffon velvet, voile, Lansdowne, Louisine, taffeta and peau de cygne combined with lace or chiffon velvet are suggested for reproduction.
Pattern Information
Pattern 7402 is in 8 sizes from 82 to 40 inches, bust measure.
For the medium size, it will need 2 1/8 yards of material 44 inches wide, with 1yard of all-over lace, ¼ yard of velvet and 3/4 yard of silk.
Price of pattern, 20 cents.
Ladies' Shirt-Waist in "Military" Style No. 7416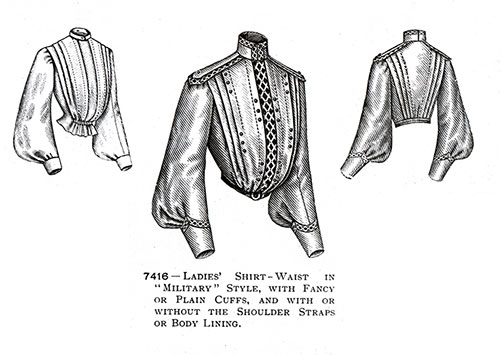 7416 —Ladies' Shirt-Waist in "Military" Style, with Fancy or Plain Cuffs, and with or Without the Shoulder Straps or Body Lining.
Description
A particularly pleasing shirt-waist design is here pictured in army-blue French flannel contrasted with Persian band and decorated with buttons. An extension allowed on the right front is framed by broad tucks and simulates a vest.
Tucks are also taken up to yoke depth in the fronts, the remaining fulness blousing becomingly over the leather belt. The back is tucked and has slight gathered fulness at the waistline.
A military effect is given the mode by the addition of pointed straps broadening the shoulders. A narrow band finishes the neck, and over it is worn a standing collar.
The body lining, consisting of dart-fitted fronts and a back seamed at the center, may be used or not, as preferred. Plain or fancy cuffs confine the fulness of the sleeves which droop gracefully over them at the back.
Dressmaker Options
The fabrics generally selected for shirt-waists include velveteen, corduroy, crepe de Chine, peau de cygne, viyella, vesting and mercerized goods.
Red Louisine will be smart with Oriental banding and a broad girdle of red suede.
A shirt-waist of heavy white butchers' linen, ornamented with cross-stitch embroidery in dull red and green, or red and blue, is suggested, and white peau de soie with black embroidery will also be chic.
Pattern Information
Pattern 7416 is in 8 sizes from 32 to 46 inches, bust measure.
For the medium size, it needs 4 1/8 yards of material 27 inches wide.
Price of pattern, 20 cents.
Ladies' One-Seam Sleeve No. 7421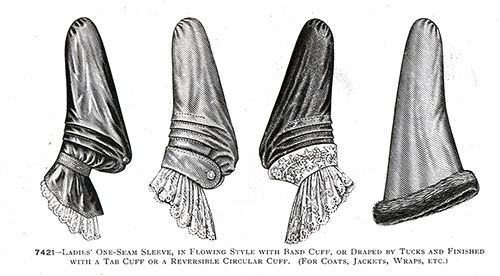 7421 —Ladies' One-Seam Sleeve, in Flowing Style with Band Cuff, or Draped by Tucks and Finished with a Tab Cuff or a Reversible Circular Cuff. (For Coats, Jackets, Wraps, etc.)
Description
The most fashionable outdoor garments are characterized by graceful drooping sleeves of generous dimensions, and a particularly attractive design, suitable for the box Etons, loose coats and large wraps for late Winter and early Spring, is here illustrated.
Various effects are given in velvet and lace, silk and lace and also in cloth trimmed with fur. One seam shapes the mode which is designed to fall free in flowing style or be tucked across the seam, plaits regulating the fulness at the back, where it droops modishly.
Gathers adjust the slight fulness at the top, and the flowing sleeve is completed with a band cuff covered with fur.
Graduated frills of lace and tab cuffs decorated with large fancy buttons or circular cuffs attached to bands and falling over the hands or reversed in gauntlet effect and showing an embroidered design in white, will form a pleasing finish.
Dressmaker Options
An evening coat of white cloth in full or seven-eighths length will be smart with sleeves in any of these styles.
For the light colored and white coats that are elaborately trimmed with heavy Russian guipure or macramé lace, the frills at the hand are of Chantilly, spangled or embroidered net, chiffon or mousseline, either gathered or finely plaited, and an extremely dainty effect is produced by making a triple frill, the first of deep rose chiffon, the second a paler tint, and the outer one of white chiffon or fine lace.
Panne, chiffon velvet or all-over lace may be used for the cuffs, and chiffon frills will add a dainty touch of elaboration.
A black velvet coat in three-quarter or long hip length will be stylish with sleeves of this type frilled with d'Alengon lace, and satin, peau de soie and da- mas matelassé will be smart.
Pattern Information
Pattern 7421 is in 6 sizes from 10 to 15 inches arm measure, about 1 inch below the armpit.
For 11 inches arm measure, a pair of sleeves will require 2 yards of material 44 inches wide, with 3 1/3 yards of edging 8 3/4 inches wide for frills, and 5/8 yard of contrasting material 20 inches wide for circular cuffs.
Price, 10 cents.
"Ladies Shirt-Waists and Sleeves [No. 7381, 7380 & 7429]," in The Delineator: An Illustrated Magazine of Literature and Fashion, Paris-London-New York-Toronto: The Butterick Publishing Co. Ltd., Vol. LXIII, No. 2, February 1904, p. 204-205.
Editor's Note: Some terminology used in the description of women's clothing during the 1800s and early 1900s has been changed to reflect more modern terms. For example, a women's "Toilette" -- a form of costume or outfit has an entirely different common meaning in the 21st century. Typical terms applied to "toilette" include outfit, ensemble, or costume, depending on context.