The Steerage: A Photograph by Alfred Stieglitz - 1907
"THE STEERAGE"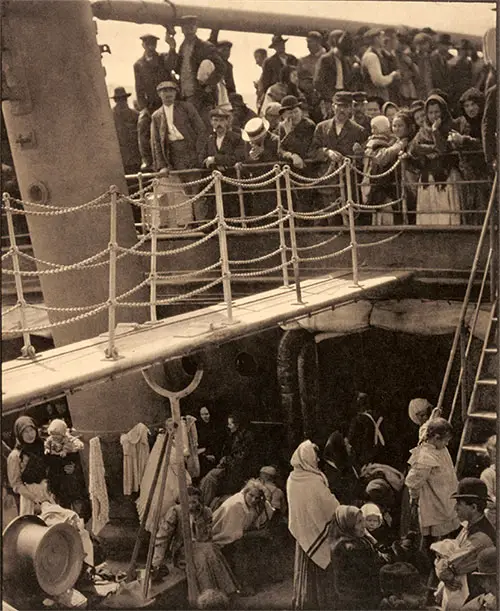 "The Steerage" a 1907 Photogravure by Alfred Stieglitz taken on board the Kaiser Wilhelm II. Camera Work No 36, October 1911. GGA Image ID # 147a072566
IN 1907 Alfred Stieglitz, in the photograph (above) which we publish in the present number of "291 " under the title "The Steerage," obtained the verification of a fact.
The desire of modern plastic expression has been to create for itself an objectivity. The task accomplished by Stieglitz's photography has been to make objectivity understood, for it has given it the true importance of a natural fact.
He has surpassed "Art,"-that idiotic word which during centuries has dominated everything, and which in reality has only expressed a mental state, a state of unconsciousness. "Art" has become an esoteric God who had for his sole prophet "Conventional Beauty."
"Art" and "Conventional Beauty" together have exercised a tyranny. It is surely due in great part to photography that we have finally freed ourselves from that spell. We have escaped from the fetishism into which that word "Art" had hypnotized us, making us insensitive to the respective realities of our inner selves, and of the outer world.
I speak of that photography in which the genius of man leaves to the machine its full power of expression. For it is only thus that we can reach a comprehension of pure activity. Objective truth takes precedence over Stieglitz in his work.
By means of a machine he shows us the outer life. Stieglitz comprises the history of photography in the United States. "Camera Work" bears witness to this.
If he has given sometimes too much importance to the intellectual juggleries of others in mechanical representation, he has unwaveringly put into practice the principle of Boileau, "Nothing is beautiful but the truthful." And in seeking truth he has acted as a real creator.
If modern plastic expression has made us conceive the possibility of creating new forms to express new sentiments, photography in the hands of Stieglitz has succeeded in determining the objectivity of form, that is to say, in obtaining the initial condition of the phenomena of form; phenomena which, under the domain of human thought, give birth to emotions, sensations and ideas— "291."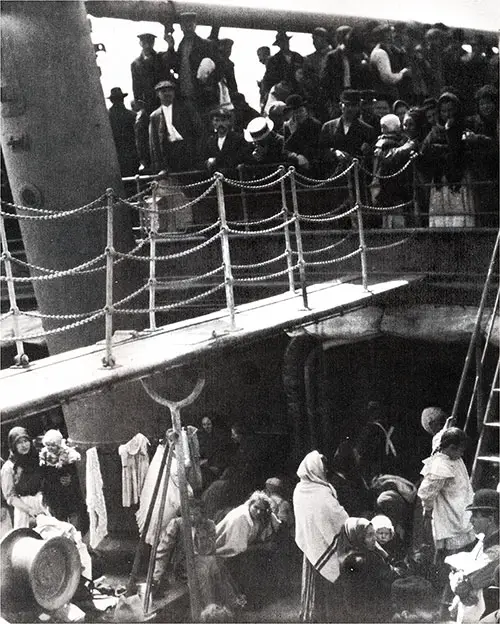 Black and White Version - "The Steerage" a 1907 Photogravure by Alfred Stieglitz taken on board the Kaiser Wilhelm II. Camera Work No 36, October 1911. GGA Image ID # 147a10557b
M. De Zayas, "The Steerage" in American Photography: Incorporating Popular Photography and The Photographic Times, Boston: American Photographic Publishing Company, Vol. X, No. 3, March 1916, p. 120-121
"The Steerage" in Camera Work: A Photographic Quarterly, No. XXXVI, October 1911. Published and Edited by Alfred Stieglitz. Arranged and Printed on the Presses of Fleming & Cornrick,m New York.