A Sham Immigrant's Voyage in Steerage - 1888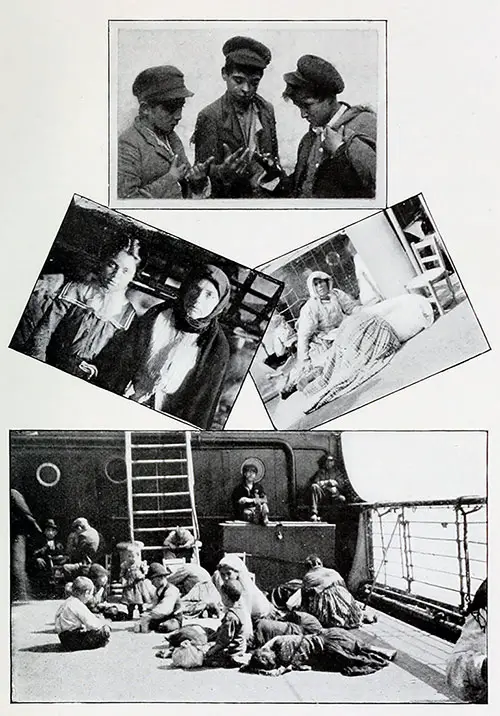 Mid Voyage Scenes in Steerage. Mora; Syrian Jews; Prostrated by the Swell; Children Escaping Seasickness. Broughton Brandenburg, Imported Americans 1904. GGA Image ID # 146068995f
By Eliza Putnam Heaton
Prefatory Note
by John Langdon Heaton, Brooklyn, N. Y., 1919.
As a record of conditions already dead as the dodo, this faithful account of a voyage in steerage from Liverpool to New York in 1888 is worthy of preservation in more convenient and enduring form than that in which it first appeared.
It covers a phase of immigration midway between the horrors of the "Middle Passage" in 1840-50, when disease often ran riot in the packed ship, and passengers might be called to the pumps more than once in a forty-day crossing, and the conditions just before the great war, in 1910-13, when agents of rival British and German lines were combing Europe for passengers for their newer, fleeter, bigger craft, with their ten-times greater third-class capacity and their polyglot passenger lists, whole villages in single ships.
Mrs. Heaton was probably the first of a number of modern writers who have crossed in the steerage for the purpose of descriptive writing. Robert Louis Stevenson is credited by the Encyclopedia Britannica with having made the trip to New York in 1879, for "lack of means."
Sidney Colvin, also, as editor, says in the "Letters" (Vol. 1, p. 279, Scribner's, 1911) : "In order from the outset to save as much as possible he made the journey in the and the emigrant train."
Colvin elaborates the reasons for economy. Pure fable ! Stevenson himself, on page 2 of "The Amateur Emigrant," says: "I was not, in truth, a passenger," and explains fully why he made the trip in the second cabin, seeking acquaintances in the and material for literary work which is an enduring possession of the language.
Mrs. Heaton's story of the "Sham Immigrant's Voyage" appeared in a number of leading American newspapers, through a newspaper syndicate, on October 20 and 21, 1888.
The voyage itself took place in September of 1888, its hardships including an equinoctial gale, a long wait in Queenstown Harbor and another, fog-bound, off New York.
Part I: Preface to My Journey
Steamship Company: Cunard Line.
Vessel: S. S. Aurania.
Health Certification: Vaccinated. J. H. Bradshaw, Surgeon.
The words look up at me from a crumpled ticket which lies on my desk. On the reverse side I read in English, German, Swedish, French and Italian:
"Keep this card to avoid detention at quarantine and on railroads in the United States."
This small document was my passport from under the folds of the Union Jack to the shelter of the Stars and Stripes. I have emigrated.
Unlike most immigrants, I went from New York to Liverpool for the express purpose of emigrating. The desire was on me to cast in my lot with a shipload of human freight; to experience in my own person the adventures, sad or merry, to test the treatment, good or bad, accorded those who leave home and country to lie down in the, awake in Castle Garden and be whirled westward across the plains.
An emigrant's ticket to the New World is a simple thing enough to buy. Water street, Liverpool, the headquarters of the Atlantic liners, abounds in stout, red-faced, jolly men, whom I took to be retired sea captains until they noticed my glances of inquiry about the neighborhood and rolled out at me from under the shelter of doorways with voluble offers of services. They were touters.
The rain was falling with energy and decision. Around the corner, in a narrow side street, I dimly saw through the blinding downpour a dingy basement entrance lettered "Cunard Emigration Office."
Breaking from the grip of half a dozen hands I dashed down its steps, my heart in my mouth, and stood a minute at the bottom watching the rills that trickled across the floor from my gown.
Through a lumber room heaped with steamer chairs and into a low, dark office. The young man behind the counter answered my questions with a courtesy as perfect as if I were engaging the best stateroom in the saloon. On the face of my ticket I was written down as follows:
Names.
Occupation.
Ages.
Equal to
Statute.
Adults.
Eliza Heaton

A

A

1
It was a family ticket, with room for the enumeration of other members. At the bottom I was summed up thus: "One soul equal to one statute adult."
Studying this important bit of paper I found that the Cunard Steamship Company contracted for the sum of £4 to provide me with passage to New York in the Aurania, to sail September 8. Here was an interesting paragraph :
"The following quantities at least of water and provisions to be issued daily will be supplied by the master of the ship, as required by law, viz.: To each statute adult 3 quarts of water daily, exclusive of what is necessary for cooking those articles required by the Passengers' act to be issued in a cooked state, and a weekly allowance of provisions according to the following scale-3 1/2 pounds of bread, 1 1/2 pounds of fresh bread, 1 pound of flour, 1 1/2 pounds oatmeal, 1 1/2 pounds rice, 3 pounds potatoes, 1 1/2 pounds peas, 4 ounces raisins, 2 pounds beef, 1 1/2 pounds pork, 1 pound fish, 2 ounces tea, 2 ounces coffee or cocoa, 1 pound sugar, 1 gill molasses, 1 gill vinegar, 3 ounces salt, 1 ounce mustard and pepper. -- Children under 8 receive one-half the above. The provisions will be cooked and served by the company's stewards."
Further inspection revealed the fact that I was expected to provide myself with mess utensils and bedding, and that the Master of the ship might refuse to let me sail if I appeared on examination to be "lunatic, idiot, deaf, dumb, blind, maimed or infirm, or above the age of sixty years, or a widow with children, or a woman without a husband and with children, or a person unable to take care of himself or herself without becoming a public charge."
There was another clause requiring me to comply with the regulations of the port embarkation office.
"What does this mean ?" I asked, pointing it out.
"Oh, nothing. You walk by the doctor. A mere form. It's mostly for children. Some people might come on board with smallpox, you know."
An important question : "Can I buy milk or fruit or broth on board ?"
"Against the rules. Nothing is sold in the steerage. You must take everything you want with you."
The young man gave me the card of a temperance boarding house, and also a circular to the effect that my passage would be forfeited unless I presented myself and my baggage on the Prince's landing stage at 10 o'clock precisely on the day of sailing.
I picked up another stating that in the steerage of the Cunard ships every passenger above the age of twelve years was provided with a berth to himself. Single men and single women were berthed apart. Married couples and families had rooms by them selves.
The emigrants' outfitting shop where I laid in my stock of necessaries for the voyage was a strange, shabby place, with uneven flooring, dusty windows and sagging beams. It opened by a low door from a break-neck lane. Its ceiling was hung with tin ware as kitchens used to be with crook-necked squashes and ears of corn.
Piles of gaudily striped blankets were heaped in corners, mattresses were ticketed and tied up in rolls and cans of condensed milk stood on shelves. One of my retired sea captains piloted me to it -- No. 5 Back Coree -- and as he pocketed his tuppence he turned me over to the proprietor with a good-natured, "Now then, 'Ennery, fix this young 'ooman h'out with a kit."
'Ennery said not a word, but ranged on the counter before me a tin washbasin, a tin can for holding water, a tin mug, plate, knife, fork and spoon and a nondescript utensil which was, he said, for use, "in case as 'ow you might be seasick in your berth."
Taking a bit of stout twine he ran it through holes in the rims of my tableware and tied the whole into a bright and jingling bunch to carry on board ship. I paid him two shillings and ten pence for the lot and it was dear at the price.
A coarse, black blanket, luridly marked with red and yellow, cost me twelve shillings sixpence. A Brooklyn dry goods house would sell a better one for the money. My mattress was twenty inches wide and had a small pillow fastened at one end.
Stuffed with straw it would have cost me two shillings nine-pence, but I was luxurious enough in my tastes to prefer a filling of seaweed for which I paid three shillings sixpence. I had cause to repent my extravagance later, for sand sifted through the tick confirmally, to the detriment of my eyes and ears. Mattress and blanket 'Ennery rolled into a compact bundle marking the ticking in big black letters, "Heaton, Aurania."
"'Av ye got a towel and a bit of soap?" queried he.
Learning that I was provided, he waxed communicative, telling me that in the busy days of spring he had sold 560 outfits for a single steamer and several thousands in a week's time.
Part II. My Journey in Steerage Begins
I doubt if it is a usual thing for an emigrant to eat the best breakfast-which the Northwestern Hotel at Liverpool can furnish and drive thence to the landing stage in a hackney coach after receiving the farewells of red-coated porters.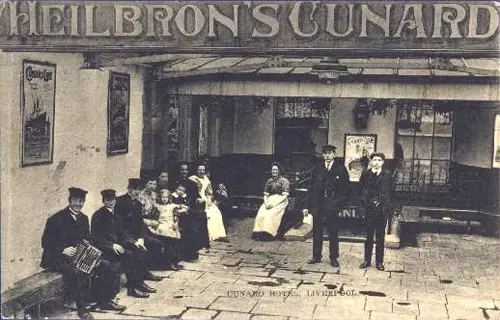 Rose Heilbron's Emigrant House - Cunard Passenger Agency - Great George's Sq. Liverpool - circa 1908
I had haunted the emigrants' boarding houses faithfully, never bringing myself to the point of spending a night in one, but .eating meals of various nationalities and different degrees of badness until I had satisfied myself that at this season of year, at least, few bona fide voyagers reach Liverpool until within a few hours of sailing, leaving me at perfect liberty to seek mine ease in mine inn. I had not the moral courage to stop the coach at the outfitting shop to pick up my kit, which had been left to be called for, but walked back after it when I had been set down in state.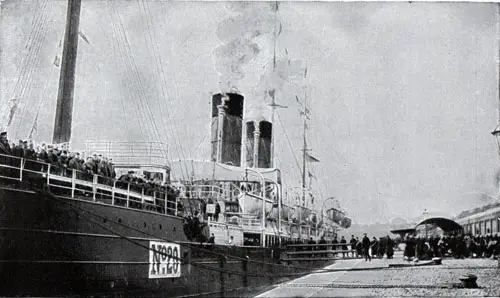 The Aurania as Transport Ship No. 20.
There were rather more than 250 of us waiting on the stage for the tenders to put us on board the Aurania, which lay well down stream. I had hidden myself at the hotel in a dust cloak, and when I folded away this shield of respectability and furtively compared my short blue gown and gay shawl with the attire of my companions I felt that I made as brave an emigrant as any of them.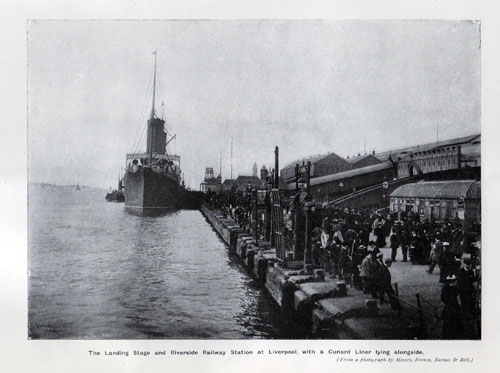 The Landing Stage and Riverside Railway Station at Liverpool with a Cunard Liner tying alongside.
One man after another pushed forward and flung his boxes and trunks on board. An emigrant is supposed to have muscles equal to handling his own luggage.
The sun shone out warmly -- it was the second day without rainfall I had seen in England -- and there was not a tear shed on the Skirmisher, not a sign' of regret at leaving old England, though the sound of sobbing reached us from friends still waving their adieus on shore as the wheels revolved and the muddy Mersey water began to show between.
A hatch labeled "Emigrants," a breakneck companion, half stairway, half ladder; a smell of bilge water, cargo and humanity, not definable but unforgettable -- the steerage.
We had tumbled forward and down, sixteen feet below deck, cumbered with many bundles, into a low, dark, bare room, sixty feet long, maybe, and of irregular shape, decreasing in width forward.
A mast ran up through the middle, and a hatch under the companion aft, covered with canvas and leading to the hold, considerably diminished the available space.
When the wind blew the canvas bulged, bringing up mingled odors from below. Another hatch and companion forward gave access to the fo'ksle and with closets for stores almost blocked that end of the room.
Rows of doors, starboard and port, opened into the sleeping rooms, which were separated from the main room and from one another by slight wooden partitions.
Each sleeping compartment was a rectangle perhaps fourteen feet long by twelve wide and eight high. On either side of the room two strips of canvas were stretched one above the other its entire width, leaving a narrow alley, in which a single person could move to and fro but in which two people could not pass each other, between.
This gave four great bunks which were separated each into six smaller ones by movable wooden slats a few inches high put down at suitable intervals.
Sleeping accommodations were thus provided for twenty-four adults, each being allotted a berth about two feet wide. A porthole admitted light and, when it was not windy or foggy or night time, air.
The floors of the sleeping rooms and of the main room were scrubbed scrupulously clean and the paint had been renewed within two or three months' time.
Certain of the compartments were assigned to women crossing the ocean by themselves, others to single men and others -- "private" rooms containing twelve couples each -- to married folks and families.
"Tek a top wan, tek a top wan, why doant ye?"
I was flinging my mattress and blanket into a lower berth close by the door. The voice had a friendly sound. An elderly woman with a pleasant, shrewd face was addressing me.
"Tek a top wan. Then sick folks can't spew down on ye."
I tossed my kit into an upper berth without loss of time.
My new acquaintance looked me over. I awaited the result of her inspection with some anxiety.
"Ah'm reet glad there's some decent folk in 'ere." ' The compliment went to my heart.
It was a long day spent in completing the last preparations for the voyage, in receiving tenders loaded with baggage and stores, and in waiting for the cabin passengers who would come on board in the afternoon.
We lounged on the fo'ksle head and looked off at the picturesque red and black sails dotting the Mersey. I peeped over the shoulder of a passenger who was sketching and discovered that we had an artist among us. A pretty child prattled to me of the gulls and the fishermen.
"I'm intermediate," she said. "Are you?"
I confessed that I was . Her manner changed.
"? Mamma says she can't abear the smell."
Mamma called her away very soon.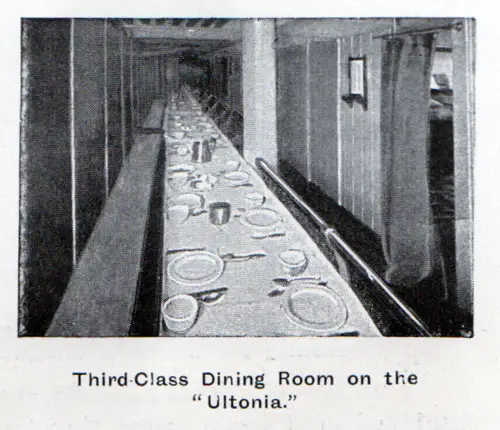 Third-Class Dining Room on the Cunard Ultonia circa 1902
At noon a bell rang us to dinner. Movable tables stretching the entire length of the had been let down from the ceiling, with boards resting on iron supports for seats. The formalities of cloth and napkins were dispensed with.
There were no dishes, each emigrant bringing out his tin plate and mug. The seating capacity of the tables sufficed for about half the passengers, late corners standing about in corners or sitting on the edges of their berths. When we had been forty-eight hours at sea there was more than room enough at table for those of us who continued to feel an interest in food.
"Soup here? Who's for soup? Any more soup?"
The soup was contained in tin buckets, and these the stewards -- there were two principal ones, a sandy blond and a swarthy dark man -- carried up and down the length of the tables, filling our mugs, sometimes by the simple process of dipping them in.
The soup was nondescript and not palatable. I never discovered its ingredients, though I suspected rice and was fairly certain of pepper. It was varied on subsequent days by pea soup, which was well cooked and decidedly a luxury.
The soup was accompanied by bread and was followed by beef and potatoes. The meat was already cut in slices and lay in an immense iron pan swimming in grease on the canvas which covered the aft hatch.
We stepped forward with our plates and slice after slice was forked upon them. Big tin pans were heaped with potatoes boiled in their jackets, and to these we helped ourselves, picking up with our fingers and appropriating as many as we thought we could get outside of steerage.
The beef was coarse and tasteless, but fresh and probably more nourishing fare than some of those who ate it, whose wages in the old country would hardly admit of animal food at all, were used to. It was a heroic task for me to masticate it, but I bore it no malice.
In quantity is was practically unlimited. This was true of nearly every article of food served during the voyage. The rule was, eat as much as you can hold. For my own part I subsisted largely on potatoes which, save on one or two luckless days when they had "bones" in their middles, went, with a pinch of salt, very well.
passengers wash their own dishes. Dinner over we gathered our tin ware together and climbed on deck. By the direction of the sailors we scraped our potato skins and other debris over the ship's side. The galley cook filled a tub with hot water on the lee deck close by the rail. About this' we stood in circles six deep waiting for a chance to rinse our platters.
When my turn arrived the water was cold and diversified with archipelagoes of potato and meat. I splashed in bravely, clinking my mug against a fleet of other mugs, but my life thenceforward had a new object. To be first at the tub, to wash my dishes while the water was clean, became the aspiration of my existence.
Unfortunately, everybody else in the aspired in the same direction. This is a world of competition, and however hastily I swallowed my meal, however nimbly I scrambled up the companion, I found a band of devotees bending before the tub.
One day, also, I saw a stoker grimed with coal dust washing face and hands in the dish water before the galley cook turned it over to the emigrants. I experimented with dry wipes, a first wipe with paper, a second with towel.
On the third day I offered a tip. It was accepted. It bought me a small private supply of hot water once or twice a day for the rest of the voyage, and I washed my dishes in my own tin basin amid a group of admiring spectators.
It sometimes happened that I thus became the sensation of the deck. I had not aspired to be the aristocrat of the , and to soften the effect of my exclusiveness I bestowed second wash and third wash-on the first applicants for those privileges. On greasy days fourth wash was gratefully accepted.
Part III: Life in Steerage - 1888
Drinking Water in Steerage
No drinking water had been furnished with our meal, and shortly after dinner I went below to look up some. A cooler with ice water stood in the main room. I approached it with my mug.
"What-r-ye 'bout there? None of yer tricks," called the light-haired steward.
I looked up puzzled. Was the ice water for the stewards' use only ?
"When will some water be served out to us in our cans ?"
"There won't be no water served out."
"But I want a drink."
"Well, drink if you want to. There's a cup." There was a teacup turned bottom up on top of the cooler.
"But I would rather drink out of my own cup."
"If I let you get water in yer own things, you women would be carrin't off all the time t'wash yerselves with. That water's ter drink. T'aint ter lug off. And that cup's ter drink it out of."
I wondered if it would be very uncomfortable to go without water till I reached New York. I offered the steward a tip. He refused it, saying that he was not allowed to take money from people. Then I searched my baggage For the smallest drinking utensil I could find. It was the cover of my water can. It held less than a gill.
"You see that I cannot carry off water to wash myself with in this. May I drink out of it ?"
"You won't be so squeamish in a day or two."
This I took for virtual permission, but the water cooler was the great bone of contention during the voyage. The under stewards who kept it supplied had no mind to bring more water than a minimum and, though ice was so lavishly used for all purposes that broken pieces were often left lying about the deck, not a day passed that rough words were not spoken in the , sometimes to men or women in quest of a drink, sometimes to people plainly carrying off water for purposes illegitimate.
We were threatened once or twice with the entire stoppage of our water supply if we did not drink out of the cup common to us all and refrain from drawing water in private mugs. I brought out my can cover as seldom as possible, fearing to bring down wrath on my head, never visiting the cooler except at meal times; though as my acquaintance with the stewards progressed I saw too many instances of genuine kindness on their part to the people in their charge to be as much terrified as I had been in the first place by occasional harshness.
The Initial Inspection and Completion of the Passenger Manifest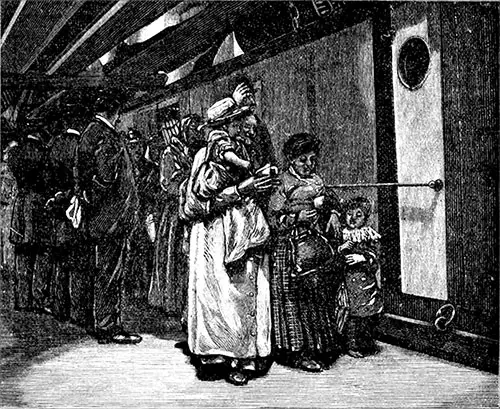 Immigrants Passing by the Ships Physician during Onboard Inspection. Frank Leslie's Popular Monthly, June 1892. GGA Image ID # 145c6d2ade
The monotony of the afternoon was broken by the ceremony of "passing the doctor." All steerage and intermediate passengers, who in most things were subject to the same rules, were mustered on the port deck, where we stood huddled together for three-quarters of an hour waiting for the embarkation officer, who should certify us fit for the voyage, and the ship's officials, who should pass us as likely to be permitted to land in New York.
At length we were marshaled forward past somebody in uniform to whom we handed, without slackening our pace, strips torn from our tickets. I stepped briskly forward, looking for the doctor beyond, but no doctor appeared. He must have been in the group about the ticket-taker.
I was not clear in my mind as to whether I had been inspected or not; or, if pronounced well, sane, in possession of the proper number of senses and able to take care of myself, at what point. It was "a mere form."
On Monday, after we had left Queenstown, we were mustered again, this time by the purser, for a list of the ship's passengers. We were sent below and climbed the companionway one by one, to be confronted at the top by a series of interrogatories after this fashion :
"Your name?"
"How old are you?"
"What's your country?"
"Where are you going?"
"What do you work at ?"
The question as to nationality troubled me. gave my own name, simply dropping the middle name, as at the emigration office and again at Castle Garden, having a prejudice against traveling under an alias. It was easy to call myself a housekeeper.
But the country. If I voyaged as an American, with rights of citizenship, should I not get off too easily at Castle Garden ? It cost me a pang, but I said I was English and it was so written down.
At two bells a seaman laid his hand on my shoulder.
"Down below. No women allowed on deck after 9 o'clock."
Sleeping in Steerage
There was little sleep in the steerage. Many had brought liquor on board and others bought beer of the stewards. I had been told that I could not buy food on board, but the sale of drink for a specified time every evening was a recognized industry.
Nevertheless, there was little drunkenness. A woman made a beast of herself and was sick all night in consequence, but no such scene was enacted as must have taken place in the of the Servia on my voyage from New York to Liverpool when a victim of delirium tremens, who had drunk himself blind because a pretty girl whom he had courted since leaving port refused him, howled in the hospital where he was bound hand and foot till it seemed as if the Evil One and his imps had captured the ship.
On board the Aurania, unless the men drank privately in their berths, they were noticeably more temperate than the women. I do not remember seeing one of them overcome.
I found my bed just short of positively uncomfortable. In presence of my twenty-three bed-fellows I did not venture to remove my clothes, but lay down, in Western phrase, in my boots, wrapping myself in my blanket and trying without success to force myself to sleep.
The Aurania had got under way, but the water was without a ripple and the motion imperceptible. Two or three accordions and a violin were brought out, and Irish ballad airs sounded through the .
My neighbors discussed their strange situation, one woman comforting two or three timid sisters with the assurance that nothing evil could befall us, for she had arranged to have the prayers of the church all the way over.
My bunk was next to the partition, and by lifting myself slightly I could look over the top of it into the open room, where lights were kept burning all night. At midnight or thereabouts there was a shuffling of bare feet.
A group of girls, tall, red-cheeked, powerfully built, strong as men, were engaged in a high-kicking contest, in the freedom of scant attire, the prize to go to her whose toes touched the top letters of a notice about complaints to the captain tacked against the wall.
On subsequent nights there was a watch set in the main room, but this night he was asleep or out of the range of my vision.
The Women's Lavatory in Steerage
The women's lavatory was in the fo'ksle overhead, and to reach it in the morning we passed through the ranks of sailors and stokers. Its door opened full on the carpenter's workshop, and every time it was opened or closed a full view of its interior was afforded. One of the stokers invaded its precincts once or twice until the Irish girls threatened to put their muscular development to proof on him.
The situation of the lavatory was an inconvenience in pleasant weather, when it was usually approached by the fo'ksle entrance froth the deck. In rough weather, when no access was possible except by the forward companion and through the fo'ksle itself, it was almost intolerable, not one woman in a dozen being able to walk to it without asking help from the sailors. This help was usually given kindly and with as much consideration as the circumstances allowed.
The wash basins in the lavatory were supplied with water made from the sea water, very possibly condensed from the exhaust steam of the engine. It had a peculiar odor, distinctly disagreeable, and apparently provocative of seasickness.
This odor remained on the skin after washing in it. The closets in the lavatory were kept fairly clean, as clean, probably, as they could well have been, but the smell of the place was so foul that I have seen five women enter well, to be violently seasick before they could open the door to. get out.
The place was crowded to suffocation in the morning and it was usual enough to wait outside half an hour for a chance to wash one's hands. Daily I felt grateful to the sailors whose rough courtesy made the situation much more bearable than it could otherwise have been.
Breakfast in Steerage
We had excellent bread for breakfast and tolerable coffee, with sugar and a faint hint of milk. This was the meal promised by the bill of fare. To it was added Irish stew abounding in potatoes and in which a piece of meat turned up perhaps every other day.
This stew was given us every morning and was an extra over and above the bond. Complaint of the food was perpetual among the passengers, but the meals were certainly better than the ticket promised and probably quite as good as the passage money allowed.
Part IV. Monotony of the Voyage in Steerage
"I'm afraid I'll have to separate you married people."
This was the sentence which shadowed the on Sunday.
We had taken aboard a fresh lot of people at Queenstown and the rooms for single men and single women could not contain their occupants, while the married people's rooms had some vacant berths.
"I could swing hammocks for the men," said the steward, "but there's the girls. I told them to pitch their kits into the married people's rooms, but they say they won't go in where there's men.
They fetch up the modesty against me. Modesty ! You'll see how much they have left when we're five days out. There's nothing else to do but put all the men together and all the women, so far as I see."
But the married women, especially those with children who wished the help of their husbands in taking care of them in the night, raised a storm about the steward's ears. They talked of the guarantees of the ticket. They refused outright to let the men go. They were afraid of the sea and shuddered at separation. The steward compromised.
"I'll see if I can't get some of the older women that's got more sense than girls to go into the married rooms without a fuss. It's all right. The men won't undress."
It was so settled. The married rooms were quieter than those occupied by the younger and more turbulent element, and women were found who were willing to take berths in them. It was far from an idyllic state of things, but both men and women made the best of the situation and the decencies of life were very fairly preserved.
All Sunday afternoon and until Monday morning we lay at Queenstown. Something was wrong with the engines and they must cool before repairs could be made. We bought oranges and lemons of bum-boat men.
Bumboat women with Irish lace for sale anchored their craft aft. Their business was with the cabin people, not with us. We had learned by this time the limits assigned us and halted in our promenades abreast of the notice, " passengers not allowed abaft of here."
Sunday evening a group of people gathered on the fo'ksle head and sang hymns. The bos'n and a few sailors joined in the choruses. The cabin passengers looked across from the saloon deck and watched us.
A kindly old man, hymn leader in a Methodist chapel in old England, beat time for us and preached a sermon of half a dozen sentences when the singing was done. We had bread with tea and sugar, without milk, for supper, and the women made little tea parties on deck, bringing their food up stairs and enjoying things sociably.
The saloon cookery was a subject of great interest to us. We saw chickens and grouse dressed for the table, and vegetables and fruit brought out from storehouses in the fo'ksle, and we looked on and yearned.
Sometimes a steward with a load of good things bound for the saloon galley would drop an apple or a lobster's claw into the lap of a woman, when exclamations of satisfaction were loud and long.
Monday was a day of white faces and despairing eyes. Whether it be that the motion of a vessel is more noticeable forward or whether emigrants, being on an average less well nourished, are less fit to withstand sickness than cabin people, or whether fear of the sea produces the result, it would be hard saying, but the succumbs much sooner than the saloon.
The berths were full of groaning humanity and bundles of wretchedness lay wrapped in shawls on the deck.
There are no benches forward and few emigrants are provided with camp stools. Down they lay, heads to the boards, and it seemed that the acme of misery had been reached when a woman allowed a sailor's broom sweeping up coal dust to be flourished past her face, touching her cheeks, without stirring.
Thirty women in a huddled heap, pale, with closed eyes, all lying in the sun, was a usual spectacle. The children seemed, contrary to rule, to suffer quite as much as older persons. The color went out of their cheeks and they looked like young ghosts. Sailors have little sympathy with seasickness.
"Ah cawn't see what anybody wants to be sick for thees fine day," said an old seaman to me, looking out over the unhappiness of the deck.
It was on Monday that I attracted attention of some of the saloon passengers. A comfortable, well-fed man stopped me, as I was walking the deck. with-
"Ah -- will you be good enough to tell me where you come from?"
His question was put in a my-good-woman tone of voice, and I waited for further information.
"Some of us," and he pointed to a group of passengers looking down from the deck above, "have a little bet up about your nationality. Would you mind settling it ?"
I told him that I had spent most of my life in America.
"But your mother was a Norwegian?"
I assured him to the contrary.
"Then we were all wrong. I made sure you were Norse."
This incident relieved me from any fear of detection in my masquerade. We are all taken for what we profess to be in this world, and I ventured to present myself in the at the hour of the ship's doctor's daily inspection. His gold lace looked sadly out of place in our quarters but his "and what does this young woman want ?" was pleasantly spoken. I asked for some bromide to get myself some sleep, and he sent one of the saloon stewardesses to me with it.
There was card playing on deck at sunset. Jack Tar's superstitions were aroused at sight of a girl kneeling at her play.
"Get off your knees ! Get up ! Don't do that at cards, or you'll send us to see Davy Jones," he ejaculated, pulling the girl to her feet.
There was dancing, too. A pretty girl from the saloon fiddled for the sailors. She had beautiful dark hair, and a bunch of the red berries of the mountain ash shone against the white of her fleecy shawl.
Two good-looking young fellows brought her forward to look at the people. She played and the sailors danced jigs and the stokers waltzed clumsily and two Frenchmen from the put their arms around each other's necks and executed a strange dance.
When she had gone a sailor continued the playing and a few women took partners and joined in the festivities. They had kept in the background as long as the saloon lady remained. We did not see much of the cabin people. They did not frequent our deck, though a lady with a very ugly small dog exercised her pet among us daily.
Tuesday passed with the usual monotony of life at sea. The men played quoits and one or two of the women, seeing me reading, borrowed books of me. The current number of "Harper's Magazine" was pretty well thumbed, as well as a novel or two of William Black's and Rider Haggard's. By Tuesday night so many of our people were sick that the air of the was unbreathable.
"Can't we have a porthole open ?" I asked the steward.
"It's against the rules at night."
"But even ten minutes would air this place out a little."
"Yes, I suppose so. But they can't open portholes tonight on the deck ten feet over this one. The water'll be over the top deck of all before long."
"Storm coming?"
"Well, it looks a little windy."
There was a fresh breeze blowing. By morning it had stiffened into a gale.
"And she'd take a gold medal for rolling," said the swarthy steward with a grim pride in one of his boat's special attributes.
Part V. Pitch and Roll - The Rough Ride in
She did roll. She wallowed and pitched. There were not above twenty-five or thirty of us able to stand. The aft hatch opening on deck was closed and covered with canvas. We struggled up by the forward companion into the fo'ksle.
On the leeside a safety rope had been stretched aft. Clinging to this we staggered to places of shelter under the hurricane deck. Here we clung for dear life, while the Aurania lurched almost to the point of dipping her rail.
None of the cabin folk were visible. But for us the wet decks were paradise compared with the thick air below. The tossing sea was a sight worth beholding.
The galley cooks and stewards were having an awkward time with their morning tasks. It was just beside the galley doors that we found standing room, and now and then a crash of crockery sounded in our ears.
Potatoes and apples rolled this way and that, and a white-aproned youngster got a bad fall with a panful of cauliflowers. We landlubbers tumbled about helplessly as often as we attempted to move. Salt water seasoned bread set to rise, and a lot of asparagus ready for table went overboard.
The day grew rougher, and one by one the fiend seasickness chose victims from our band. One by one the sufferers appealed to the sailors to take them below. One by one they were led away, till not above half a dozen remained.
The ship was dipping her lee rail now, and an occasional wave wet our feet and ankles. We huddled in and about a drying closet next the galley, much in the way of stewards, who had great patience with us.
Here we stood our ground till the decree came. The deck was unsafe. The next wave might take us off our feet and break our ribs or wash us overboard. All passengers must go below. The old seaman who didn't understand seasickness took me in charge.
"Mind now," he said, "hold on to me, and when I say run, run as fast as ever you can."
We made our way forward. A wave came over the fo'ksle head, splashing away aft. As soon as the deck was clear:
"Now for it, run!"
I ran, and just on my heels came another green wave, breaking over the bow and falling from the fo'ksle head, so my conductor said, like a "reglar Nagry Falls."
There were sounds of groaning and retching from below. "Pretty nigh every man Jack of em's sick down there," said somebody. I was determined not to add myself to the list of sufferers if I could help it and did not offer to go down.
The sailors looked at me dubiously but suffered me to stay in the fo'ksle. They did more. The bos'n fixed my camp chair securely between two brass-bound water-butts, where no roll of the vessel could dislodge it and in the only dry spot there was.
There I sat all day looking out on the storm and listening to the laughter of the sailors as now one and now another of their number got a drenching. They joked in one breath and were full of anxious inquiries in the next for a young man who had been knocked against some standing work in iron.
Niagara did not always flow aft. Sometimes the river invaded the fo'ksle and wet a luckless group to their skins. We were taking heavy water.. Tons thundered down past our ears. The gale was becoming a hurricane. The sailors stopped jesting.
"Mony a poor sailor'll rue this night4" said one of them to another.
In the evening the steward came and helped me down the companion. He was the same man with whom I had wrangled about the water, but he was a friend in need now. He apologized to me for the rude talk he thought I must have heard among the sailors and assured me they didn't mean any harm if they did swear. He brought me hot gruel. He urged me to take off my wet dress.
"There's no one noticin' and ye'll have rheumatism in yer legs if ye don't."
There was indeed no one noticing. There were not four sitting up and these leaned their heads on the table in disconsolate attitudes. I was a little melancholy myself and hurried to lie down.
In the in a wind. It was a night to remember. We gripped the canvas of our berths and held on to avoid being pitched out. The tinware in the bunks rattled and rolled. The soup and coffee kettles, hanging against the wall, played an anvil chorus.
A half dozen trunks banged across the floor. Something that sounded like ice got loose and pounded with heavy thuds. Down, down we went; the electric lights went out; there was a general groan. Then the bow wormed up again, the ,light came back and voices broke out.
"Ah ne'er saw naught like this before !"
"Jesu pity !"
A brave, confident little pipe tuned up:
"Father! Father! Father! I want a drink of water!"
It was a lad of five or six. He prattled away with his sister of eight.
"In four days we'll be on land."
"And I'll have my new pinafore on."
The timbers creaked and strained. There were kneeling figures on the floor. I could hear the words of their prayers. , The ship lurched and they rolled over like so many tenpins knocking about the room. It was a W. Clarke Russell night, with hoarse cries of sailors and rattle of blocks.
Above the-noise of the wind I heard the continual clash of electric bells from the saloon staterooms aft, where frightened women were calling the stewardesses and chambermaids. For us, timid or suffering, there was no comforting word or feminine ministration. We had no stewardess.
In the morning everybody's mess utensils were missing. But nobody cared.
"We'll ne'er want them again," moaned a Scotch-woman in my room.
Her tinware had fallen into the bunk below. The stewards brought a little dry toast to the sick women in their berths. The ship was rolling like a porpoise, but the lee deck was fairly safe again. The wind had shifted and we took less water.
There were tales of a foot of water in the intermediate cabin and of a wave that had knocked saloon people over in their deckhouse. The cabin passengers were still invisible, though one lady ventured out toward night, stopped beside me to see what I was reading and gave me a missionary talk on the pagan shrines of India.
By Friday the sea was comparatively smooth. The stewards half led, half carried the sick folks on deck. The children they picked up on their backs and deposited in sheltered spots with considerable gentleness.
Part VI. The Secret to Extra Provisions in Steerage
I was wearying of the fare. The potted chicken and, tongue with which I had stowed my satchel proved to be so salt as to be small improvement. I had a shilling jar of jam which it comforted me to. look at. I opened it. The Aurania rolled. I dropped it. I picked it up broken.
The jam was full of glass splinters, but it tore my hearstrings to throw it overboard. The same girl who had fiddled for the sailors distributed grapes among some of the children.
I could almost have begged her to give me some. A good-hearted fellow-voyager, whose catering to his wife and little folks had excited my astonishment, showed me the way out of my difficulties.
"'An ye've got a spare shillin' tip a wink to the cook and tip yer shillin' too. Tell 'im ye doant feel well. 'E'll give ye summut good."
I tipped a wink to an under steward. I could not buy anything of him, but the shilling induced him to make me a free gift of a bowl of beef tea, "straight from the saloon lunch, mum," and a plate of cold meats and toast from the same paradisaical region.
I supposed that his industry was illegitimate, because of the miscellaneous nature of his offerings, cold chicken, ham and tongue hobnobbing with half a tomato and some leaves of lettuce without dressing.
But if unauthorized, it was not interfered with. I tipped him a shilling every day till I went ashore and received some of the leavings of the saloon table for my lunch and dinner.
I recommended the same line of action to three or four others, and one sick woman, whose fancy twined itself about celery, subsisted for three days on sticks of that vegetable procured for sixpence a day.
Most of the folk were too poor for tipping, but the galley cook gave them hot water when they wanted to indulge in a private cup of tea, and I think the stewards sometimes gave the more delicate women milk. Fully half of them brought their own tea on board, and liked it better than that supplied them.
Another way of obtaining food was to tip the stewards for seats at their tables. They spread their meals when ours was done, indulging in the luxury of a tablecloth with some other small refinements. After the storm, when appetites needed coaxing, I saw one man sitting with the stewards.
The number increased daily, until sometimes eight or ten were thus exalted above their mates. To get a thorough understanding of the situation I asked for a breakfast on the morning before landing, and was supplied with eggs and bacon, luxuries which I had not before seen in the . I offered half a crown in payment. The rule against tipping was very laxly enforced, and lucky it was for my comfort that it could be broken.
"They want to look at your beauty spots today." This was Friday's announcement. In the afternoon we were mustered below. Notices posted in the had made us aware that we could not land without vaccination certificates, and the doctor was coming to inspect our vaccination marks and vaccinate us if we could not show satisfactory ones.
We rolled up our sleeves. The men were attended first because, the steward explained, some of the women might have to take off their gowns. The doctor stood at the foot of the companion on one side, a steward with vaccine points on the other.
One by one we stepped forward, showed our arms, received tickets and climbed the staircase. Some children and more older people were vaccinated. A few objected strenuously.
One woman told me that she had evaded compulsory vaccination in England because she did not believe in it. She said, if it were possible, she would turn about and go back sooner than see her "lads" vaccinated.
We were running through fog the greater part of the day, and according to rule the portholes were closed. The had grown by this time emphatically foul. Many of its occupants burrowed in their bunks like rabbits, ate in them and lay in them all day.
One old woman in a white cap, just from the peat bogs, never quitted hers. She was in my room and I entered into a compact with a small anxious-looking Irishwoman, traveling with five children, to appeal to the doctor unless she were cleaned or removed as a nuisance.
The stewards on our urgent representations brought chloride of lime and sprinkled all her surroundings. The stewards smiled at my talk of bad air.
"You'd orter see it in winter," said they. "In a March storm sometimes we 'av to keep 'em below decks four days at a time. You could cut it with a knife then."
Nevertheless, the atmosphere acted on me like a poison. I could not sleep in it. Within half an hour of lying down in my berth my head would thump like a trip hammer.
By midnight the pain would pass, and I lay until morning as if numb and paralyzed, counting the half hours from bell to bell, creeping up stairs for something to breathe at sunrise, half alive, energy and strength coming slowly back to me as the bracing ocean atmosphere filled my lungs.
I had fallen asleep but once in six nights, for not more than two hours then. I could hardly stand for fatigue. But I saw no remedy. The portholes were too low to open at night in a fog or in tumbling water.
Part VII. Weekend in Steerage
Saturday and Sunday were days of smooth running. I was growing acquainted with my fellow-passengers by this time and found them worth cultivating. As to nationality they were English, Irish, Welsh, Scotch and French. A majority of them had the makings of excellent citizens in them.
I made some acquaintances -- friends, if they will own me when this article shows them that I sailed under false colors -- for whose character, intelligence and valuable attributes of manhood and womanhood my respect was sincere.
There were also a few -- only a few -- mentally and physically foul, whom -- well, one wouldn't have mourned to see them drown. I think there were none for whom there was not a reasonable outlook for self-support. They told me their stories very readily, not thrilling stories, the short and simple annals of the poor.
The most interesting group to me among our passengers was bound for the mining districts of Ohio. It centred about a fresh-complexioned girl whose brother and whose lover had been in the States two years.
They had done well, had become mining contractors in a small way, and there was to be a wedding when the Aurania came to port.
The father and mother could not let their daughter leave them and had packed the household goods for a general migration. They came from the potteries district of England and were farming folk. There had been many bad years, they said, and they had sunk several hundred pounds.
They had opened a small shop and sunk money in that. Now they were bringing two younger children to America, where they hoped bread would come easier. The brother and the lover had built a double house for the united family and there was great talk of expected surprises in the furnishing.
The bride-elect showed me photographs and souvenirs from friends at home and the signatures of her class of Sunday school children. She was afraid she should be too late for the fruit canning this fall, but said that Western neighbors, or neighbors-elect, were putting up a good many jars against her coming.
With this family traveled a slight, refined girl, who had been a millinery saleswoman in a big London house. She had held a good place as English places go, and had thrown it up to gratify a desire she had had since childhood to come to America. She asked me with some anxiety if I knew anything about the chances for a "business girl" in New York.
Belonging to the same party was a pleasant-faced woman whose husband had sent for her to join him in Trenton, where he had some connection with the potteries, bringing the skill acquired in Stoke and Burton-on-Trent to bear. She said she sent one lad to his father last fall, a second in the spring and now she was bringing the two youngest herself. Fine, manly boys they were.
The story of one family was the story of the next. My friend who had instructed me in ways and means of getting better fare was a thoroughly good-tempered, wholesome soul, bound for a factory town in Orange County, N. Y. He had been in America before, had returned to England to visit his mother and remained with her till she died.
Then he "'ad to av some un in the 'ouse," as was his undemonstrative way of saying that he fell in love and got married. After some years his father died, and then, English ties being finally broken, he had taken his wife and two children and was coming to America to stay. His wife was a nice little brown-haired body, and he took the best of care of her all the way over. He expected to find work in a hat factory.
A party of five from the steel works in Swansea, Wales, was going to Silver Bow County, Montana. Its energetic spirit was a sturdy, elderly woman, whose strongly marked face and grizzled hair would have tempted a painter. Her husband and son were in the silver mines.
"They've been over nex' mun' fourteen muns," she told me. "They sent me sixty puns in wan lump, and then they sent me mooney to coom over too. W'en ah got me mooney for me sons, ah wrote back an' ah said, 'Nay, ah cooms not 'thout thee sen's mooney for the gal too.
If it's sooch a fine coontry, ah want the gal to 'av the good o't. 'Thout the gal ah stirs not.' An' my husband, 'e sen's twenty puns to do for the gal what's needful and ah got 'er wi' me now."
The daughter whom the mother had thus refused to leave behind was a splendid, red-cheeked creature of seventeen or eighteen, strongly knit and already like her mother. She told me that her father had visited home once but had refused to stay; said he would walk his feet off to find a ship to take him back to America.
"England's no good for anybody any more," went on the girl. "An' a thing cost ye fo' pence in the morning, it may be fo' pence-ha-penny by noon and fi' pence by night. England goes down, down, down."
A round, slow, dumpy little woman, whose husband was also a miner, was traveling to join him in Pennsylvania. Her husband had always fretted for America. A year ago she said to him:
"An thee wants to sell oop, sell oop!"
And he sold up and went. He sent for her several times but she refused to leave home. Finally he wrote:
"'An ye'm coomin' at a', coom. 'An ye'm not coomin' stay awa'."
And she came.
There was a farm laborer who had bought himself a cowboy hat and started for Texas or Arizona. There was a placid old lady in a widow's cap and white apron whose son was a carpenter in the suburbs of Chicago.
The son had crossed the Atlantic to bring her home with him and she told me with much pride that a church society was waiting till he got back to give him the job of roofing its chapel.
There was a bright-eyed, roguish Irish girl whose husband was a plasterer, in good work in Connecticut. He had been over, she said, four months and wrote her that America was a beautiful place. There was a brigade of Irish girls from Killarney and Cork. They were going out to service in New York, Springfield and Boston.
Not all the people were emigrants. A Scotch couple had lived thirty-one years on an Iowa farm, bringing up eleven children as American citizens. They had been on a pleasure trip to the Glasgow exhibition and traveled in the for economy.
The artist whom I had seen sketching spoke five or six languages and had traveled round the world. He found himself stranded in London and was trying to get to his home in San Francisco. An English teacher was making an experimental trip to New York in search of work.
As foils to these pleasant folk there were women who made night hideous with indecent songs, and whose talk in the small hours was so foul that mothers sat upright in bed watching their children's faces to be sure they were still sleeping and could not hear.
Everybody seemed to have relatives or friends in the States and the faith they all had in the New World gave me a lesson in patriotism. One man told me that of scores of people who had emigrated from his native town he had heard of only one who did not like America. But there were disappointments ahead of them.
They were utterly ignorant -- most of them -- of the country they were coining to and some expected almost to find gold growing on bushes. Some had left their clothes behind, because they thought people would dress so differently that they would be of no use here.
Hardly one understood American money. Several asked me if dollar bills would be changed in the stores or if they had to take them to banks. Several got small sums exchanged on the ship and spent much time puzzling over nickels and dimes and quarters, trying to learn their respective values as a precaution against being cheated. I told them that I had been in America and tried to help a few of the women a little.
Sunday morning we spoke pilot boat No. 4 and took our pilot. Later there was service in the saloon, the Rev. Dr. Hall, of New York, officiating. Our Methodist hymn leader was greatly distressed at being refused admittance at the service.
I asked our stewards if people were not allowed to attend worship. They told me that the rule was against it, that people were not allowed theoretically in any part of the vessel except forward; but that practically on Sundays the rule was relaxed in favor of the decent.
If the men shined their boots and had on collars and if the women were not distinctly out of keeping they would not be turned away. My Methodist acquaintance made a second and successful attempt, and a number of women also attended and came back eloquent over the glories of the saloon.
Those of us who remained away had our spiritual wants recognized by the plentiful distribution of tracts.
We had expected to land on Sunday, but the delay at Queenstown and the storm had lengthened the passage. All Monday we ran slowly through fog, anchoring in the lower bay at night.
My heart went down with the anchor, for I was mad for sleep. The stewards amused us with tales of former passengers, of the baby born at sea on the last voyage, of a woman with the "heart of a lion" who brought over fourteen children.
They had tales of Castle Garden also, and frightened us well with stories of the railroad pool which they asserted often separated families, forwarding parents and children to their Western homes over different roads. Tuesday morning was heavy with clouds and fog, and I missed the interest of watching the emigrants' faces as New York Bay unfolded before them.
I threw my mug overboard, and bade goodbye to the which had become forbidding as we moved into the warm air off land. When I made my adieus to the stewards I resisted with difficulty a wild impulse to invite them to a spread at Delmonico's.
It had been a weary voyage, but stewards and sailors, if rough with us, had been kind too. The stewards' places were hard ones, and they deserved respect for the general good sense with which they acquitted themselves.
We were mustered for the inspection of the health officers as we passed quarantine, and I saw our artist flying about distracted with anxiety because he had lost his vaccination ticket and feared detention. Afterward I came upon him seated placidly on his baggage at the dock and asked him how he fared.
"Oh, the stewards have a lot of extra tickets," he said, "and they gave me one."
The Custom House inspection was a sore trial to those who had not fastened their boxes so as to be easily opened. Their faces were pictures of anxiety as the carpenter hammered and pried.
The examination was not at all rigid. I had with me one trunk and two handbags. The inspector bent over the trunk ten seconds, looked at the bags as they lay open without touching them and marked them passed. If I wanted to smuggle I'd travel .
Part VIII. Arrival and Inspection at Castle Garden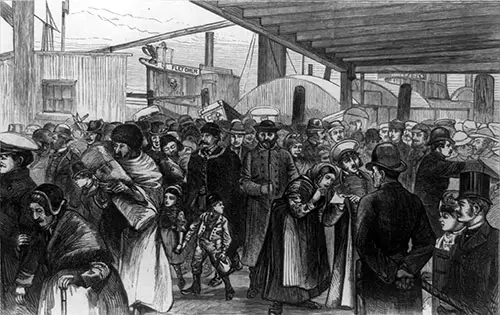 Immigrants From Steerage Landing at Castle Garden ca. 1880. Illustration by A. B. Shults. Library of Congress # 90707732. GGA Image ID # 145c4f2e5b
The Hazel Kirke took us from the dock to Castle Garden. As we entered the great circular building, plastered with notices in all languages, with Yankee Doodle in effigy looking down from the top of the restaurant stand, the Irishwoman with five children stepped to my side.
She thought she was on New York streets and wanted me to direct her to the best of the stores. She had just $10 and she wanted to buy provisions for the journey to Cincinnati where she was as likely to arrive with six children as five.
"What's your name?"
"How old are you?"
"Where were you born?"
"Where are you going?"
"Got a railroad ticket to get there?"
"Ever been there before?"
"What do you do for a living?"
"Married?"
"That your wife there?"
None of the Aurania's people were turned back or very sharply cross-questioned. Once past the scratching pens hurrying over big books the charge of the cheap boarding house brigade was upon us.
The runners came in with a jump. It seemed as if they would capture us by force and hurry us to the rear. Most of us were going West, and though confused and bewildered resisted their assaults as best we could.
Four steamers had arrived since morning bringing 1,000 emigrants. We were a weary and disconsolate band as we waited for the night trains. We sat about on wooden benches and ate doughnuts. I wanted a dinner and left my satchel with the parcel man while I went outside after it.
"I shall be gone about an hour," I said.
"That's not long," he rejoined.
When I came back the parcel office was shut; although not one of the Western trains had gone, and though it was before five o'clock, the parcel man had gone for the day. One of my fellow-travelers with the aid of a small boy and some silver hunted up another man who had a key just in season to enable me to catch my train.
At five o'clock the Aurania's passengers separated, the railroad tugs ferrying us to our several stations in Hoboken and Jersey City. We had been ten nights on the water, and in that time I had slept less than six hours. It was a hot day and the privacy of the washrooms at Castle Garden was not sufficiently respected by hangers on and loungers to enable me to exchange the heavy clothes I had worn on the voyage for lighter ones. I was faint and sick, and as we stepped from the boat and were formed in rude procession to march to the Baltimore and Ohio cars, I placed myself at the head of the line, resolved on getting a seat to myself, if there was anything in being first aboard.
A train had just come in and we were halted to allow the passengers to pass to the ferry boats. They looked at us, shabby and tired. We looked at them, cool, fresh, unruffled.
"They're the swell folks."
"Never thee mind, lad; we'll be swell folk soon." This was the spirit in which most of us had emigrated.
We were not allowed to seat ourselves in the emigrant cars. The train hands placed us two by two, so as to utilize every seat. My policy of hurry had been a bad one. It had brought me into a car occupied almost wholly by men.
When they began to smoke, as they all did immediately, the air was blue with cheap tobacco. I felt my head beginning to swim, but the window beside me stuck fast. I could not open it. A young Scotchman just landed from the Anchoria sat beside me.
"Do ye mind the pipe, lass ?" he asked, pulling out his.
"No; or at least, one more makes no difference."
He smoked. So did the train hands who lighted the lamps. So, as I remember it, did the conductor. The car was of the usual pattern employed for emigrants east of the Mississippi, in general appearance and arrangement like an ordinary car, but apparently springless, jolting from side to side, and stopping with a series of bumps like a freight train. It was clean and comfortably cushioned.
"Are ye o' this country, lass?" asked my companion.
I told him I was.
"Ye dinna look blithe; tak' a sup o' this, ye canna get the like this side the water."
He passed his whisky bottle to me. When I refused he shared its contents with neighbors who were appreciative. He was a quick-witted, intelligent fellow, going West to seek his fortune and keenly interested in everything to be seen on the route.
He leaned across me, with eyes fixed on the moving panorama outside. It was an early autumn night with white mist hanging low and trees rising strange and black out of it. He cross-examined me about every station as we passed it and communicated my scanty budget of information to the rest of the Anchoria's passengers.
There were people in the car from the Fulda, the Arizona, the Anchoria, and the Aurania, which had all come into port together. We compared notes about the boats and the storm.
An emigrant train makes no connections. It runs till it gets in the way of another train. Then it lies by till the track is clear and scurries like a hunted hare for its next siding. We had not started till nearly eight o'clock. It was now nearing eleven.
For half an hour I had fought desperately to keep my senses from reeling. By and by the man who had seated us came through the car settling us for the night. He interfered with cases of overcrowding where parents and children had huddled too many in a seat.
"Are you this man's wife or are you by yourself ?"
He had stopped by me and he offered to take me to a car where there were more women. The rear car of all had one vacant seat. I seized it. The air was better here but it was too late.
With the last ounce of strength I had I handed the man my card, which I had carried in my pocket in case of emergencies, and begged him to keep my secret, but see that I was left to myself.
I do not know whether he understood what I was trying to say, but he promised I should not be disturbed. Then he left me. I lay back in my corner and went from one fainting fit into another, with momentary intervals of consciousness, for perhaps half an hour. I was roused by a rough hand on my shoulder. Mechanically I held up my ticket. The hand shook me.
"Get up! get up, can't you ? Do you want a whole car to yourself? Get up, I say!"
I struggled into a sitting position. Some of my good friends of the Aurania were in seats close by.
"Ain't this a sleeping car?" they asked in chorus.
"Yes, but you sleep sitting up," returned my disturber, who was, I think, a baggage master or had some charge of freight. He wanted a seat in which to spread his waybills, and he bade a woman in black who sat behind me and who also had a seat to herself to get in with me.
She was not an emigrant but had taken this train because it was cheap or went at a convenient time. She shrank from actual contact with a passenger.
"I can't. I ain't used to such folks."
I sat, on the brink of another faint, stupid, speechless. The Aurania's passengers rallied gallantly to my defense.
"She's just as clean as you be, every bit !" "She's a right nice gal!"
But the woman was not to be persuaded. "Maybe, maybe. But I ain't used to it. She's sick, any way."
The baggage master -- if he was a baggage master -- took the seat and the woman stood up rather than sit by me. I fainted again.
When I came to my senses it was near midnight and the train was slowing up at Philadelphia. The woman in black had to change cars and turned to leave the train.
I was in a state something like somnambulism, where I would have followed, without much responsibility for my actions, any example set me. I followed doglike on her heels. The brakeman spoke to me, and I suppose I answered rationally, for he let me go.
I trotted after the woman in black, and in a minute was inside the great gate of the station. The air revived me. I knew that I had blundered. The train waited half an hour, but I was not aware of that. I asked if I might stay till morning, and dropped into an oak chair in a little reception-like room divided from the ladies' waiting parlors by blue plush curtains.
It was strange magnificence for an emigrant, but the night porter was very kind. He looked at my white face and offered to draw the curtains.
"Then you can lie on the floor, and that's better than sitting up, anyway."
I was asleep as soon as my face was pillowed on the carpet. I was not sick but exhausted. I awoke in the morning still tired, but well. If I had been a real emigrant I should still have been in sore trouble, but being a sham emigrant, I ate breakfast before worrying.
At the ticket office they told me that my ticket, which specified a continuous passage, would probably be accepted, in spite of my involuntary stop over, but I must wait until the emigrant train passed again.
I got out my dust cloak, tried to remember how I looked before I was an emigrant and took a Pennsylvania line express for New York. A second afternoon in Castle Garden was followed by a fresh start for the West.
I found acquaintances who had been kept over almost against their will by hotel men, and others who had stayed purposely for a night's rest, exhausted like me by the voyage and storm.
Castle Garden was not so full, for only one vessel had come in bringing immigrants. I came upon some helpless girls, whose passage had been prepaid by well-meaning ladies on the other side, and who hardly knew where to turn.
They brought to my mind a circular which was being distributed while I was in London, saying that a gentleman had applications from 15,000 girls who wished to leave Ireland for the colonies and this country, and that half the money needed was available if good people would contribute the remaining £2 a head.
My journey West was not adventurous. To tell the truth, I slept most of the way. I have recollections of bread and cheese and whisky, which my fellow-travelers produced from baskets, and of bad coffee which I drank at railroad restaurants.
I have other recollections of drowsy heads which bumped about at night seeking vainly for resting places, of weary and cindery mornings, of eager talk of the new country and the prospects of life in it. The immigrants were looking ahead, not behind.
I left the train at Chicago. I was too sleepy to go farther. I think I shall always be a better American citizen for my emigration. This is still the land of promise.
Eliza Putnam Heaton in 1888 posed as a "sham immigrant" traveling steerage from Liverpool to New York. Her account of that journey was first published in her hometown newspaper, the Brooklyn Times, in October 1888; after Heaton's death, her husband, newspaper man John Langdon Heaton, published the story of this undercover journey as a book. Eliza Putnam Heaton, The Steerage: A Sham Immigrant's Voyage to New York in 1888 (Brooklyn: Brooklyn Eagle Press, 1919).