Abuses Among Immigrant Passengers in Steerage - 1910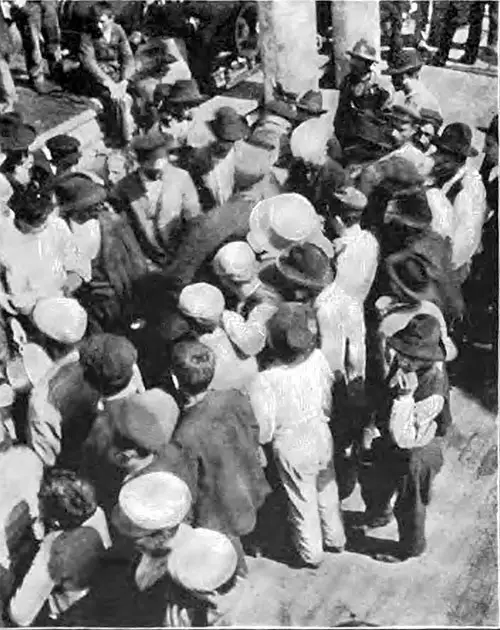 The Big Ship's Purser, Charging Into a Steerage Crowd of Men, Women and Children, Knocking them Right and Left. The day was bright, and the shutter set at one-fifteenth of a second, when Mr. Brandenburg took this picture as the ship lay motionless at Gibrattar. The blurred places and the bare outline of the officer's figure shows his speed and force. This photograph was used in evidence before the Presidential Immigrant Inquiry Commission and also before the North German Lloyd management in New York, previous to wholesale reforms made in the handling of third-class/steerage passengers. Leslie's Monthly Magazine, May 1904. GGA Image ID # 1462d69d4a
Abuses among immigrant passengers who come to this country through the ports of New York, Philadelphia, and Baltimore, have recently been the subject of a "silent" inspection by immigrant officers connected with the department of commerce and labor.
Immigrant Commissioner Daniel J. Keefe, in his next annual report to Congress, will have a number of interesting things to say, urging reforms in the service.
A few years ago the immigration commission appointed by Congress to thoroughly investigate conditions among the immigrants, especially about steerage passengers, disclosed a number of alleged abuses.
Women agents were employed, as well as men inspectors, who made trips from Europe in the steerage to study conditions at close range.
In part, June report, which is regarded as confidential, will contain convincing proof that the conditions of the steerage quarters of the great trans-Atlantic vessels are as severe an arraignment of conditions as was the first chapter in the history of immigration, affecting the "white slave" traffic.
Attempted attacks on immigrant women and girls have not been remedied; unclean and unsanitary conditions in the steerage are as prevalent today as formerly; scant and unpalatable foods are still served, and wanton and repeated insults, mentioned in past inspections by women agents of the immigration commission, continue without abatement.
These few evils mentioned in the report of the commission have in no measure been remedied, seemingly given the fact that there is at present no law, actively enforced, which makes the steamship companies responsible for the conditions.
"Abuses Among Immigrant Passengers," in The Evening Standard, Ogden, Utah, Thursday, October 6, 1910, Page 2, Column 2.