Leslie's Magazine Takes A Stand on Immigration - 1904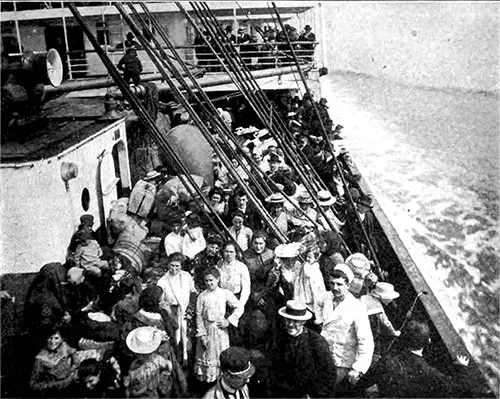 First Cabin Passengers Find Amusement in Watching the Crush of Steerage Passengers below. Photo Courtesy of the International Mercantile Marine. Leslie's Monthly Magazine, May 1904. GGA Image ID # 14618cb9e3
To accomplish a difficult and important work; to arouse the thinking minds of a great nation; to set on foot a revolution to disestablish one of the most important functions of the federal government, and replace it by a new and practical plan; this is something to fire the soul of the publisher who desires to be a good citizen.
This is what Leslie's Magazine has done.
The readers of Leslie's Magazine who have followed with interest Broughton Brandenburg's story. "Imported Americans," will be interested in knowing that behind it there lies a real and sincere experience.
When Mr. Broughton Brandenburg had completed his intimate articles on modern seafaring life, Leslie's Magazine saw in him the proper man to investigate the immigration question.
Every American citizen knows that the American immigration system is faulty. He knows that the designing steamship officials dump the refuse of the world on our shores, despite futile restrictions and laws too easy to evade.
These immigrants are the sort that cannot, even in years, become assimilated. They will not make good citizens: they are paupers and outcasts in their own country, who will never be any better anywhere.
Recognizing this fact, Leslie's sent Mr. Brandenburg and his wife to Europe in the steerage. 'They traversed the great immigrant producing districts, and returned with over a thousand immigrants, passing through Ellis Island as immigrants themselves.
In this process Mr. Brandenburg found that the key to the faults of our immigration system lay in the inability of inspectors on this side of the water to get at the truth.
A physical requirement was the only one exacted. The officials are compelled to take the testimony of the immigrant and his friends, and you may be sure they have been properly coached on the voyage.
The right place to learn the truth is the old country villages, where the commune records show who are paupers, insane, criminals, prostitutes, social malcontents.
Supported by Leslie's Magazine, Mr. Brandenburg went on probing conditions until he was ready to construct a new and comprehensive system to recommend.
His work attracted the attention of the government at Washington. Mr. George B. Cortelyou, then Secretary of the Department of Commerce and Labor, a department embracing the Immigration Bureau, headed by Mr. Frank Perley Sargent, made an appointment for a conference with Mr. Brandenburg. At this conference his plan was laid before Mr. Cortelyou and Mr. Sargent.
"I wish to Heaven you could say that on the floor of Congress," exclaimed Mr. Sargent when he had finished.
Mr. Brandenburg cannot go on the floor of the House, but he has free entry to the columns of Leslie's, and now that the needed machinery of legislation is beginning to turn in his support, Leslie's feels like stretching its arms and extending its chest.
To be able to wield so powerful a weapon as a magazine bought regularly by over a quarter of a million persons, and to strike such a blow for the betterment of one's country, makes it worth while being a publisher.
This is but an instance of the way in which the press of a country helps to better legislation. It merely happened to be LESLIE' s which sent Mr. Brandenburg to Italy for this purpose.
It might just as well have been any other magazine. But it so happened that it was Us that undertook the government's business, and the results of these investigations were so important that the government cannot ignore them.
"The Magazine as a Good Citizen," in Leslie's Monthly Magazine, New York: Frank Leslie Publishing House, Vol. LVIII, No. 5, September 1904, p. 576.