A Steerage Experience for Five Dollars - 1922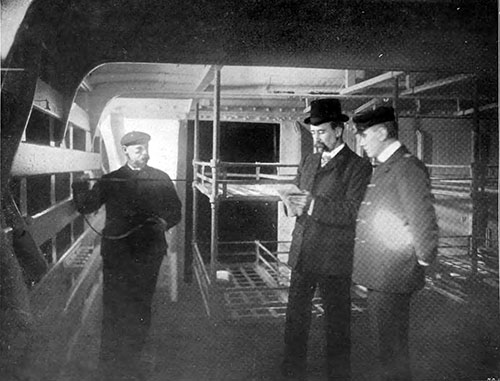 Inspectors from the Board of Trade Examine the Sleeping Accommodations for Steerage Passengers. The Syren & Shipping Illustrated, 24 June 1908. GGA Image ID # 147366c336
"There was keen competition at this time." Said Mr. Williams, "and I have known steerage passage to America to be given for a single sovereign—five dollars."
The food was excellent in those days on the Atlantic liners, but very poor in the Mediterranean service, according to Mr. Williams.
He ascribed this to the fact that the American steamers were victualed by the company, while those plying through the Straits of Gibraltar were victualed by the captain, who received an appropriate allowance—and, apparently, did not expend it as judiciously as he might have done.
Mr. Mclver, one of the directors in the early days of the Cunard Line, happened to be at Malta on one occasion when there was a great deal of complaining going on. He instituted an inquiry, and things were soon put right.
It was while Mr. Williams was serving in the Algeria, in the "seventies," that she burst a boiler tube one day out from Queenstown, westbound. He was then boilermakers mate, and it fell to his lot to plug up the burst tube.
To do this he had to crawl through the furnace into the smoke-box, and, the fire having only just been drawn, no great imagination is required to picture his condition when he had finished the job.
He had to be carried on deck, dosed with grog and put to bed for twenty-four hours. On the ship's arrival in New York, the "Chief" sent for Mr. Williams and gave him a sovereign and a day off in which to spend it.
 "This," concluded the veteran "shows that the Cunard Line knew how to treat its men, even in those long-departed days!"
Reported by the Shipping Magazine: Marine Transportation, Construction, Equipment, and Supplies, New York: Shipping Publishing Co, Volume 15, No. 5, March 10, 1922, p.14.