Stop Booking Steerage Passengers - White Star Line - 1892
Example of a flyer sent out to the booking agents that were representing the White Star Line regarding upcoming voyages. Often, steamship companies used flyers such as these to notify agents of changes in rates or announcing that certain classes of passengers for a voyage that is booked full.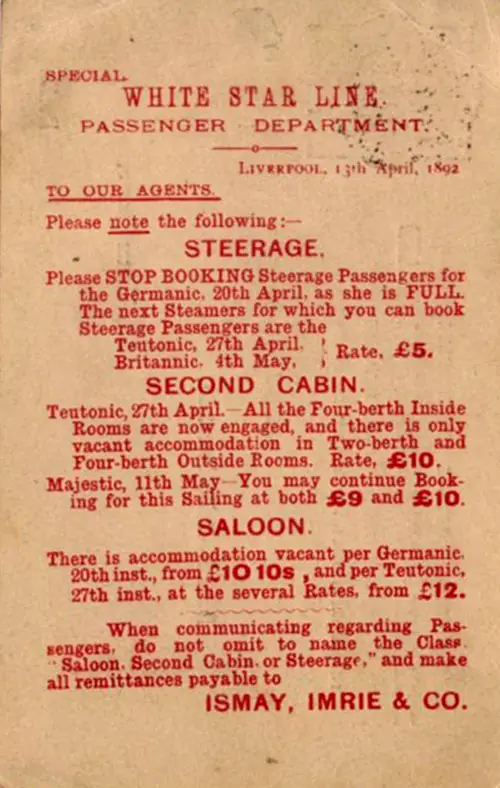 Special Notice To Booking Agents of the White Star Line From the Passenger Department, Liverpool, 13 April 1892. GGA Image ID #
SPECIAL
WHITE STAR LINE
PASSENGER DEPARTMENT
Liverpool, 13 April 1892
TO OUR AGENTS.
Please note the following:--
STEERAGE. -
Please STOP BOOKING Steerage Passengers for the Germanic, 20 April, as she is FULL. The next Steamers for which you can book Steerage Passengers are the Teutonic, 27 April. Rate, £5, Britannic, 4 May.
SECOND CABIN.
Teutonic, 27 April. All the Four-berth Inside Rooms are now engaged, and there is only vacant accommodation in Two-berth and Four-berth Outside Booms. Rate, £10.
Majestic, 11 May You may continue Booking for this Sailing at both and £10.
SALOON.
There is accommodation vacant per Germanic. 20th inst., from £10:10s, and per Teutonic. 27th inst., at the several Rates, from £12.
When communicating regarding Passengers, do not omit to name the Class Saloon, Second Cabin, or Steerage and make all remittances payable to ISMAY, IMRIE & CO.