Immigrant Journey in the Steerage - 1890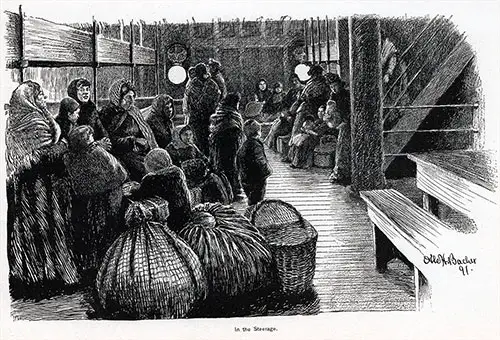 Scene In The Steerage, Ocean Passenger Travel. Scribner's Magazine, April 1891. GGA Image ID # 146b49fc8d
Bunking in with the Emigrants -- Uninviting Surroundings -- Some of the Noises, Smells, and Other Discomforts the Steerage Affords. These are the conditions found in 1890. The vast majority of immigrants to North America arrived via steerage.
"My dear Philip, you'll never do it. I'll wager you a fliver you don't."
Such was the emphatic consolation vouch saved to me by my old college chum when I confided to him my intention of crossing the Atlantic as an ordinary emigrant in the steerage.
How genuinely like a friend! You pride yourself on being a stone. Does he credit me? Not he! With brutal cynicism he laughs your pretty conceit, to scorn and denounces you to your face as a rank epicurean.
"Well," I cried easily, though not a little mortified, "I'll take yon, if only to punish you for your skepticism by collaring your £5."
I may here explain that I was crossing from merry England to the United States on pleasure bent, and the idea of traveling in the steerage pleased my fancy as being a novel and I flattered myself a somewhat plucky experiment. "Nothing like seeing life in all its varied phases," said I to myself.
A week later saw me at Liverpool. There was burying to and fro and trampling of heavy feet. Porters scurried hither and thither, bearing huge bales and "all sorts and conditions" of merchandise.
Hoarse shouts rent the air and there was much jostling and more profanity, and little respect was paid onto the corns of man. But as I cast my eyes along the approach which led to the stage, they ahgated on a procession which flooded my soul with the most dismal foreboding.
A nondescript moving mass -- which to call a wagon were to flatter it preposterously -- compared seemingly of a heterogeneous collection of bundles with here and there a projection which somewhat resembled a box, was advancing cautiously in our direction.
By the side of it marched a number of persons who might have been moving advertisements for a faded rag shop. They were indeed the sorriest crew I had ever set eyes on. Could this be the company I was to enjoy intimacy with for the next ten days?
Alas! my apprehensions were but to well founded. For the first time, I felt a pang for my GBP 5 Note.
The Journey Begins
The city clocks now announced that it was 10:30 and with that all of us were speedily shipped aboard the tender. We soon pulled alongside that gallant ship, the Crafty, which was to be our home -- or our coffin, for aught we knew -- on the wide, wide sea.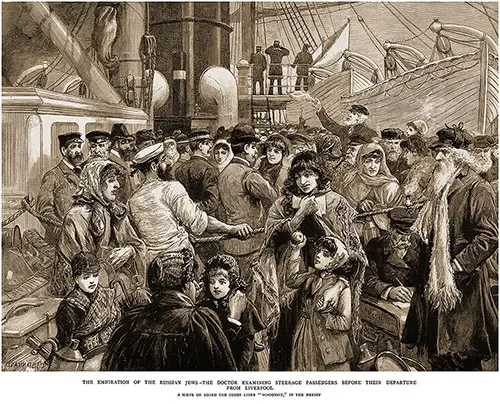 The Emigration of the Russian Jews - The Doctor Examining Steerage Passengers Before Their Departure from Liverpool a Scene on Board the Guion Liner SS Wisconsin, in the Mersey. Xylography by Charles Joseph Staniland, 1891. GGA Image ID # 1d96cd6c20
At 2 o'clock, the medical officer came aboard and held a levee, attended by all the crew and all the emigrants. We all filed by him in solemn procession. Now and then there would come a halt, while a man or woman, whose appearance suggested some unknown disease, would be subjected to rigorous examination.
By and by things began to resemble a more settled aspect and to indicate that the hour of our departure was nigh at hand. Presently the saloon passengers arrived alongside, and with them, an army of friends, who accompanied them to their cabins.
No sooner had they arrived there, however, than the bell rang and they came forth again like a rushing torrent and streamed into the tender.
A waving of handkerchiefs, a crying of "good-by," the welling of tears to tender eyes, a little huskiness of the throat and their adieus were said.
The Steamship Departs
The bar was safely passed late at night, and as we stood away from land we got clear of the fog and the Crafty was enabled to forge ahead rapidly.
On the morrow, we glided into Queenstown harbor, which some mariners claim to be the finest natural harbor in the world. Bumboat women here boarded us and until we weighed anchor often became a thing of misery by reason of their persistent attention.
Once at someone's lungs expanded more freely. It was at this period that I first began to study my fellow passengers. The respectable folk of the steerage numbered about twenty or thirty, and these were English, American and Scandinavian. All belonged to the poorer class but were cleanly and neat in appearance and of orderly behavior.
A marked contrast was afforded by the other emigrants. For the most part their personal aspect suggested the idea that the wells of their country had run dry and that soap was an offense to their nostrils.
Animalism was stamped on each man's face, and there was scare an intelligent creature among them. A certain concession in my favor was made by the steamship company.
Instead of being berthed forward with the single men, I was allotted a cabin aft such as is given to every emigrant married couple. This indeed was a liberal concession, for the single wretches were -- well, they were not reveling in luxury.
In some cases they slept six in a large bunk, with bunks to the right of them, bunks to the left of them, bunks below them, and bunks above them. The sense of compression was well high intolerable.
The single women endured a like state of things. The married couples were thus well off in comparison.
All went well for a day or two. The meals served were plain, but the food was good, and there was an abundance of it.
But Scripture saith an ending to all good things must be.
Issues During the Voyage
And so on the morning of the third day, Neptune began to get a trifle uneasy, and as the hours wore on his disquietude increased so alarmingly that the Crafty was unable to maintain her equilibrium and began to stir "with a short, uneasy motion."
Scene in the Steerage Showing Immigrant Passengers and a Partial View of Their Sleeping Accommodations. The English Illustrated Magazine, April 1893, p. 506. GGA Image ID # 1d18c5c1ab
This set me thinking that it was advisable to prepare for all contingencies, and so I betook me to my bunk, and there I remained a nigh and a day. The cabin opposite to mine was occupied by a patriarch who might have sat for Moses. With him was his family. Nor I doubt not that they were an agreeable family, but they developed a habit of moaning
in unison which was not altogether pleasurable to my unmusical ears. Then my next-door neighbors were a family and rejoiced in twins of stentorian lungs. One might have judged that it was the lifelong object of this pair to sustain a continuous howl.
Each seemed to vie with the other as to which could reach the highest note, and they would sing it out most triumphantly. Doubtless the parents had much reason to lay their hand on their offspring, and -- bless them, but my own savage breast would not be charmed by their duet.
Many other harrowing sounds, too, were borne in my ears, which made me regret my acute hearing and served to undermine my resolution to stick to the steerage. But I said in my strength, "I will remain where I am." Vain is the word of men! I had hardly made this mental ejaculation and the last straw was laid on the camel's back broke.
There had already been a curious odor of oil floating about, but now the pitching and tossing of the vessel caused a condition of things from which there sprung a most evil effluvium.
It was a sort of effluvia that besieged the nostrils and clung to them even when you rushed far from it domain. It was an effluvium that might be felt. All to soon I became aware of it. it was too much.
Moved by a sudden impulse, I crept from by bunk. A few pounds took me to the deck and the purser's cabin, and the next minute, I was transformed into a saloon passenger.
W. B. C. in Kansas City Times.
"Life in Steerage: How a Young Englishman Wagered and Lost a Bet," in The Daily Telegraph, Harrisburg Publishing: Harrisburg, PA, Tuesday, 4 February 1890, p. 2, col. 3.