The Summer Evening Gown - 1922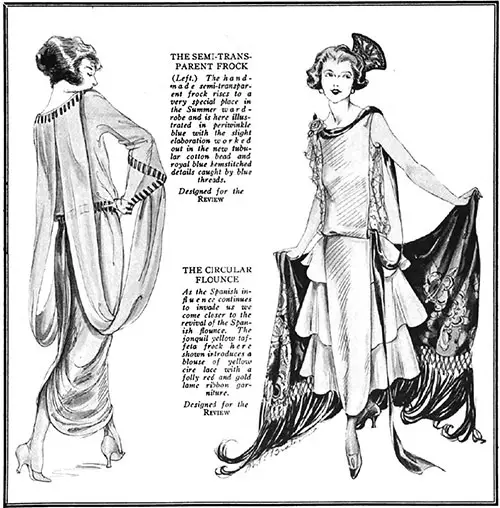 The Semi-Transparent Frock: (Above Left.) The hand-made semi-transparent frock rises to a very special place in the Summer wardrobe and is here illustrated in periwinkle blue with the slight elaboration worked out in the new tubular cotton bead, and royal blue hemstitched details caught by blue threads. Designed for the Review.
The Circular Flounce: (Above Right) As the Spanish influence continues to invade us we come closer to the revival of the Spanish flounce. The jonquil yellow taffeta frock here shown introduces a blouse of yellow cite lace with a folly red and gold lame ribbon garniture. Designed for the Review.
Simplicity First for the Formal Frocks—Telling Details for the Rest
It is generally agreed that dinner, dance, and evening frocks are to lose nothing of their fundamental simplicity because of their recently added length and greater fullness.
Indeed, the low set blouse upholds simplicity, because of the interest in its varying adjustments to varying figures, as do the left-front draperies, which seem to require no more than a ten minutes' manipulation to lift their graceful folds to the buckle or choux which holds them in place.
Moire of lightest, supplest texture, with a satin reversible side, is in high favor for both these types, as are moire-satin stripes, small self-tone discs and broché satins of easy manipulation.
The Transparencies and Laces
The type of frock which has been very generally advanced is the lace frock of two differing characteristics — that of the cire, or metallic lace, and the chiffon, georgette and fine net type, which introduces the side jabot drapery and variety of skirt hem irregularities. These points are sufficient to establish an effect of elaboration, no matter how simply worked out.
The second type is obviously newer. The lace wool, a sharply defined novelty of fine wool construction, known as a "grenadine lace," is much talked of in France, and is shown in American collections, possibly heralding the day of arriving yak and laces of a similar genre in due time.
The types of this grenadine lace now shown in dark blue, mounted over silver sheaths, pale maize or silver-grey taffeta glace slips, are small of stature in the main, of practical value as to weave, of exceptional durability and quite unlike anything with which we are at present acquainted.
Other lace frocks combine square mesh filets with boldly executed motifs in wool, linen or chenille, combined with a variety of the season's crepes, georgettes, chiffon, taffeta, and nets.
In the main, these laces uphold the ecru vogue, but also introduce color in vigorous patterns. Recently opened were brick color motifs on deep ecru, the motif threads being clipped in the manner of narrow wool fringes and such strongly defined elaborations, promoted with no added embellishments, and allied with crepes which create the low blouse, the hip sash and side train in sole relief.
The Beaded Frock
The frock which brings forth beads again is by no means timid in its advancements. It is seen in practically every collection. There are flesh and primrose pink crepes showing but the most delicate high lighting of tiny beads descending from the rounded neckline to the hemline, back, and front.
Again, there will be upon black a graceful vine tracery of shadow embroidery in royal blue, steel blue or black beads. Jet beads come forth on a saffron crepe; amber beads are shown in striping on a rich amber crepe with large discs of amber catching side draperies.
The French couture offers beaded effects in fuchsia tones in familiar effects. Much more interesting than beads have been for a long, long time were those seen at an opening of distinctive frocks in January.
Upon an attractive shade of oxidized grey crepe, leaves were in light relief upon a deeper ombre border with gunmetal beads most artistically employed to heighten the shaded effects. When so applied, beads are a delight to the eye wearied by the misuse of a valuable decorative element in the design.
It is also interesting to note the steady demand for crystals, fine pearls, and such formal elaborations as these are applied to, quoted by houses of the highest prestige in America. Nevertheless, the restriction of the motif to stomacher, paneled sections, tulle sleeves, trains or similar contrivings are notably emphasized.
The supposed passing of the all-over "spangled robe" is indeed taken for granted prematurely, as the dining hour at the Ambassador Hotel recently, strange to say, recorded no less than nine, ranging from the most intense blue of royal cast to black.
Quite the most significant contrast imaginable to these garish effects, especially those of the high colors, are the new cellophane spangle laces, handmade, of well-considered design and presenting no difficulty in making them wearable.
In the all-white lace, this is particularly noticeable, although the black designs are also effective. Black net top laces which show cellophane embroideries, present an effective variation in black lace frocks, while the revival of point d'esprit and the entire range of long-neglected fine nets brings forward the once favored black velvet ribbon in varying widths, in "rows upon rows," in most graceful full skirt models.
Ribbons from every angle enter into the composition of the 1922 Summer frock. It is, however, the alliance of wide ribbons with the newer mid-Summer types of frocks which interest from the modish standpoint.
Widest loops stand forth upon one changeant pink taffeta, grouped at the left side back with a garland of white orchids trailing at the front.
Flowered taffetas are gaining ground slowly and surely, while plain taffetas in every conceivable effect of simplicity and elaboration are developing a vogue in line with the renewed favor bestowed upon changeant gros de Londres.
Informal Evening Frocks
In the list of pastel crepes and soft silks offered for the jeune fille a great deal of fullness enters into the skirt whether it falls below a full blouse bodice or a semblance of its former straight-line expression.
This point carries over from the change inaugurated in late Fall and Winter modes and is in line with a broad movement to increase fullness wherever the soft fabrics obtain. In the general promotion of the lighter weight crepes and open weave tendencies, this determination is everywhere to be found.
The Hickson fashion show at the Plaza on January 17 stressed this point variously from the exquisite white crepe gown with its subtle flowing draperies, the Egyptienne gown with its draped train, to the gorgeous robe d'intereur of Venetian red.
Details
While many of these frocks manifest the greatest simplicity, others incline to the most extreme cording, quilling and scalloped, ruffled, and pleated elaborations.
Tubing continues in varied ways to be manipulated.
French frocks very often promote the milliner's rose as its girdle feature, offered in silk and in velvet, in both pastel and high colors.
Ribbon flowers introduce attractive novelty garnitures massed as girdle features in varied-color effects upon pastel georgette frocks.
The ostrich flue rosette and fringe are again seen upon exquisite taffeta and chiffon frocks, as are embroidered and handcraft roses with ribbon fringes falling from the center.
Monkey fur fringes are seen falling delicately from the Oriental or torsade girdle, upon a regal silver lame cloth gown with side trains of lame lace. Black patent leather roses were used as the low placed girdle on a white crepe of flowing lines.
Two, three and four trains are still shown. Occasionally at the end is seen some choux of ostrich or monkey fur—both of which as favored embellishments of a certain lightness of line will continue to occupy the floor.
"The Summer Evening Gown: Simplicity First for the Formal Frocks—Telling Details for the Rest," in The American Cloak and Suit Review: Devoted to the Women's and Children's Ready-to-Wear Trades, New York: John M. O'Connor & Co., Vol. XXIII, No. 2, February 1922, p. 137-139.
Note: We have edited this text to correct grammatical errors and improve word choice to clarify the article for today's readers. Changes made are typically minor, and we often left passive text "as is." Those who need to quote the article directly should verify any changes by reviewing the original material.