Afternoon and Evening Dress Increases in Charm 1922
Fluent Drapery, Hip Distension, Fabric Contrasts, and a New Color Spirit Reign
In recording the steady advance of the long line draped gown, its reception at the hands of the consumer privileged to view the recent fashion shows is no small part of its story.
That of the Romanian Fete at the Plaza, the League for the Foreign Born at the house of Mrs. Vincent Astor and the Flower Show Promenade found the applause vigorously and unmistakably in approval of the added grace of line.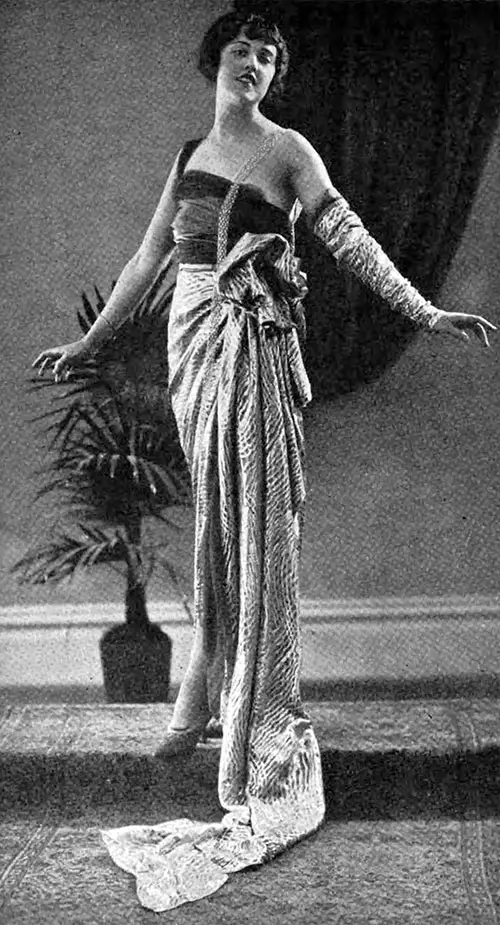 Superb Metalic Brocades by Hickson. American Cloak & Suit Review, April 1922.
Superb metallic brocades played a large part in the Romanian Fete contributed by Hickson, Inc., and Cheney Bros, and this origination was one of a group of exotic creations submitted at the close of the brilliant fashion revue.
The marked preponderance of draping textures; the newer proportions of the figure which drop the blouse silhouette to the hips and the long panel trains which take on a fresh interest because of their varying placements have each and all for some months been in the process of clearing away doubts and experiments.
Paris now talks of certainties, and we hear of the successful opening of the new Theatre Daunou with Renouardt's revival of "Le Bonheur de ma Femme" as an unqualified success for Lanvin, who created all the gowns for this important opening.
Modes of Simplicity
It is somewhat astonishing to find simple taffeta frocks, long of the bodice, distended of hip, in every collection, here and abroad, identical with a model we have known for several seasons.
In the Hickson collection, there is an example in Saxe blue without a single ornate detail, edge, sash or shoulder treatment.
One recent show repeated the familiar version in leaf green taffeta, with a delicate, almost indistinguishable tracery, in fine crystal beads in self-tone, hem, sleeves and neckline showing the pointed edge.
Both these examples will remain "in" until Fall and, no doubt will be again repeated in some equally simple, youthful version.
From the standpoint of gowns which carry on the straight-line, loosely handled under the arm, this silhouette has by no means lost its former hold.
It shows inset skirt sections of contrasting fabric, lace, or tulle, upon an upper half of crepe or other modish textures, but it has not undergone either a marked change of line or added embellishment.
In other words, the newer evening gown of this silhouette changes its skirt section, retaining its upper flat lines even to its cap and elbow sleeves.
Another surprising re-appearance is the jabot point. It arrives unabashed by continuous repetition and allies itself with both afternoon and evening gowns. Upon the former it presides as a sash; in evening dress it ends as a train.
Its rival is the long godet flare which sets into the waistline as a point jut swings out at its lower edge as a sweeping semicircle.
The larger this sweep, the newer the aspect of the gown and this increase of fabric leaves the foundation of the gown a slim slip, short or long, according to taste.
Recently Introduced
The semi-transparent crepes, as offered for the luncheon, afternoon, and evening hours in varying keys, included a striking beige combined with the new toast brown satin for a luncheon, topped by a wide brim hat of brown satin and straw, with a large pompon on the right under-side of the scoopy brim.
For the tea dance, a gown of the new "orange juice" shade shows a wide flat panel back, and front of black lace, with the full width, also introduced as the lower half of the long wide sleeve. A large black "picture scoop" topped this frock.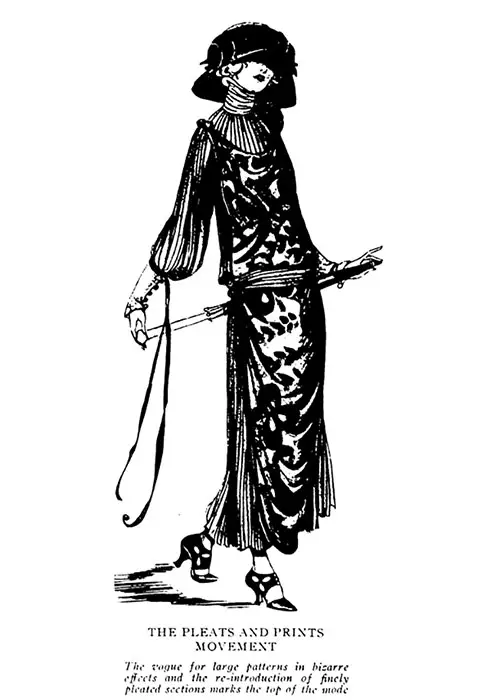 The Pleats and Prints Movement. American Cloak & Suit Review, April 1922.
The vogue for large patterns in bizarre effects and the re-introduction of finely pleated sections marks the top of the mode
Afternoon Dress
Long line draperies, particularly successful in beige, maize, and mordoré.
Presented in semi-transparent crepes, in one-tone and as a combination with black and toast brown.
Revival of important laces. Ecru over-bodice combined with a black lower section. Black hat and wrap.
Revival of sunray pleating for black satin capes.
Black transparent capes, deep hem, and ribbon loop yoke-collar.
Black taffeta with lingerie garnitures.
Lemon yellow cloth with black accents.
Evening Dress
Three leading silhouettes—low placed distended skirt line; supple long-line draperies; clinging smooth-line use of highest glaze changeant lame cloth.
Sleeve draperies conspicuous.
Revival of tulle scarf in key with the frock.
Emphasis upon changeant taffeta.
Petunia and gold featured.
Strongly accented note of metallic laces.
Flounced lace silhouette.
White satin and white chiffon highly approved.
"Afternoon and Evening Dress Increases in Charm: Fluent Drapery, Hip Distension, Fabric Contrasts and a New Color Spirit Reign," in The American Cloak and Suit Review: Devoted to the Women's and Children's Ready-to-Wear Trades, New York: John M. O'Connor & Co., Vol. XXIII, No. 4, April 1922, p. 121.
Note: We have edited this text to correct grammatical errors and improve word choice to clarify the article for today's readers. Changes made are typically minor, and we often left passive text "as is." Those who need to quote the article directly should verify any changes by reviewing the original material.