Ladies Chic Evening Gown No. 7389 - 1904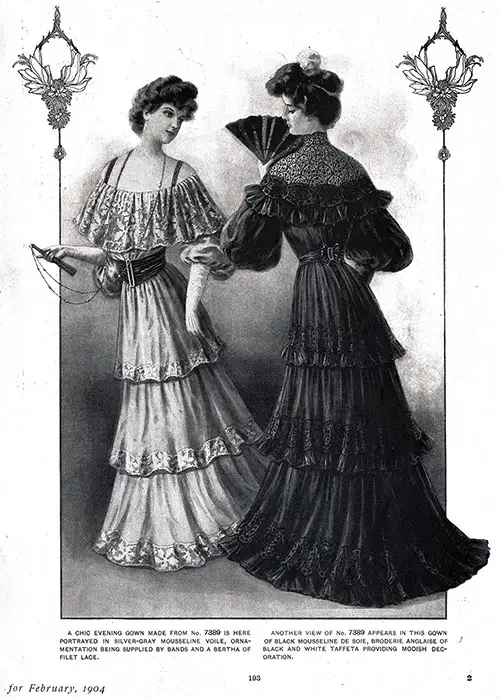 A chic evening gown made from no. 7389 is here portrayed in silver-gray mousseline voile, ornamentation being supplied by bands and a bertha of filet lace. Another view of no. 7389 appears in this gown of black mousseline de soie, broderie anglaise of black and white taffeta providing modish decoration.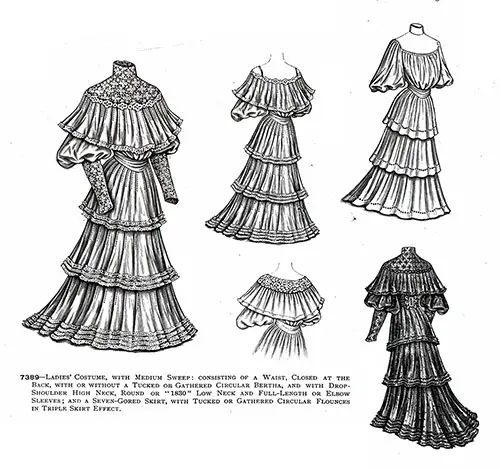 7389—Ladies' Costume, with Medium Sweep: consisting of a Waist, Closed at the Back, with or without a Tucked or Gathered Circular Bertha, and with Drop- Shoulder High Neck, Round or "1830" Low Neck and Full-Length or Elbow Sleeves; and a Seven-Gored Skirt, with Tucked or Gathered, Circular Flounces in Triple Skirt Effect.
Dress Description
Ruchings adorn many of the daintiest gowns this season, and an attractive example is here portrayed in white crepe de Chine in one instance and in black point d'esprit in the other.
All-over lace and appliqué band contribute the decoration. The bodice closes at the back and is topped by a deep yoke that extends over the shoulders in the quaint "1830" fashion.
A close lining supports the full front and backs that are drawn down snugly, and the "1830" effect is emphasized by the deep bertha that may be tucked or gathered.
A standing collar is worn when the neck is high, although it may be in low round outline or in "1830" style held in place by narrow straps over the shoulders.
Close linings flaring slightly over the hands support voluminous puffs that may be used alone when elbow sleeves are desired, or if the full-length sleeves are preferred, the linings are faced with the lace. A deep girdle is crushed about the waist and has frilled ends and a buckle at the back.
Three tucked or gathered circular flounces, in triple skirt effect and producing a quaint and fluffy appearance, entirely conceal the skirt proper, which consists of seven gores.
The ruchings form a dainty decoration for the lower edges of the flounces, although if a plainer development is desired, a trimming of narrow appliqué may be employed.
A medium sweep is allowed, and the skirt measures about three yards and one-fourth and the lowest flounce about four yards and one-half in the medium sizes.
Ivory-white mousseline de soie and d'Alengon lace will combine favorably in this gown, while café au lait Eolienne with self-colored lace will be exceptionally attractive.
Ecru lace will form dainty ornamentations on a frock of white crepe, and a smart touch may be given by a girdle of yellow velvet secured with a long, graceful, gold buckle.
Chiffon velvet and moiré in the pale shades are in vogue for evening gowns this season, and chiffon, chiffonette, Liberty satin, crepe de Paris, silk net, and grenadines in all the delicate shadings are extensively used.
Dressmaker Options
A ribbon is successfully employed in the decorative scheme of many of the most attractive designs and the soft, pliable weaves are used in the form of ruchings with good effect and are also available for the crush girdles that are so prominent a feature of the new modes. A narrow width might be used for ruchings, with wider ribbon to match for the girdle.
Pattern Information
Pattern 7389 is in 5 sizes from 32 to 40 inches, bust measure. For the medium size, it will require 11 1/2 yards of material 27 inches wide, or 7 5/8 yards 44 inches wide, with a yard of all-over lace 18 inches wide for the collar, yoke and lower part of sleeves. Price, 25 cents.
"7389 Ladies Costume," in The Delineator: An Illustrated Magazine of Literature and Fashion, Paris-London-New York-Toronto: The Butterick Publishing Co. Ltd., Vol. LXIII, No. 2, February 1904, p. 192-193.
Editor's Note: Some terminology used in the description of women's clothing during the 1800s and early 1900s has been changed to reflect more modern terms. For example, a women's "Toilette" -- a form of costume or outfit has an entirely different common meaning in the 21st century. Typical terms applied to "toilette" include outfit, ensemble, or costume, depending on context.
Note: We have edited this text to correct grammatical errors and improve word choice to clarify the article for today's readers. Changes made are typically minor, and we often left passive text "as is." Those who need to quote the article directly should verify any changes by reviewing the original material.