Teen Shirt-Waists, Skirts, Etc. 7414 7434 - 1904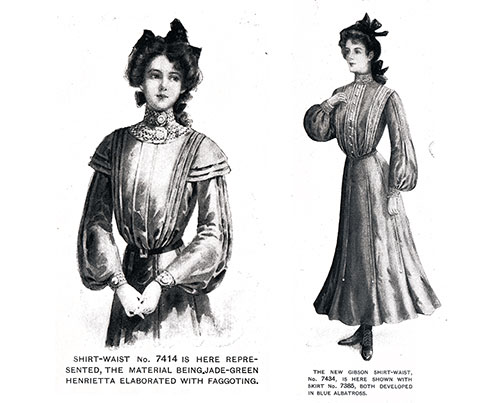 Shirt-Waist No. 7414 is here represented, the material being jade-green Henrietta elaborated with fagoting.  The new Gibson shirt-waist, No. 7434, is here shown with skirt No. 7385, both developed in blue albatross.
Teens Tucked Shirt-Waist No. 7414
7414—Teens Tucked Shirt-Waist, with or without Yoke-Facing, Sleeve-Caps or Body Lining.
Description
Pale-blue taffeta, stitched and ornamented with gilt buttons, lends effective contrast to this pretty shirt-waist of ivory - white Liberty satin. Irish point lace medallions also form an important part of the ornamentation.
As here represented, a fitted lining was used, but this is not essential. The tucks at the center of the back and front are turned to simulate box-plaits, and at each side groups of three tucks are arranged, the outer ones concealing the edges of the tucked sleeve caps or the tops of the sleeve seams when the caps are not used.
A unique yoke-facing in strap effect may be applied, and the standing collar corresponds. Closing is affected at the center of the front. The fulness of the back is drawn down smoothly, and at the front is allowed to pouch stylishly over a crush belt.
Tucks adorn the upper parts of the sleeves which form puffs below the elbow and are confined in wristbands that correspond with the collar. Two-seam sleeve linings are furnished.
Dressmaker Options
An exquisite effect may be achieved by making the waist of white Chantilly lace over glacé taffeta. Louisine, messlinette and soft woolen materials will also be satisfactory.
Pattern Information
Pattern 7414 is in 4 sizes from 14 to 17 years of age. For 15 years, it needs 4 1/2 yards of material 20 inches wide, or 3 3/4 yards 27 inches wide, each with 1/2 yard of taffeta. Price,15 cents.
Teen's Shirt-Waist No. 7434
7434—Teen's Shirt-Waist Closed in Front, Tucked in Double Box-Plait Effect and with or Without the Body Lining. (Known as The Gibson Shirt-Waist.)
Description
A new design for a shirt-waist which will impart unusual style to an undeveloped figure is here portrayed in mercerized vesting.
Tucks that are so arranged as to give the appearance of box-plaits, wide at the top and narrower at the waist-line, are laid at each side of the back and front, and one at the center conceals the closing.
Gathers control the fulness at the back and also in front, where a pouching effect is produced above the belt. A standing collar is worn over the neck-band, and bishop sleeves are employed, tucks simulating box-plaits taking up the fulness at the top, and buttoned cuffs completing them.
Body and sleeve linings are included but are hot indispensable. This mode is known as the "Gibson" blouse.
Dressmaker Options
Jade-green French flannel, wood-brown broadcloth or fancy waisting will make up very stylishly.
Pattern Information
Pattern 7434 is in 4 sizes from 13 to 16 years of age. For 15 years, it needs 3 5/8 yards of material 27 inches wide. Price, 15 cents.
Terminology
Fagoting: embroidery in which threads are fastened together in bundles.
"Misses' Shirt-Waists, Skirts, Etc.," in The Delineator: An Illustrated Magazine of Literature and Fashion, Paris-London-New York-Toronto: The Butterick Publishing Co. Ltd., Vol. LXIII, No. 2, February 1904, p. 222-223.
Editors Note: Some terminology used in the description of women's clothing during the 1800s and early 1900s has been changed to reflect more modern terms. For example, a women's "Toilette" -- a form of costume or outfit has an entirely different common meaning in the 21st century. Typical terms applied to "toilette" include outfit, ensemble, or costume, depending on context.