Teen Costumes and Dresses 7390 7403 7420 - 1904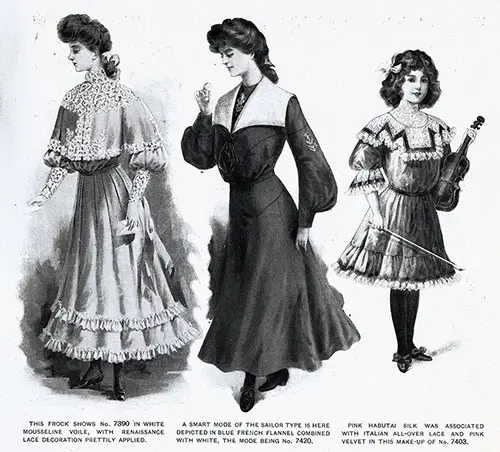 This frock shows No. 7390 in white mousseline voile, with renaissance lace decoration prettily applied. A smart mode of the sailor type is here depicted in blue French flannel combined with white, the mode being No. 7420. Pink habutai silk was associated with Italian all-over lace and pink velvet in this make-up of No. 7403.
Teen's "1830" Style Costume No. 7390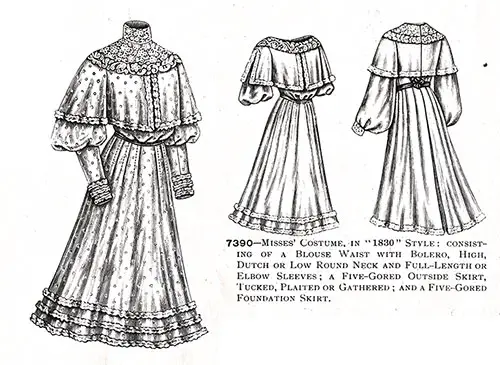 7390—Misses' Costume, in "1830" Style: consisting of a Blouse Waist with Bolero, High, Dutch or Low Round Neck and Full-Length or Elbow Sleeves; a Five-Gored Outside Skirt, Tucked, Plaited or Gathered; and a Five-Gored Foundation Skirt.
Description
A girlish costume in "1830" style is here pictured in blue challis and all-over lace. Ruching and appliqué band form an appropriate decoration.
The skirt is of five-gored construction and may be tucked to yoke depth with an inverted box-plait at the back or attached to the belt with plaits or gathers.
The foundation skirt is also shaped by five gores with an inverted box-plait at the back and the lower edge of the outside skirt measures about three yards and one-half in the middle sizes.
A deep bolero is a salient feature of the bodice, which blouses prettily in front over the snug lining and is drawn down softly at each side of the back closing.
The yoke is round and may be topped by a standing collar or cut out in Dutch or low round outline. Two-seam linings support the sleeves, which may be in full length or shortened to the elbow and are overhung by plain or slashed circular caps.
A broad ribbon is crushed about the waist and fastened under a rosette bow at the back.
Dressmakers Options
The soft, thin- textured woolens and silks are especially desirable and include voile, veiling, albatross, Lansdowne. crepe de Chine and China silk.
Pattern Information
Pattern 7390 is in 4 sizes from 14 to 17 years of age. For 15 years, it requires 8 7/8 yards of material 27 inches wide, with 1/2 yard of all-over lace 18 inches wide. Price, 25 cents.
Teen's Costume 7420
7420—Misses' Costume: consisting of a Shirt-Waist, Bloused or Drawn Down at the Back, with Removable Shield and Bishop Sleeves, having Plaits or Cuffs at the Wrists, and with or Without the Deep Yoke-Facing and Sleeve Cap-Facings; and a Seven-Gored Flare Skirt, with Inverted Box-Plait at the Back, and with or without the Yoke-Facing.
Description
Sailor modes are always in good taste for young girls, and the one here portrayed in blue serge contrasted with white is both practical and stylish.
A deep yoke-facing distinguishes the shirt-waist, which is cut away to reveal a removable shield decorated with an emblem.
Shirr-strings inserted in a casing regulate the fulness at the back, which may sag over the belt or be drawn down trimly, while the fronts may be adjusted as desired.
The yoke-facing extends down the front at each side of the invisible closing, and the sailor collar may have square or pointed front ends. Bishop sleeves with pointed cuffs are supplied and may have cap facings at the top.
Sleeves plaited at the wrists and top may replace them, if preferred. A narrow belt and jaunty tie are worn.
Seven gores were utilized for the skirt, which may be made with or without the yoke-facing. An under folded box-plait removes the back fulness, and a simulated lacing is arranged.
The lower edge flares smartly and measures about three yards and one-fourth in the middle sizes.
Dressmaker Options
Blue is the favorite color for sailor costumes and in cheviot, cloth and flannel it is extensively used, and it may be effectively contrasted with red or white. White flannel will be exceedingly smart with a taffeta tie and decorated with emblems.
Pattern Information
Pattern 7420 is in 5 sizes from 13 to 17 years of age. For 15 years, it needs 5 3/8 yards of material 44 inches wide, with 5/8 yard of contrasting material in the same width for shield and inlaying sailor collar. Price of pattern, 25 cents.
Girls Dress No. 7403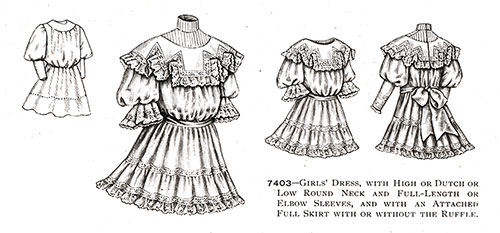 7403—Girls' Dress, with High or Dutch or Low Round Neck and Full-Length or Elbow Sleeves, and with an Attached Full Skirt with or without the Ruffle.
Description
A pretty frock is here depicted made up in fine white lawn and lace. The waist is full, pouching becomingly in front, while the backs are drawn down close at each side of the invisible closing.
A round yoke of tucking is supported by the close body lining and is surmounted by a standing collar, also of the tucking.
The bertha is a particularly pleasing feature of the mode and finishes the neck when it is in low round outline and gives fashionable breadth to the shoulders when the neck is high or in Dutch round effect.
Two-seam linings serve as a foundation for the full puffs and may be deeply faced in gauntlet effect or cut off and frilled if the elbow sleeves are preferred.
The skirt may show a deep hem or be lengthened by a ruffle, increasing the fluffy appearance. It is attached with gathers to the waist, a broad ribbon sash concealing the joining.
Dressmaker Options
A dancing frock of pale-pink mousseline de soie might be elaborated with Chantilly or d'Alengon lace. Swiss, organdy, point d'esprit, dimity, China and Habutai silk, challis and albatross are in good taste.
Pattern Information
Pattern 7403 is in 9 sizes for girls from 6 to 14 years of age. For a girl of 9 years, the dress requires 4 3/8 yards of material 36 inches wide, with 3/8 yard of tucking 18 inches wide for yoke and collar. Price of pattern, 20 cents
Terminology
Habutai or habotai is one of the most basic plain weaves of silk fabric. While it was traditionally woven in Japan, most habutai is today woven in China. It is normally a lining silk but can also be used for T-shirts, lampshades, summer blouses or very light lingerie. (Wikipedia)
"Misses' Costumes and Girls Dresses," in The Delineator: An Illustrated Magazine of Literature and Fashion, Paris-London-New York-Toronto: The Butterick Publishing Co. Ltd., Vol. LXIII, No. 2, February 1904, p. 216-217.