Fashionable Gowns for Teens - 1912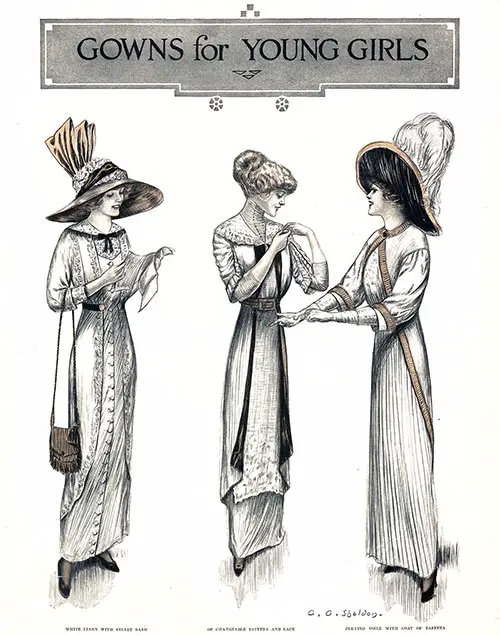 Teen Gowns Featuring White Linen with Velvet Sash; Changeable Taffeta and Lace; and Pleated Voile with Coat of Taffeta.
White Linen with Velvet Sash Gown
The first model on this page has excellent lines for almost any figure. It is made of soft white linen with buttons of the same material. The border design which outlines both the waist and tunic should be rather gay in color.
The square collar and under cuffs are of coarse lace, edged with fringe, the same fringe appearing at the bottom of a long black velvet sash which hangs almost to the bottom of the skirt in the back, covering entirely the six-inch panel which joins the two widths used for the overskirt.
Changeable Taffeta and Lace Gown
We have clung to the idea of taffeta for suits and gowns, and some of our prettiest results have been attained by the use of this soft, attractive silk. The center gown of this page was made in a taffeta of shot pale blue and silver gray, with revers of black.
The back of this skirt is one of its best features.
The designer allowed an extra half-yard of the taffeta on the right side of the overskirt in order to pleat it into a three-fold jabot, in the center back. It is developed in quite the same way as a jabot collar.
Gown of Pleated Voile with Coat of Taffeta
The right-hand design is the kind of gown which Paris has been for some weeks holding out to us. The skirt is one of the new finely pleated voiles attached to an écru lace blouse. Over this is worn the black taffeta coat, cut away from the bust into a long pointed tail in the back.
"Gowns for Young Girls," in Harper's Bazar, New York: Harper & Brothers Publishers, Vol. XLVI, No. 7, July 1912, p. 345.
Editor's Note: Some terminology used in the description of women's clothing during the 1800s and early 1900s has been changed to reflect more modern terms. For example, a women's "Toilette" -- a form of costume or outfit has an entirely different common meaning in the 21st century. Typical terms applied to "toilette" include outfit, ensemble, or costume, depending on context.
Note: We have edited this text to correct grammatical errors and improve word choice to clarify the article for today's readers. Changes made are typically minor, and we often left passive text "as is." Those who need to quote the article directly should verify any changes by reviewing the original material.