Wardrobe For the Girl Who Is Going Away to School - 1912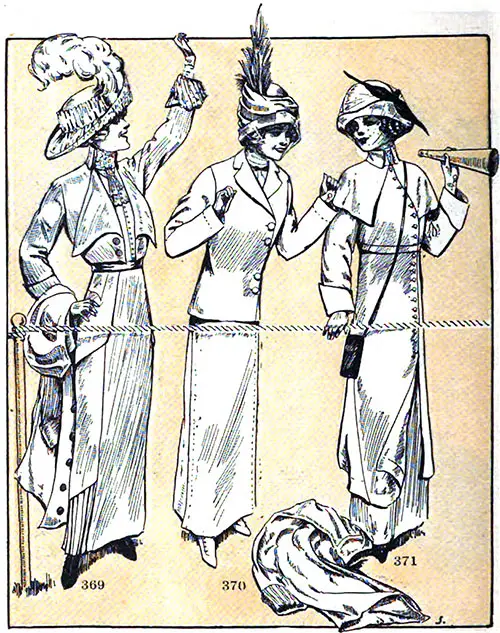 Tailored Suit, Utility Tailored Suit, and Top Coat For the Girl Attending her First Year in College or Boarding School. Good Housekeeping Magazine, September 1912. GGA Image ID # 166df99271
No. 369 - Velveteen or cloth suit with Directoire revers, collar and cuffs of faille. The waistcoat is of satin with fancy buttons. The shirt has plaits at the sides and across the back
No. 370 - Utility tailored suit in serge or suiting with revers of peau de soie. Side plaits, back and front, on the skirt.
No. 371 - Top-coat of heavy cloth with deep cape and buttons covered with the material. Large set-in  sleeves finished with flare cuff
The girl who is anticipating her first year in college or boarding school should think of all the articles of clothing she will require up to the Christmas holidays before she leaves home, for once the fall term has begun there are few stray moments to devote to clothes, even to repairing them.
There are certain garments which every schoolgirl will find useful. The first is a well-cut, severe, tailored suit of a serviceable material, such as serge or whipcord. This, she will use as her traveling suit, with a neat, plain shirtwaist of silk, matching in color the skirt.
A reasonable number of shirtwaists should be included to wear with this suit. One or two might be of soft flannel, others of wash materials, and there may be, perhaps, one dressy blouse of chiffon or lace to wear into town to luncheon or the matinée.
Some girls supplement this utility suit with a more elaborate one of broadcloth, velveteen or corduroy. As a rule, this second suit is a so-called three-piece costume, either with the dressy blouse or a one-piece gown. A jaunty street hat and a more elaborate one for formal occasions should be worn with these suits.
The long top-coat is a necessity, and the raincoat will be found equally useful. To wear during play hours, there are the Norfolk jackets, and their successors, the Mackinaw jackets. The play costume very dear to the college girl's heart, however, is a short skirt of homespun, or one of accordion-plaited serge, with a sweater-like tunic of serge or duck, showing a turned-up facing at the bottom.
For the first few weeks of the fall term tub dresses are worn in the classroom, and, in fact, many girls wear them even during the winter, where the rooms are steam-heated. It is well, however, to have two or three cloth dresses. These dresses are either cut in one piece or joined at the waistband to give the same effect and comfort.
Serge is the most serviceable material, and the style is always simple, although many of the new fashion features can be successfully introduced without detracting from this simplicity. As plaids will be popular this winter, a dark blue and green plaid, or a brown with suggestions of red, would make a beautiful classroom costume, with white linen collar and cuffs.
It is refreshing and restful to change one's dress for dinner, and in many schools and colleges, this change is compulsory. Any of the pretty little summer frocks in muslin can be worn at dinner. A silk gown is also useful, as it can be worn on Sundays under the long or fur coat. One of soft silk or cashmere, in a dark tone, made in a simple, girlish style, and lightened with beautiful lingerie or lace collar and cuffs, would be charming.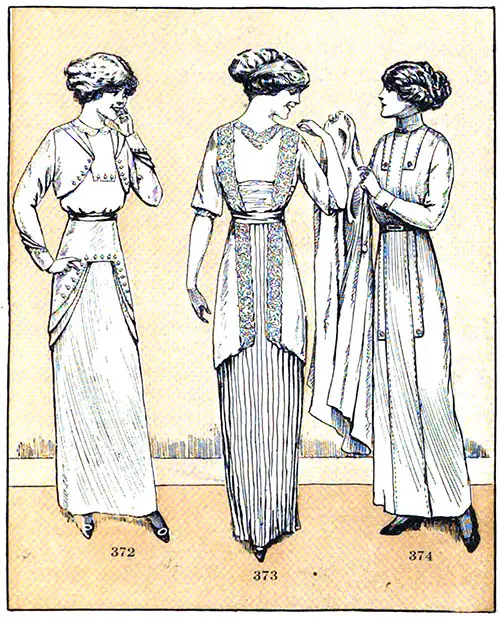 Classroom Dress, Evening Gown, and a Shirtwaist Suit -a First Year College Girl's Essential Wardrobe. Good Housekeeping Magazine, September 1912. GGA Image ID # 166e136b00
No. 372 - Classroom dress of blue serge with deep shaped yoke trimmed with buttons covered with braid. The same idea is reproduced on the waist with bolero lines, and again at the wrist of the long sleeves. Belt of blue corded silk.
No. 373 -  Evening gown of toile or chiffon with accordion platted skirt. Tunic outlined with lace; girdle of charmeuse.
No. 374 - Shirtwaist suit in cloth with straps outlined with stitching.
For "dress-up" evenings, dances and other formal entertainments, pretty frocks of muslin, mull, crepe de chine, messaline, chiffon, net, or marquisette are the most appropriate. The rules of simplicity should be carefully adhered to, with the exception of a little lace. Self-trimming of accordion plaitings, pufiings, shirring, tucks, et cetera, will be sufficiently decorative.
A long cape, or cloak, in cloth of a subdued coloring, such as old rose, tapestry blue, or oyster white, will be needed to protect this frock. Many girls delight in lounging robes to wear in their rooms during the study period when corsets can be abandoned.
Gowns on the kimono order are the first choice, and preferably of dark silk. In addition a warm bathrobe, boudoir slippers, and, perhaps, a lingerie cap, are required for the undress wardrobe.
The supply of underclothes should include four to six union suits; the same number of muslin combinations; three nightdresses; plenty of stockings,—a dozen will not be too many, for the schoolgirl has little time to darn,—three or four white petticoats; at least two dark silk or jersey petticoats; a pair or two of black woolen tights; plenty of handkerchiefs, and two pairs of corsets, one for every day and the other for evening and " dress-up " occasions.
Good, stout calf boots for walking, a dressier pair (either laced or buttoned), low shoes, evening slippers, overshoes, and rubbers should fill the shoe bag. A goodly supply of gloves, sweaters, caps, all the implements of sport, such as skates, tennis rackets, et cetera, should not be forgotten.
Carolyn Trowbridge Radnor-Lewis, "For the Girl Who Is GOing Away to School," in Good Housekeeping Magazine, Vol. LV, No. 3, Whole No. 407, September 1912, pp. 362-363.