LEGO® Titanic - Build Your Own Ship of Dreams - 2021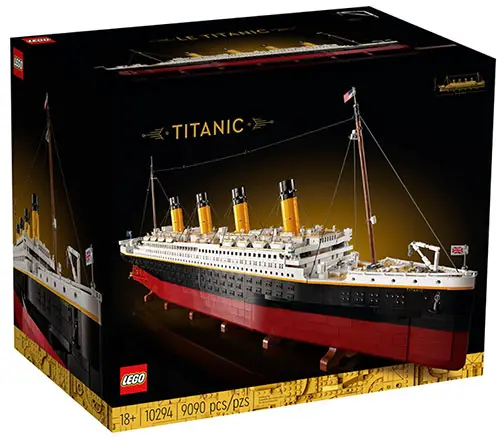 LEGO® Titanic in Original Box. LEGO System A/S, DK-7190 Billund, Denmark. GGA Image ID # 19ebad2b32
Lego® announced that their newest and largest lego set ever would be available presale on 1 November 2021. The 53" (135 cm), 9,090 piece model of the RMS Titanic features authentically detailed views.
The Lego® model of the Titanic divides into three sections, allowing you to view the impressively detailed interiors of the ship including the grand staircase, boiler room, smoking lounge and more. You'll find incredible detail in their recreation of the ship's bridge, promenade deck, dining room, smoking lounge, cabins, and swimming pool.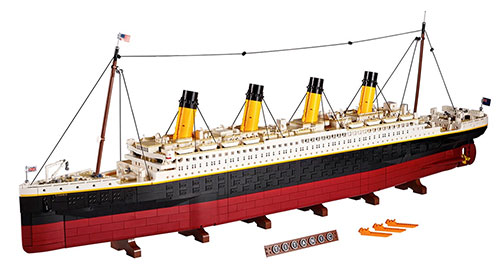 Starboard Side View of the New LEGO® Titanic Shown Mounted with Name Plate. LEGO System A/S, DK-7190 Billund, Denmark. GGA Image ID # 19ebc3bcd8
This working model allows you to raise the anchor, adjust tension line between masts, and turn the propellers which turn the piston engines inside the model. This set come complete with a stand and name plate. This 1:200 scale model is designed in 3 sections, faithfully recreating the features of the Titanic. The authentic details include over 300 portholes, the iconic bridge, lifeboats, benches, cargo crane and more.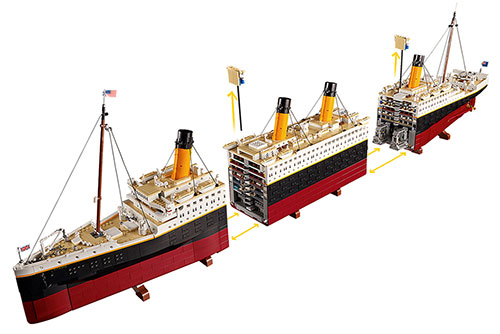 Sectional View of the LEGO® Titanic. LEGO System A/S, DK-7190 Billund, Denmark. GGA Image ID # 19ebd72002
One of the largest and longest LEGO® models ever, measuring over 53 in. (135 cm) long, 17.5 in. (44 cm) high, and 6 in. (16 cm) wide.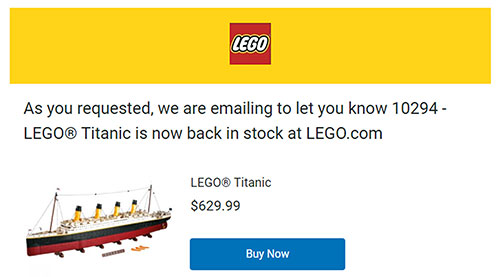 You can order the LEGO® Titanic beginning 1 November 2021 at for $629.99. They are often out of stock. Sign up for their notification when stock is available and receive an email notification like the one above. They go quickly! GGA Image ID # 1a1b3c99a0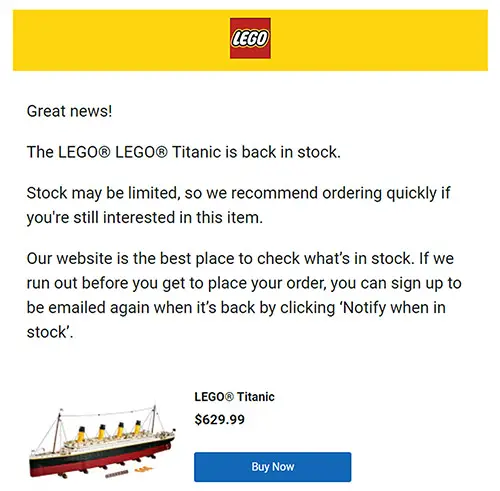 Back in Stock Notification by eMail Revised Version May 2022. Lengthy Restocking Time Due To Current Logistics Issues. Get Your Titanic LEGO Model Today While The Supply Lasts! GGA Image ID # 1bcfe8f32a
Purchase directly from Lego® at https://www.lego.com/en-us/product/lego-titanic-10294
LEGO and the LEGO logo are trademarks of the LEGO Group. © 2020 The LEGO Group.