Early Postcards of the RMS Titanic Disaster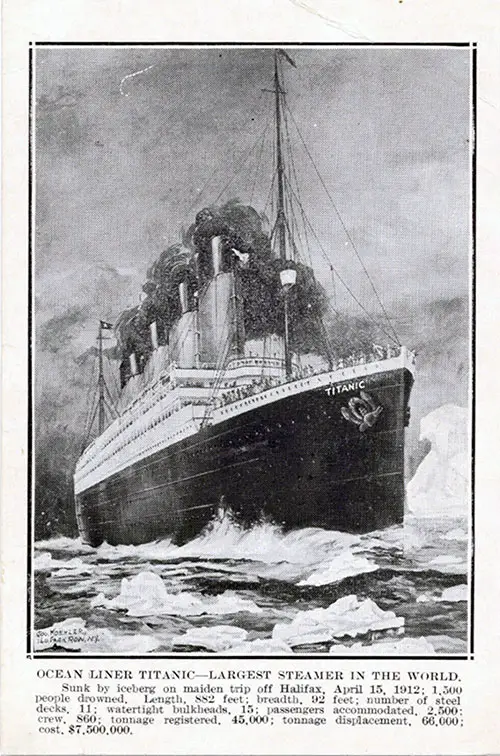 Ocean Liner Titanic -- Largest Steamer in the World. Sunk by Iceberg on Maiden Trip off Halifax, April 15, 1912: 1,600 People Drowned. Length, 882 Feet; Breadth, 92 Feet; Number of Steel Decks, 11; Watertight Bulkheads, 15; Passengers Accommodated, 2,500; Crew, 860; Tonnage Registered, 45,000; Tonnage Displacement, 66,000; Cost, $7,500,000. Postcard 1912 by Joseph Koehler, Inc. GGA Image ID # 1594e87b4f
With characteristic enterprise, the firm of Joseph Koehler. Inc., has already brought out two postcards of the horrible disaster which has been the center of interest for the last two weeks all over the world.
One of the cards shows the magnificent "Titanic" before she went to her doom on April 15th, and the descriptive matter gives particulars of her size, tonnage, passenger accommodations and crew and the awful human and financial loss caused by the collision.
The other postcard shows the Carpathia. which rescued seven hundred and five of the Titanic's passengers. The pictures of these two steamers are of intense interest all over the country and every dealer can sell them. The trade price is 60 cents a hundred post paid.
The Bookseller, Newsdealer and Stationer, New York: Edwin O. Chapman, Publisher, Vol. XXXVI, No. 9, 1 May 1912, p. 306.