Minnesota Soldiers' Bonus Board Notification of Receipt for Bonus Application - 1920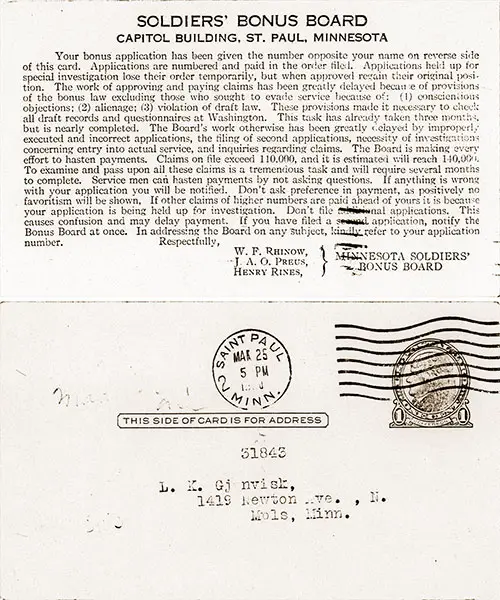 Postcard Notification of Receipt for Bonus Application by the Minnesota Soldiers' Board Postmarked 25 March 1920. Front and Back Combined into One Image. Gjenvick-Gjønvik Family Archives. GGA Image ID # 18710914c0
Soldiers' Bonus Board, Capital Building, St. Paul, Minnesota
Your bonus application has been given the number opposite your name on the reverse side of this card.  Applications are numbered and paid in the order filed.  Applications held up for special investigation lose their order temporarily, but when approved retain their original position.
The work of approving and paying claims has been greatly delayed because of provisions of the bonus law excluding those who sought to evade service because of: (1) conscientious objections; (2) alienage; (3) violations of the draft law. 
These provisions made it necessary to check all draft records and questionnaires at Washington.  This task has already taken three months but is nearly completed.  The Board's work otherwise has been greatly delayed by improperly executed and incorrect applications, the filing of second applications, necessity of investigations concerning entry into actual service, and inquires regarding claims. 
The Board is making every effort to hasten payments.  Claims on file exceed 110,000, and it is estimated will reach 140,000.  To examine and pass upon all these claims is a tremendous task and will require several months to complete.  Service men can hasten payments by not asking questions. 
If anything is wrong with your application you will be notified.  Don't ask preference in payment, as positively no favoritism will be shown.  If other claims of higher numbers are paid ahead of yours it is because your application is being held up for investigation.  Don't file additional applications.  This causes confusion and may delay payment. 
If you have filed a second application, notify the Bonus Board at once.  In addressing the Board on any subject, kindly refer to your application number.
Respectfully,
W. P. Rhinow
J. A. O. Preus,
Henry Rines,
Minnesota Soldiers' Bonus Board
Postmarked March 25, 1920