Discharged Soldier's "Bonus" - 1919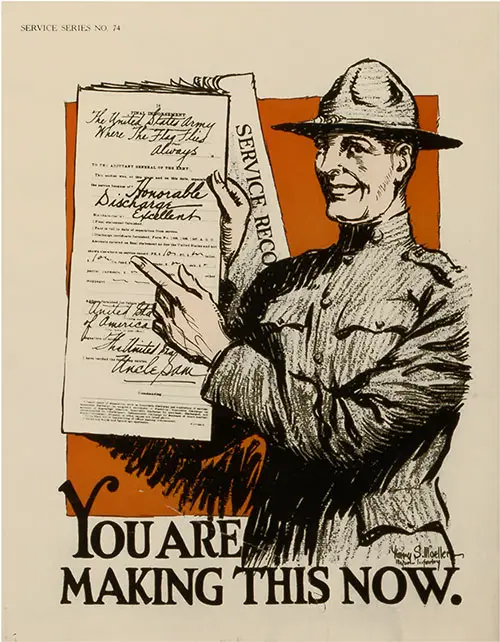 You Are Making This Now. Service Series No. 74 World War 1 Poster Emphasizing Honorable Discharge from the United States Army. Major Harry S. Mueller, Artist. Created circa 1918. Library of Congress LC 2003663073. GGA Image ID # 186f41341b
Following World War 1, discharged Veterans got little more than a $60 allowance and a train ticket home.
That Bonus
The law providing for the payment of a bonus of $60 to every discharged soldier, sailor and marine, including officers, was not adopted until February 24, 1919.

Those discharged from the Army prior to this time are nevertheless entitled to the bonus, and if it has not been paid, they may obtain it by applying to The Zone Finance Officer, Miscellaneous Accounts Branch, Additional Pay Section, Lemon Building, Washington, D. C.
Such applications must contain:
ALL discharge certificates (use registered mail) given to the soldier during the period of the War, or orders for discharge or relief if no certificate was issued, but both certificates and order, if both were issued, the papers bearing indorsement of final payment being required;
Statement of ALL military service since April 6, 1917, showing place and date of reporting at first military station;
Address, plainly written, preferably typewritten, to which check is to be sent.
If, however, the discharged officers or enlisted men do not desire to forward their original discharge certificates to the Zone Finance Officer, Washington, D. C., they may present their original discharge certificate to the nearest recruiting officer of the Army, who will make a certified copy and mail it to that office. The original discharge will be returned to the soldier.
The bonus will not be paid:
To any person who, though appointed or inducted into the military or naval forces on or prior to November 11, 1918, had not reported for duty at his station on or prior to such date.
To any person who has already received one month's pay under the provisions of Section 9 of the Act entitled "An Act to Authorize the President to Increase Temporarily the Military Establishment of the United States," approved May 18, 1917; or
To any person who is entitled to retired pay; or
To the heirs or legal representatives of any person entitled to any payment under this section who has died or may die before receiving such payment. In the case of any person who subsequent to separation from the service as above specified has been appointed or inducted into the military or naval forces of the United States, and has been or is again separated from service as above specified, only one payment of $60 shall be made.
When settlement is made, all personal papers will be returned to the applicant with check. No further correspondence is necessary, except to advise of change in address of the applicant. No other disbursing officer is authorized to pay claims covered by this paragraph.
If you are a discharged sailor or in an inactive duty status and have not received your bonus, make application to The Disbursing Officer, Bureau of Supplies and Accounts, Navy Department, Washington, D. C. Original Discharge Papers must accompany all applications.
Marines will apply to The Paymaster, U. S. Marine Corps, Washington, D. C. They may forward their original discharge or order of release or a certified copy thereof.
Troops arriving from overseas for discharge will hear a lot of disconcerting guff about civilian government employees being paid $240 bonus upon their separation from public employment.
It's only guff. The Congress increased the salaries of all Government workers receiving less than $1,200 a year by $5 a month for 1918, $10 a month for 1919, and $20 a month for 1920, in order to enable them to cope with the war-time cost of living.
The law dated this increased compensation to begin from our entrance into the war. Only those who have served in the military or naval services are entitled to a bonus. Hand this to the Guard House and Sea Lawyers, who know everything.