Camp Dix Pictorial Review - 20 March 1918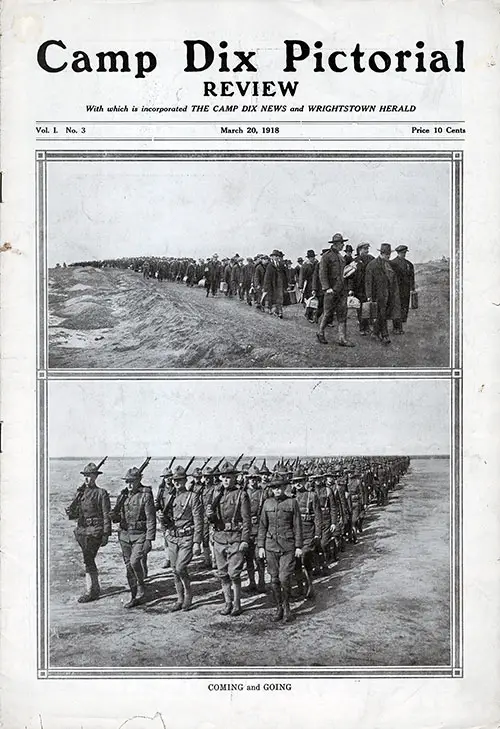 Front Cover, Camp Dix Pictorial Review, 20 March 1918. GGA Image ID # 18b19970e3
Each issue incorporated The Camp Dix News and Wrightstown Heriald. Published monthly by I. L. Cochrane, Philadelphia with an Editorial Office at Camp Dix, NJ.
The March Issues includes various buildings in Camp Dix, African-American soldiers, a pictorial on teaching soldiers to drive a tank, along with photos of some of the infantry and engineering groups, boxing lessons, razor ads, and more.
Contents
Boo Hoo!
Muddled Thoughts
All Review Advertisements Guaranteed
Photographs
Soldiers Marching: Coming and Going
"Dan Patch" of Batty D. 308 FA. The Artillery Horse Balks at Nothing
Exterior and Interior Views of Camp Dix Library
Depot Brigade Officers' Ball in Knights of Columbus Building
Photo Collage of African-American Troops (Litter Drill; Veterinary Class in YMCA No. 7; 349th FA Band; A Jersey Mosquito for the Kaiser; Glee Club, 350th FA; 350th FA Band; YMCA No. 7 at Night
Camp Dix's Allied Instructors
Sun Parlor, Hostess House, Camp Dix, NJ
St. George's Club House, Pointville
Collage of Photos Showing Training Soldiers to Drive a Tank
Miss Margaret Wilson, The President's Daughter, standing on the steps of the Hostess House. From a Brownie Snapshot by Miss Johnson
Part of the Knights of Columbus Secretarial Staff
Officers' Training School Headquarters Building
Interior of 303rd Engineers Hall
Group of Camp Dix YMCA Secretaries
Panoramic Photo: Winter at Camp Dix, NJ, 28 January 1918
Panoramic Photo: Company F, 24th Engineers
Panoramic Photo: 310 Infantry Band
Squad of Rookies Repairing and Draining a Mud Road
Rookies Lined Up for the "Shot in the Arm"
Quartet of Company B, 303rd Engineers
Portrait Photo: P. O. Osterhus
Afternoon Boxing Lessons in Knights of Columbus Hall
The First Men to Enroll at Camp Dix, 5 September 1917
Outdoor Boxing Lessons
Camp Dix One Mile Relay Team
Setting Up Exercises
A Company Assembled for their 15-Minute Daily Sing
Four Field Mess Scenes of Men from Company C, 26th Engineers at the Rifle Range
Rookies' First Line-Up in Front of Barracks
Assorted Indoor and Outdoor Scenes When Camp Dix was Cold
A Study in Types
A Former Farm House in the Middle of Camp Now Occupied by Major J. L. Benedict
Noon Time on the Rifle Range
Future Dispatch Bearers (on Bicycles)
Band of the 59th Pioneer Regiment -- Delaware Boys
Comics
Jitneying Back to Barracks Near a Cold Gray Dawn
Advertisements
Ever-Ready Safety Razor
Jacob Reed's Sons of Philadelphia Camp Dix Branch
Army Theatre
Photos from the Pictorial Review Sold for $1
Sans Souci: French Pastries, Candies, Soda Water, and Ice Cream
Stetson Hats
The Picture History of the Building of Camp Dix, Souvenir 10c
Dards Florists
Army-Navy Auction Bargains
Dix Theatre: The New Home of High Class Burlesque
"Over Her" Preparing For "Over There" An Historic and Pictorial Record Souvenir of Camp Dix 50c
Rexall Store
Gillette Safety Razor
Camp Dix Pictorial Review, Philadelphia: I. L. Cochrane, Vol. I, No. 3, 20 March 1918.