A New Verve Marks Beach Dress - 1922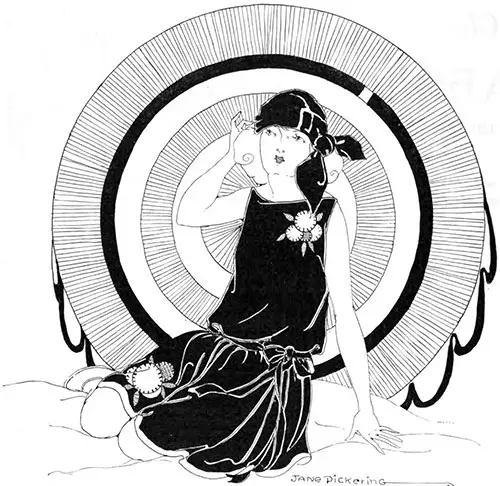 From Velvet, Duvel and Silk Crepe to Scotch Gingham and Gay Chintz
What's what in bathing suits is adequately solved by the large and varied collection of the Ocean Bathing Co., which, setting the pace in the Southlands, captured the $1000 prize in the Miami bathing suit contest recently.
Jersey Suits
The winning suit combines a narrowly side pleated skirt, which in movement gives glimpses of white stripes, and a loose straight-line bodice of green. The same idea is smartly carried out in purple with the skirt striped in purple and white.
The circular skirt, practically ungathered and attached at a low waistline coming to a modified point in the center, is exemplified in effective jersey suits, the loose bodice with pique piping to accent the edges or mark a diagonal line from shoulder to waistline to suggest a surplice effect. One beltless model of this type reveals white silk lacings up each side of the tights below.
The ruffled one-piece mode shows two wide gathered taffeta tiers simulating a skirt, with a taffeta belt at the low waistline.
Stripes are again in their element. When the top is not striped, the tights sometimes are, as when a blue worsted dress gives glimpses of the blue and green horizontally striped foundation.
Unpretentious indeed is a black silk top with stripes above the lower edge in orange, peacock, beauty, green and navy. The short-worsted tights, however, come as a surprise, for they may be in any of the five stripe shades, with five tiny buttons in all five shades peering forth at the sides.
As for the color range in the jersey group, it is an extensive one, including maroon, heather, Yale, copen, black and American beauty.
Gingham and Chintz
Whether combined with jersey or entirely of gingham and chintz, bathing suits of these Summery fabrics are extremely refreshing. There is the checked gingham with ruffled skirt over one tone worsted with cuffs of the checked gingham. Green and white checked gingham thus allied with green worsted gives the effect of the juvenile pantalette frock.
Again, lavender and white checked chintz with orange flowers in the white checks is attractively combined with purple worsted tights. The top is a one-piece sleeveless frock with two pleats front and back that may be opened when putting on and taking off by loosening the purple worsted belt at each side.
In plain tones, all gingham suits are often trimmed with white pique collars and bloomer cuffs. A grey flowered chintz is heightened by orange sateen piping and corded sash.
The Silk Bathing Suit
There are the usual frilled taffeta bathing suits with piping, entirely sleeveless or with the narrow shield sleevelet. An effective trimming on black taffeta takes the form of white kid collar, cuffs and belt.
The satin suit frequently utilizes the elastic belt adjustment and admits of small kimono or flare sleeves. An interesting effect in embroidery is achieved in white cross stitchery, depicting a series of quaint Chinese men. Shaded embroidery in red wool is a distinctly new idea in bathing suits, shown on a black tricolette suit.
Conspicuous in the group of silk novelties are one-piece tops in brocaded black satin and black crepe de chine with paisley border. A modish suit is developed in moonglow satin with white flannel border at the lower edge that may be adjusted to describe an uneven hemline.
Novelties for The Mermaid
Bathing Suits—Following in the wake of duvetyn and chiffon velvet, comes Duvel, a deluxe satin-faced soft-pile fabric.
One toned or striped, it fashions smart sleeveless one–piece models with perhaps an upturned hem to show the lustrous facing.
A simple basque effect is interpreted in grey Duvel striped in orange, henna and black.
Bathing Capes and Wraps— Long jersey capes with striped standing collar accompany the striped jersey suit.
Long circular capes of rubberized satin in the brilliant shades of "the rising sun" motifs promise to make the beach a riot of color.
Effective also are terry cloth capes, adorned in stitchery, in a variety of colors, including white, rose, purple, copen and lavender.
Enter a unique compose of terry cloth and rubberized satin of vivid hues to form an original wrap, featuring a square in set Jenny sleeve and a tuxedo collar.
A new versatile quilt, bathing and beach cape, all in one, consists of gingham and terry cloth squares in checker-board effect, in pink and grey and an endless number of other combinations.
Rubber Caps — There are dainty Puritan caps with white daisies applied to a crown of high color; red and green rubberized bandannas skillfully adjusted; the Turk, a fringed and tasseled cap in bright colors; the one-color cap with jauntily perched bow, especially good in copen; hats of vivid hues with contrasting inset band at the base of the crown.
"A New Verve Marks Beach Dress: From Velvet, Duvel and Silk Crepe to Scotch Gingham and Gay Chintz," in The American Cloak and Suit Review: Devoted to the Women's and Children's Ready-to-Wear Trades, New York: John M. O'Connor & Co., Vol. XXIII, No. 3, March 1922, p. 159.