The Dining Room As It Should Be - 1912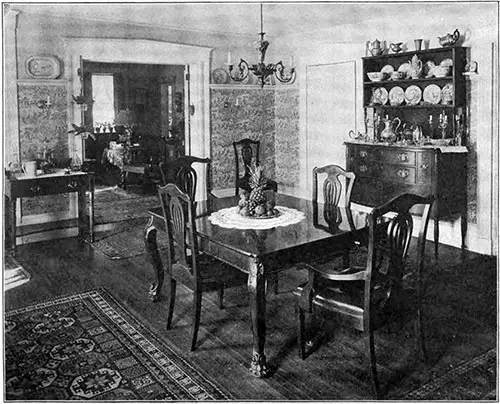 Dining Room with Elaborate Wall Paper
It is a self-evident fact that the dining apartment, more than any other, must be bright and cheerful, for it is the family meeting-place three times a day, and perfect harmony makes not only for happiness but also for good digestion.
The stalwart farm-hand may not care how nor where he eats, but even he appreciates attractive surroundings, and to the person of sedentary habits, good taste and cheer in the dining room are absolutely essential.
Many a dyspeptic owes his malady to the depressing dismalness of the room in which he eats.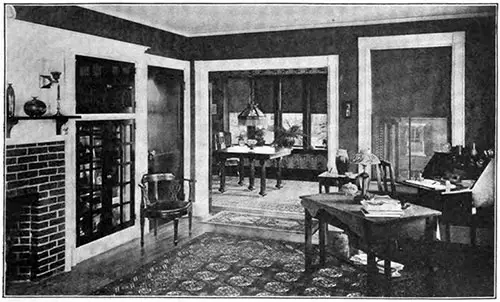 Very Plain and Simple Dining Room
The situation is important. If possible, the room should have both east and west exposure, so that the sun will lie in it all day long. Plenty of windows are essential, and if the room lacks them, they should be let in, including, if possible, a long narrow bay at one side.
The bay serves a double purpose, lightening the room and allowing space for window, boxes or a cozy seat. Try to have the windows so arranged that they will give cross draughts to provide for coolness in the summer months.
A pantry or passageway between the kitchen and the dining-room is desirable, to prevent the odors of cooking from penetrating into other parts of the house. If this cannot be arranged, be even more particular than usual about ventilating, and see that the door between kitchen and dining room is never carelessly left open.
Dining-room walls must be carefully handled, and there is probably no question more perplexing to the housekeeper than how to treat them. Much depends upon the size and situation of the room.
With a low ceiling it is better to use plain or small patterned paper or tinting and run up in unbroken surface to the ceiling. High walls, if not too much cut into by doors and windows, will carry large-figured paper and may have molding or plate rail if desired.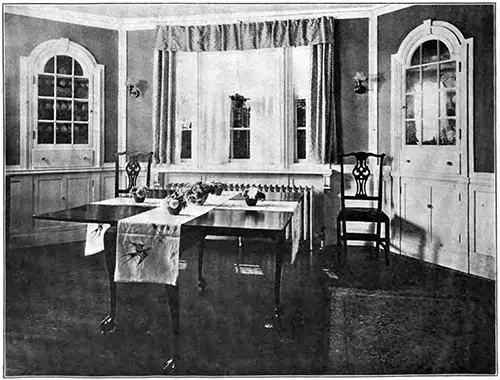 Dining Room With an Air of Elegance
A northern exposure requires red, yellow or orange to catch the light and heighten it. Where the room faces the south, an entirely different treatment must be carried out.
Here sunlight needs to be subdued, and blue, green or violet are best to choose for the color schemes. Light grows stronger as it ascends, so, if there is variation in color, the lighter tones should be near the ceiling and the darker near the floor.
The most economical mode of treatment depends to a great extent upon circumstances. Wall-papers in pretty and artistic patterns can be purchased today as low as ten cents a roll, and while not the best, they are good enough for ordinary wear.
Tinting has the advantage that the walls may be cleaned indefinitely without harm, or without having to be treated to another coat of paint, and then, too, if at any time one tires of this flat tone, it can be changed easily for paper.
For a large dining-room, there is no woodwork more effective than mahogany, in trim and furnishings, while in the small, inexpensive home, either white or dark wood stain is suitable. Dark walnut stain is most fashionable today, and it harmonizes especially well with furniture of the Mission type.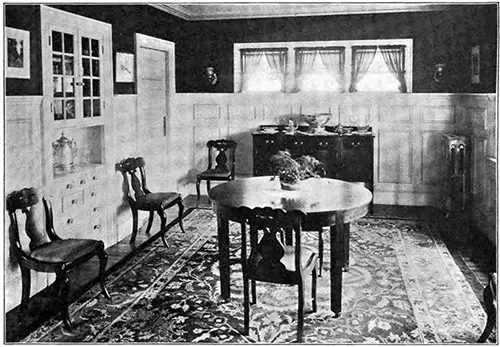 Neat and Convenient Dining Room
The low ceiling and square walls of the Colonial design lend themselves to most effective treatment, and here there is no question as to the color of the woodwork, for it is invariably white, while the walls are always in soft tones, either tinted or covered with small-patterned paper.
Hardwood makes the best flooring, and with so many polishes in the market, it can be easily cared for, with no more trouble than a carpet. Oak is best and next to that comes hard pine, then maple and birch, the last two cheaper, but lacking the resistant qualities of the other woods.
In coverings the choice is wide. For summer wear, the crex rug, made of wiregrass, strictly sanitary, and possessing the advantages of lying smoothly without curling, is admirable. This comes in an infinite variety of patterns and colorings and will harmonize with any color scheme. A large square 12x15 feet costs a little over $16.00.
Then, there is the colonial rag rug, appropriate for any season. Reliable carpet dealers have these rugs woven from mill ends that have never been sold, thus ensuring to the buyer new strong material free from contamination. Rugs of this make are more durable than crex, and cheaper, ranging in price from $11.49 for moderate sizes, to $16.80 for the larger ones.
Druggets which bring for the large size, $32.00, are fashionable but expensive, while the popular rug for good steady use is the Axminster, which has a high rich nap and ranges from $12.75 to as high as $20.00. Any of these can be obtained in good colors and many sizes.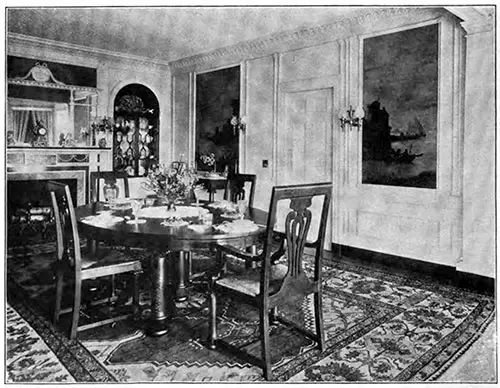 A Fine Dining Room
The hangings should follow the coloring of the wall surface and trim yet have a distinct individuality of their own. For the entrance door, a portiere of rich silk or velour, or even the humbler cretonne, is effective; the important point is that the material shall be substantial enough to afford security to the room if at any time it is desired to shut off the adjoining apartment.
The window curtains can, of course, vary with the setting of the room. There are today so many pretty and inexpensive muslins, scrims, and heavier fabrics that it is an easy matter to provide for them.
For summer nothing is prettier than cretonne or muslin, of which there is almost endless variety. Madras, thirty-five inches wide, in white and colors, comes from twenty-nine to thirty-nine cents a yard; ruffled Swiss muslin curtains, dotted or plain, from ninety-eight hand curtains cents a pair upward; while blocked, light-weight muslin may be had for $1.25 a pair.
Built-in furniture should be employed wherever it can be artistically introduced. Window-seats give comfortable lounging spots, while the built-in cupboard allows space for other furnishings and is particularly appreciated if the room is small.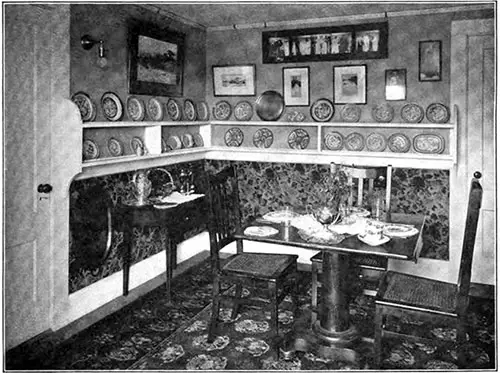 Tastefully Remodeled Dining Room
Most convenient is the let-in sideboard, which has become so popular within the last few years. Besides saving space, it is ornamental and affords excellent accommodation for linen, china, and glassware. If built with the house, it is certainly not expensive, for the additional cost is so slight it can readily be afforded.
Let-in sideboards are used not only in small houses and cottages but also, sometimes, in more elaborate styles, in larger and more elegant homes. But whether separate or built-in the sideboard must be in keeping with the rest of the furniture, simple or ornate as the case may be.
The corner cupboard, a replica of the colonial idea, is never out of place, and when used for old silver and china, adds dignity and distinction. It is always done in white, often enameled to give it a polished surface.
Old mahogany, walnut, or oak may be used according to the size and ornateness of the dining room. There should always be six small chairs, two arm-chairs, a table, a sideboard, and a serving table.
In addition to these, odd dressers of either oak, maple, or mahogany may be used. These have a clear, bevel glass mirror, often supported by scroll standards. Taste can be shown in selections.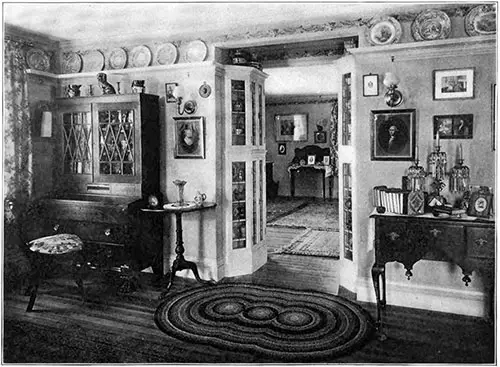 Dining Room Showing Odd Cabinets for China
The keynote of a successful room lies in its definite planning. Whether the room is new, just being built, or merely an old room being renovated, arrange for each detail of decoration and furnishing before the actual work is begun.
Take time and plenty of it to study construction and decoration, and do not become discouraged, if it takes some time to make the room exactly as you want it.
It may be a fortunate coincidence that you are able to purchase the right things at once, but if not, do not hurry, for you owe it to yourself and your family to make this room the most attractive in your house.
Mary H Northend, The Boston Cooking School, November 1912, p.