The Evolution of the Menu - 1906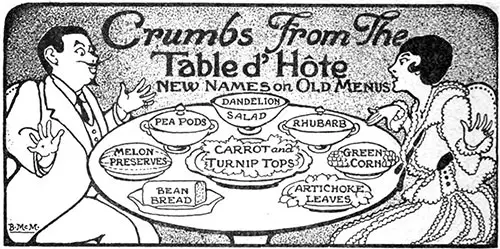 It was Duke Henry of Brunswick who was first observed in the intervals of a banquet to scan carefully a long strip of paper by the side of his plate, and when the curious guests ventured to inquire into the nature of his studies, he explained that it was a sort of programme of the dishes which he had commanded from the cook, to the intent that if some delicacy which especially appealed to him were marked for a late stage in the repast, he might carefully reserve his appetite for it.
The simplicity and beauty of the idea appealed instantly to the good Duke's convives, and the menu card from that moment became an institution. In its old-fashioned form the bill of fare was usually writ large, on cards of such imposing dimensions that room for one only could be found at each end of the board.
In the mediaeval dinner, this aid to selection must have been an absolute necessity, for the mediaeval dinner was a mine of surprises. It was divided into courses, as are our own dainty meals, but whereas nowadays the diner has a general idea that fish will follow soup, and that entree will be succeeded by relevé, and can conceive generally the sort of demand that each course will make upon his appetite and digestion, there was no possible arguing as to what was going to happen at an Early English dinner.
Close study fails to reveal the existence of any principle of arrangement. You might begin upon custards and pastry, together with kid, swan, and capon, and you might wind up your dinner with a concluding course of "curlews and egrets, venison, plover, oxen, quails, snipe, and hyrchouns." There was no knowing.
It must have been hard upon an epicure whose weakness was hedgehog to find he had over-eaten himself of "mammenye" and "cokyntryche," and was forced to let the humble hyrchoun pass.
A surfeit of custard and pastry of the Renaissance period on an empty stomach was but an ill preparation, too, for one who would do justice to "oxen" later on. These considerations appeal to all thinking men.
"A man," as a gastronomic sage has declared, "can dine but once a day," and when the dinner hour comes and passes and leaves behind it only a memory of vain desires and vain regrets, the man is an ill-used man.
There should be, as a modern writer says, at least one menu for every two guests, so that all may know what joy or disappointment is held in store for them.
In a matter so serious there should be no possibility of miscarriage. As the amiable Theoc observes: "Nothing is more irritating at table than a surprise of a too material nature.
For instance, it is unpleasant to find that you have devoted to the simple fillet of beef the attention which you would have preferred to reserve for quails, had you known that quails were in prospect."
The presentation of the modern menu is a pretext for a variety of table bibelots, porte-menus of ornamental silver, or porcelain, engraved cards, or cards decorated with etchings or water-colors.
The designing of menu cards decorated with etching and water-colors has been made a speciality by several Parisian artists of talent, like Henri Boulet, Mesples, Gray, and Henri Guerard.
In England, we, or rather our stationers, whom we allow to impose their fancies upon us, thankful only in our frivolity to have something new to show our guests, have accepted a thousand trivialities in menus—we have them printed on silk, papier-mâché, wood shavings, ivory, parchment, rice paper.
We have had them in the form of lobsters, cos-lettuces, French rolls, shells, books, almanacks, cigars, cigarettes, match-boxes, fans, and parchment documents with seals and ribbons, newspapers, maps, postcards, envelopes, bank notes, etc. Individual eccentricity has introduced a good deal of variety into the style and wording of the menu.
Professional humor frequently finds in the simple enumeration of the dishes of a meal a good opportunity for the introduction of "shop."  
At a judge's dinner given to members of the Bar to meet a distinguished legal luminary, neat miniature briefs, tied with red tape, lay beside each man's plate, endorsed in professional jargon with the visitor's name, "With you the Attorney-General." etc.
Newspaper men have been guilty, in America, of similar frivolities, and at a Press dinner at Delmonico's not long ago the menu card parodied with some ingenuity the contents of a newspaper bill.
Most pains, however, were taken by a party of doctors who dined together at a London club a few years ago, and for the occasion had the indifferent French of the ordinary menu turned into worse Latin—the Latin of the prescription.
It was a curious and perplexing experiment, and hardly fulfilled the primary object of a menu, that of letting people know what they were eating.
"Lardo suffixi cucumeris super assulas thymi agnorum," is a sonorous line, but does not seem to convey its meaning so readily as "Ris de veau piquées aux concombres," neither is "Compote d'Abricots" to be promptly recognized under the classic veil of "Malorum Armeniacorum conditus crustulata inclusus"
Latin does not seem to fit well in the modern menu card; it becomes unnaturally diffuse. It is a pity that menus were not in fashion in the days of Heliogabalus, and that a specimen has not been handed down to us to show the true classic form.
All menus in tongues, however, pale before the amazing compilation which did honor to a dinner of the savants of the Oriental Congress at Stockholm. It made a volume of eighteen pages, handsomely bound, and contained discourses on the several dishes in sixteen Oriental languages by as many eminent scholars.
In what may be called the topical menu, subtle allusions are conveyed in the names of the dishes which are supposed to be very telling.
A Parliamentary dinner menu, for instance, is full of dark references to Irish politics— Broth of a Boy-cot, under Potages; Bifteks en lits de Planche among the entrees, Tourterelles a la Ligue Nationale, Canards Sauvages a la Presse Hibernaise, Pouding "Coercion, "Patisseries variées," etc.
This may be regarded as a variant upon the humorous menu, which is usually a very dull affair.
An American menu perpetrates the exquisite joke of calling champagne "phiz" and includes "toothpix" among the articles of the menu, rising to the height of screaming funniness eventually by describing wines as "gargles."
The Literary menu is not infrequently very well done. It is rather played out of late, as most of the more obvious quotations have been used up. One of the earliest efforts in that direction was the famous Shakespeare dinner held in the rooms of The Century, New York, April 23rd, 1860. 
The debate as to whether the menu should be written in French or English is a never-ending one. Many cooks and caterers compromise the matter by inartistically jumbling both languages together in unadmired discord.
Many artistic dishes are of French invention, and bear French names so impossible of terse English renderings that it is difficult to avoid the use of French on the menu card, and there really seems no particular reason why it should be so vigorously objected to, since, by almost universal usage, French has become recognized as the language of cookery, as Italian is of music and English of sport.
Obviously, it needs not a knowledge of languages for one to be an accomplished gourmet, and on occasions it may be desirable that the bill of fare should be written in the language most familiar to those who sit around the board.
There have been several practical protests made against the use of French on the menu card. Volapuk has even been recommended as a substitute. Here, by-the-bye, is the only menu I have discovered in Volapuk: —"25 Joluva"—I beg to explain that Joluva is Volapuk for August; "jol" is "eight," and "uva" is "month;" but I jumped to phonetic and erroneous conclusion that "Joluva" meant July: —
Sup.
Saint Germain.
Printanier.
Xolamit modii Duchesse.
Lulicols modii Yagel
Nidanacolis e Dokils.
Salad.
Bous Clunik.
Ivecaclad Volapukik.
Poshab.
Vins.
Madeira. Saint Julien. Bourgogne.
Beaune. Jampanavin.
The diners seem to have had plenty of sack with their pennyworth of bread, certainly; and "Jampanavin," under its new name, will no doubt be as delectable as ever, but for those who object to the good old process known as " buying a pig in a poke," the knowledge of what they were eating may have been desirable.
However, the chairman remarked at the close of the banquet that "Gekomolos dils uls bufu val," which I took, inferentially, to mean that he'd had a jolly good dinner.
At a dinner of Unitarian clergymen in Adelaide, Biblical quotations were freely used, which seems hardly in the best of taste:
" What shall we eat?" —Lev. xxv. 20.
"Set on the great pot and seethe pottage for the sons of the prophets."—2 Kings v. 38.
Mock Turtle.
Consommé Printanier.
Shrimp Salad.
"A great fish."—Jonah i. 17.
Broiled Salmon, Valois Sauce.
New Potatoes.
"All the meat offering that is baked in the oven and all that is dressed in the frying-pan." — Lev. vii. 9.
Filet of Beef a la Financière.
Chicken Fricasse à la Chevalier.
"Better is a dinner of herbs where love is than a stalled ox and hatred therewith."—Prov. xv. 17.
Green Peas.
Asparagus.
"Is not the meat cut off?" —Joel i. 16.
Ham.
Smoked-beef Tongue.
"Thou mayest eat flesh, whatsover thy soul lusteth after." —Deut. xii. 20.
Spring Lamb, Mint Sauce.
"Behold that which is left; set it before thee and eat."—1 Samuel ix. 24.
Rice Pudding.
Peach Pie.
Custard Pie.
"The face of the deep is frozen."—Job xxxviii. 30.
Ice Cream.
Assorted Cakes.
"All manner of pleasant fruit." —Cant. vii. 13.
Assorted Fruits.
Cheese.
Coffee.
"Bring and let us drink." —Amos v. 1.
The bill of fare of the Ministerial White bait Dinner at the Ship, in the year 1858, like many other subsequent attempts of the kind, was written in an exaggeratedly affected Early English, which correctly produces the diction and orthography of no one particular period. It began thus: —
"Ye annuale Whytebaite Dinner of hyr Majestye's Ministers, on Wednesdaie, ye 14th August 1858, atte ye Hostelrie 'yclept ye " Shippe," atte Greenwiche. This Bille of ye Fare is drawn in playne Englysh, without any cloake of Frenche or other foreyne tongue, for the sadde and sober comfort of frendes, and that ye maye know what ye are asked to accept;" and ended with the remark that "Ye dinner will be servyd after ye manner of the Russian people; ye guestes are bydden to eate after ye Hungarie mannere."
"The Evolution of the Menu," in The Epicure: A Journal of Taste, Vol. XII, No. 140, July 1905, p. 254-256