Fresh Fruit Courses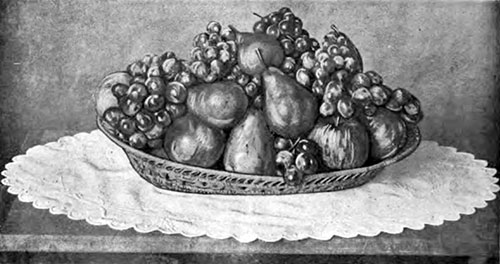 Choose ripe fruits; arrange them either in baskets, fruit stands or plates garnished with green grape leaves and fresh moss. The base must be solid so that when carried they will not be dislodged; place the handsome part of the fruit on the outer side. Early fruits are always appreciated as they foretell those that are to follow in their season.
Fruits for dressing are apricots, pineapples, pears, peaches, oranges, lady apples, grapes, cherries and strawberries. In case no fresh green leaves are procurable, use artificial ones made of muslin and dipped in wax.
If a pineapple is to be arranged in the center of a basket, standit on a cardboard cylinder four inches high by three inches in diameter. All fruits to be found in New York are designated on the table for the different seasons. Dry fruits consist of almonds, raisins, figs, dates, and innumerable others.
Fruit Lunches
There is a phase creeping over the English nation with regard to eating; we are beginning to realize that even with our humid and heavy atmosphere we may eat too much, and light luncheons and dainty fare appeal especially to us.
We are, therefore, the more indebted to Messrs. Shearn & Sons, who have just opened, at 231, Tottenham Court Road, a most recherche luncheon and tea saloon, which is quite an innovation in this country. Seated there on the opening day, I could almost believe myself in fairy land.
Under broad-growing palms and amid many beautiful flowers, which formed a sort of hedge-row along the window, pretty tables were set, with an abundance of fruit and Japanese serviettes.
The fruit luncheons had been started on a small scale some months ago, and met with so great a success that they led the way to the present opening of this pretty saloon, cozy and warm in winter, light, airy, and cool in summer, and just the ideal place to meet and entertain a friend.
Everything has been done to ensure success. Writing materials, fashion books, and leading magazines are provided, giving the advantages of a private club. Choice fresh fruit in and out of season is the specialty of the fare.
I never tasted a more delicious fruit salad in which strawberries, peaches, nectarines, pears, grapes, apples, oranges, pineapples, and plenty of delicious cream mingled.
The quick fruit luncheons have the merit of being very cheap. For is. you have a slice of pineapple, a cape plum, and hot house grape, and apple; for 3d. less, a banana, apple, tangerine, plum, dates, and nuts; for 6d. a banana, apple, orange, dates, and nuts.
Fruit salad costs 6d., cape peaches 4d., and 6d., a slice of pineapple, 6d.; tea and coffee, chocolate, cream, milk, egg and milk, mineral waters, lemon squash, lime-juice, etc., are to be had at very moderate prices, and all sorts of cakes, pastry, bread and butter, toast muffins, and jam.
The cakes I can testify are delicious. Indeed, it seems to me we shall be all wending our way there for teas and fruit lunches, and I am glad to see they have branches elsewhere.