New Light on Holandaise Sauce - 1920

Hollandaise Sauce Calls For the Best of Materials
A few housekeepers know how very good Hollandaise Sauce is and in how many different ways it can be used.
Chefs in certain New York restaurants and hotels noted for their cuisine have realized its value in the creating of new luncheon dishes, and these places have become noted for just such specialties.
These dishes can, however, be made at home with equally good success.  They are a real departure from the beaten path of cookery, and their creation is intensely interesting.
But first, just a word about the Hollandaise itself. A true Hollandaise Sauce calls for an overgenerous amount of butter and many eggs to make it as thick as one would wish. But more than that, its making is a precarious process at best. Even a perfect sauce may curdle at the last moment if it is allowed to stand a bit too long.
It is for this reason that Good Housekeeping Institute experimented until a recipe has evolved which was easy to make and which, at the same time, vied in flavor with true Hollandaise.  This is how it is done:
Melt in a double-boiler three tablespoons of butter—the best to be had.
Add two tablespoons of flour, and blend well together.
Add gradually one cup of hot water and stir continuously until thickened. Season with one-half teaspoon of salt, a few grains of cayenne pepper, and one tablespoon of lemon juice.
More or less lemon juice may be added, according to the need for the dish to be prepared. Always add one tablespoon, unless otherwise directed, in the recipes which follow.
At this Stage, leave the sauce in the double-boiler over a slow heat until ready to serve it. Then pour over the well-beaten yolks of two eggs, stir thoroughly, reheat quickly, and serve at once.
Hollandaise Sauce is delicious poured over certain vegetables, especially asparagus and white turnips cut in cubes and cooked until tender. It is also an excellent accompaniment for baked or boiled white-fleshed fish, such as halibut, flounder, or cod.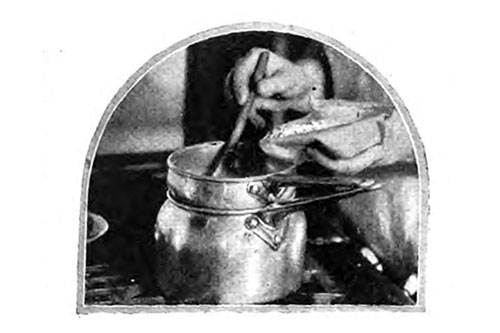 Melt the butter in the top of a double-boiler, beneath which water boiling gently; add the flour.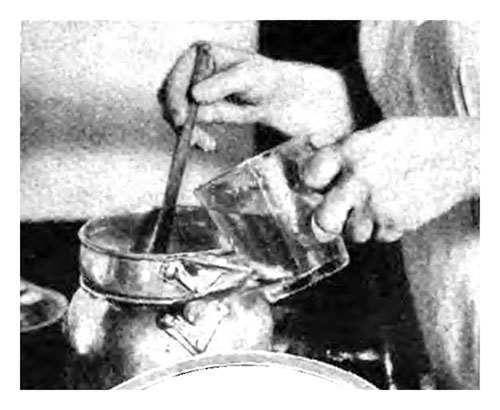 When well blended, gradually add the hot water, stirring constantly; cook until smooth and thickened.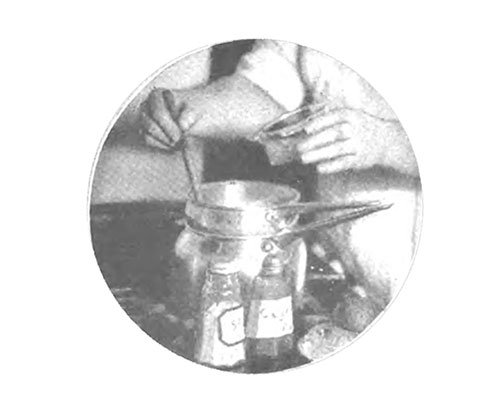 Now add to this sauce the seasonings needed—salt, cayenne Pepper, and lemon juice as directed.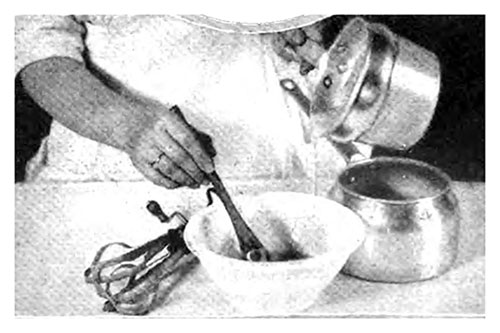 Last, pour the sauce over the well beaten yolks of two eggs, reheat quickly, and then serve immediately.
Hollandaise excels when served in the following combinations:
Poached Eggs with Asparagus
Cook a bunch of asparagus, cut in inch lengths, in boiling, salted water until tender, or use a can of asparagus.
In individual shirred egg dishes place rounds of buttered toast. On each round of toast lay a poached egg, sprinkling each lightly with salt and pepper.
Arrange cooked asparagus seasoned lightly with salt, pepper, and butter in a ring about the egg.
Pour hot Hollandaise Sauce, which is made with only two teaspoonfuls of lemon juice, overall.
Sprinkle with grated cheese and place in a hot oven or under a broiler flame until the cheese is melted. Twice the recipe of sauce will be needed to serve six people, in all these egg dishes.
Poached Eggs Lafayette
Place rounds of buttered toast on hot, individual serving dishes; on these lay pieces of cooked ham quickly "frizzled" in a hot frying pan.
On the ham, place a poached egg lightly sprinkled with salt and pepper.
Pour over all Hollandaise Sauce, to which one tablespoonful of minced parsley has been added for each cup of sauce.
Mushroom Eggs
Lay on rounds of buttered toast which have been placed in individual serving plates, poached eggs. Sprinkle lightly with salt and pepper and pour over all Hollandaise Sauce, to two cups of which one-half pound of mushroom either baked or fried in butter, have been added.
More or fewer mushrooms may be used, as desired
Poached Eggs Helene
On rounds of buttered toast lay thin slices a chicken breast or spread with minced chicken as preferred.
Top with poached eggs, and pour over all Hollandaise Sauce to which have been added one or two canned pimientos cut in bits.
Poached Eggs with Shrimp Hollandaise
To twice the recipe for Hollandaise Sauce given above, add one tablespoon of minced parsley and one small can of shrimps cut in tiny dice.
On rounds of buttered toast place slices of sautéed tomatoes.
Over each slice of tomato lay a poached egg; sprinkle lightly with salt and pepper and pour the sauce over all. (To prepare sautéed tomatoes, cut raw tomatoes in half-inch slices, dip in flour well-seasoned with salt and pepper, and brown on both sides in hot fat.)
"New Light on Hollandaise: The Department of Cookery Evolved This Easy Way to Make It," in Good Housekeeping, New York: International Magazine Company, Vol. LXXI, No. 2, September 1920, p. 73.