The Suit Arrives at a New Point of Development March 1922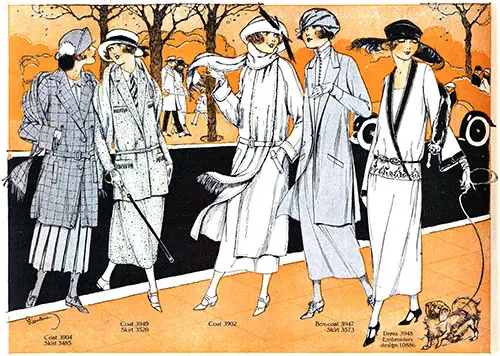 Soft Line Evolutions and Unique Fabric Interests Appeal to Both Tailor and Dressmaker
The entire world knows that the crisp line trotting horse is edging not only to the center of the stage but well down to the footlights. When voices are raised to a high pitch concerning the virtues of common sense tweeds and their proper handling, one collides suddenly, unpreparedly, with its evolution — the "soft-line" tailored tweed.
At all events, the soft-line suit is before its grand jury, and it may be described as an effort to reduce the "harsh" silhouette which, of course, demands, and correctly, a corseted figure to appear at its best.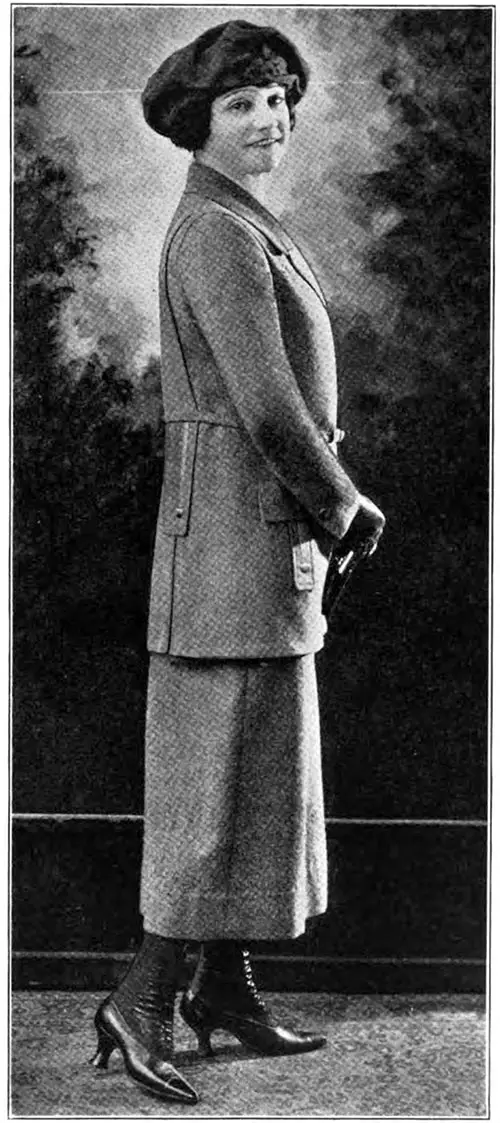 To give tweeds for the soft line figure is, therefore, a 1922 thing to do, for it is an uncorseted year which enjoys, above all things, sweeping aside precedents.
To achieve the desired newness the pastel colorings are presented with blousy coats and the godet rippling, above a one-piece frock embroidered in wools, linen, shoelace, or raffia. Such fabrics as suggest crash textures in silk seem to follow the idea by entering the compose effects.
Fisher Maid and various silk ratines are so employed, and we will, in due time, accustom ourselves to the revolutionary idea in textures.
When the embroideries are floral, in character and wildly colorful, the sense of newness reaches a climax which will either turn out a great success or go into the discontinued class, helter-skelter. General conditions of fluctuating taste predict an easy victory. Let us see what we shall see.
Crepe de chine and the metal ring months ago allied themselves in the tweed cape and dress combinations and appear to have been well enough received.
A great deal of discussion about the reception of the cape and its destined over-popularity has of late turned attention to the paletot, the short full jacket which under the designation, Chinois jacket, has successfully emerged from all large collections for several seasons.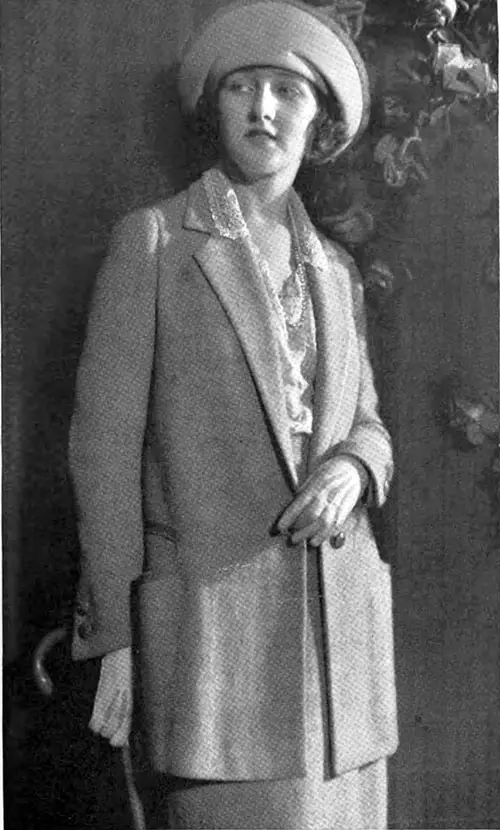 Nevertheless, its mark of newness is in its closing lines, its collar and its variations of half-sleeve, half-cape, side development. It is a good model to watch at this period.
Several new collars are noted for this garment—a revival of the becoming pointed turn-down, caught by buckles, plaques, or passementerie ornaments.
Another offers a cavalier or funnel shape collar as a becoming line to be worn with a jabot or new high collar of the one-piece frock beneath.
Another finish shown by an important house was that which turned back profoundly, standing high at the nape of the neck and cut away at the side fronts, showing cord and tassel ties crossed loosely.
The Blouse Jacket
The blouse jacket is one for the slender figure only. For this reason, it stands embellishments well and offers many indications of being a new field for embroideries of character.
One which was offered with raffia embroidery was followed by an example effectively introducing grey wool figurations in lengthwise serpentine striping.
Silk embroidery must be of compelling design not to look passé, for all that enters into the creation of the up-to-the-minute coat, suit or cloak must present itself in new effects either in the motifs or thread media employed.
Shoelace and tiniest lame-edge ribbons are still used upon formal cloaks and capes, but in devising which veer sharply aside from the developments of three years past and can scarcely employ the word embroideries at all.
However, devoid of ornament, the blouse jacket is appearing in decorative plaids, checks, and strips. These suitings lend themselves readily to the silhouette which most closely approximates the season's achievement of novelty.
This garment is belted with a two to three-inch buckled belt, or a tie girdle dropped low, with a suggestion of a blouse not expressed and making possible a new low notched revers drawn to one side, without exaggeration, but with a sign of new life for the suit.
The revers may be bound in a solid color or give parallel lines of stitchery in color; it may be faced with plain tone velour, crash or tweed, which then proceeds as cuff and belt accent.
Leather in its pliable and high color variations is also applied in like manner, while inlaid seams show a line of black or a deep color accent.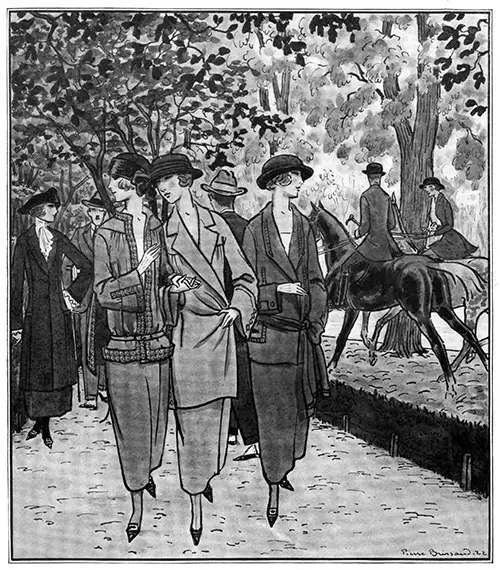 Lustrous and beautiful beige ground tones background the plaidings, superior to anything known until now, but new greens of both olive and sage tendencies are also receiving much attention. Beige blocked with emerald and olive plaided in rust are already making headway in no uncertain fashion.
Miss Jeanne Eagels wore a beige and green shadow check, one-inch block, for her morning tailleur in the "Day with a Debutante," at the Biltmore.
The jacket was fingertip in length, with a bloused suggestion above a narrow tie girdle. Emphasizing the green was a new green sports hat which scored immediate success.
The Top-Cape
So much is said about the frock or dress cape that the top cape suffers a temporary eclipse. Not for long, however, as nothing approaching the bold color plaids, stripes and checks have dawned upon human sight since the days of Caesar's army plaids as those now coming forth for the steamer and practical sportswear.
They are the dress cocktails of a problematic social year. For those who need less of the pick-me-up order of the day, there are plaids more beautiful than have ever dawned upon human sight, plaids which positively serve as decoration in themselves.
Between the two, the cape will be well taken care of. Likewise, the top coat, for with the new revers regulations, brand-new shoulder adjustments, new lining theories the top-coat becomes a fashionable necessity. Camel's hair textures, fleeces, and the reversibles offer both tendencies.
"The Suit Arrives at a New Point of Development: Soft Line Evolutions and Unique Fabric Interests Appeal to Both Tailor and Dressmaker," in The American Cloak and Suit Review: Devoted to the Women's and Children's Ready-to-Wear Trades, New York: John M. O'Connor & Co., Vol. XXIII, No. 3, March 1922, p. 127.
Representative images from The Delineator, September 1922, P. 30; American Cloak & Suit Review, January 1921, p. 57; Vogue Magazine, April 1922, p. 9, 25.
Note: We have edited this text to correct grammatical errors and improve word choice to clarify the article for today's readers. Changes made are typically minor, and we often left passive text "as is." Those who need to quote the article directly should verify any changes by reviewing the original material.