Sports and Semi-Sports Skirts February 1922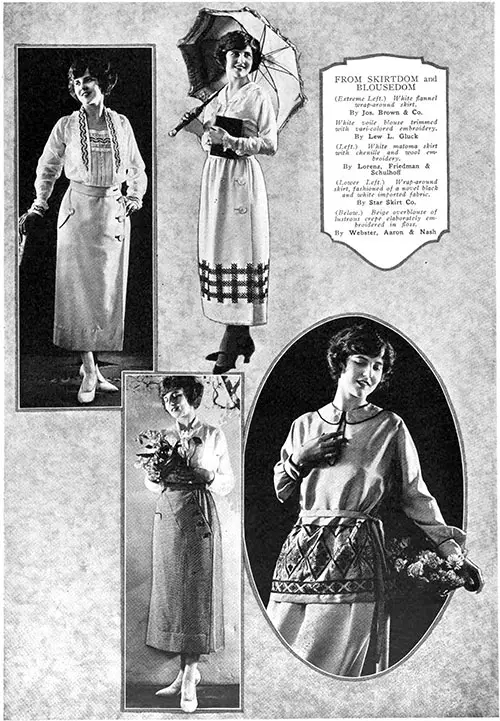 From Skirtdom and Blousedom
(Extreme Left.) White flannel wrap-around skirt. By Jos. Brown & Co.
White voile blouse trimmed with vari-colored embroidery. By Lew L. Gluck
(Left.) White Matomo skirt with chenille and wool embroidery. By Lorenz, Friedman & Schulhoff
(Lower Left.) Wrap-around skirt fashioned of a novel black and white imported fabric. By Star Skirt Co.
(Below.) Beige overblouse of lustrous crepe elaborately embroidered in floss. By Webster, Aaron & Nash.
The Fringed Homespun and Tweed Skirt—Creponge and Canton Novelties
Designers of skirts are in their element, offering the decorative possibilities of the gathered and straight-line skirt, now that the pleatless is accepted, are a stimulus to the creative imagination, as the skirts, now being shown, fashioned of homespun, creponge, Roshanara, and other fashionable fabrics, demonstrate.
Domestic and imported homespun and tweeds are making a supreme effort to exhaust all the possibilities of the fringe.
Not content with the fringed lower edge and closing line, they reveal the use of a double row of fringing, two or three inches apart, and the same distance from both the closing line and the lower edge.
A homespun showing a rich brown mixture, in which grey is blended with other soft tones, features this kind of fringe, with brown threads coming out vertically and grey horizontally.
On an imported homespun with animated background of orange and military blue mixture, fringes of the fabric are used along the closing line, secured by a strip of blue leather stitched on in red floss from beltline to the lower edge.
The fringes down the side are orange and white, while those at the lower edge are blue and white.
A tweed that seems to attract many designers is of a grey mixture showing vari-colored threads in its make-up, purple, orange and yellow dominating.
In addition to the vari-colored fringing effected in the various interpretations of this fabric, piping, slot seams and inserts are introduced now in one of the shades involved.
The use of large Scotch scarfs with their vivid color effects, though not widespread, is again taken up by a few houses for the fashioning of smart sports skirts.
Attractive, indeed, is the novelty open homespun weaves combining white with another color. A brown and white of this kind is ornamented along the closing line with brown composition buttons, with brown silk stitchery on a diagonal plane to simulate buttonholes.
The wrap-around skirt mode seems to dominate in the tweed and homespun group, the overlapping sections varying from just a few inches, when a strip of elastic serves to keep the lower parts together, to more than a foot where only buttons are necessary to keep the skirt intact in movement.
The so-called "double-breasted skirt" has made its appearance in the last class, with a row of buttons, three or four deep, to each side.
Creponge and Knitted Skirts
Creponge skirts, not to be out fringed by tweeds and homespun, show fringing in strips to serve as pocket tabs. A gathered skirt of honeydew creponge exemplified this idea with pleasing results.
The reverse side of creponge continues to be exploited as embellishing details. On an orange creponge, a vertically elliptical pocket at each side is outlined by narrow strips of the reverse side, crossing at the lower point of the pocket.
Striped creponge in white and green, honeydew and white, and black and white, lends itself admirably to the slightly gathered mode, with obliquely cut-in pockets, and a narrow belt, showing either the striped arrangement or just one color.
That a white creponge skirt may be brilliant is proven by one instance at least, where white fringes run the length of the closing line parallel with large pearl buttons, every two of which are connected by a massive slash, while a trim pocket is revealed on the right side.
The broken stripe in green, beige or black on a white ground comes out very well in a soft, knitted fabric, which is equally useful in pleated or unpleated models. In the box pleated numbers, narrow strips of the color appearing in the material are carried across every other pleat to counteract the resiliency of the knitted article.
Wool jersey with silk crossbars is included among the newer skirt fabrics. It comes either in one tone or in two-tone combinations, as navy silk cross bars upon grey.
The Canton Crepe Skirt
A new decorative development asserting itself in some white canton crepe skirts is the practical use of striped, checked or figured grosgrain ribbon for belts, pockets, bindings and even inserts.
Green and white striped grosgrain, about three inches wide, in addition to coming forth as the belt, peers forth between the clusters of narrow box pleats.
Brown grosgrain ribbon with white discs binds the closing line and serves as the belt and pocket slit bindings, in another case.
The triangular set-on pocket to each side of a white canton is made of black and white grosgrain ribbon, which also fashions the girdle.
The single box pleat which is felt by some to be strictly coming in to replace the inverted and double box pleat arrangement of the last few seasons chooses at the present moment canton crepe for its unique medium.
A practical embellishment for hem border and girdle takes the form of interlacing in self-fabric or appears in a curious quilted effect produced by a particular kind of pressing. This proves equally successful in white and orange canton.
Promising Novelties
Perhaps the most adventurous of all fabrics in skirtdom is Roshanara crepe, with its numerous embroidered effects. On a white Roshanara, a floral border that from a distance appeared to be raised floss embroidery was discovered to be black satin applique combined with a bit of white floss embroidery.
Wool canton, which appears in all the pastel shades, also shows one variety marked by woven checks.
The éponge skirt with chenille and wool embroidery; a new imported pebble cloth skirt with fagotting at the hem and floss fringes at the side; white serge embroidered in orange and black in pleated and unpleated modes; fancy silk poplin with silk fringes—these are a few of the novelties encountered during the last month which evince the general interest in producing new effects.
As for pocket effects, the cut-in variety with the obliquely cut slit is favored in sportswear, though the seton type is by no means vanquished.
The small, triangular pocket set-on at each side, secured by self-fabric bands, is frequently noted, while the closing pocket tab of the cut-in type is seen in some cases, punctuated by a button drawn through a buttonhole, real or imaginary.
"Sports and Semi-Sports Skirts: The Fringed Homespun and Tweed Skirt—Creponge and Canton Novelties," in The American Cloak and Suit Review: Devoted to the Women's and Children's Ready-to-Wear Trades, New York: John M. O'Connor & Co., Vol. XXIII, No. 2, February 1922, p. 144-145, 148.
Note: We have edited this text to correct grammatical errors and improve word choice to clarify the article for today's readers. Changes made are typically minor, and we often left passive text "as is." Those who need to quote the article directly should verify any changes by reviewing the original material.