Paris Couturiers Introduce New Wrap Silhouette - 1919
Jacob Rapoport reports Paris couturiers have introduced new wrap silhouette. Mr. Rapoport returned from Paris recently bringing with him a most exciting aggregation of French model wraps, all offering different versions of the modern silhouette.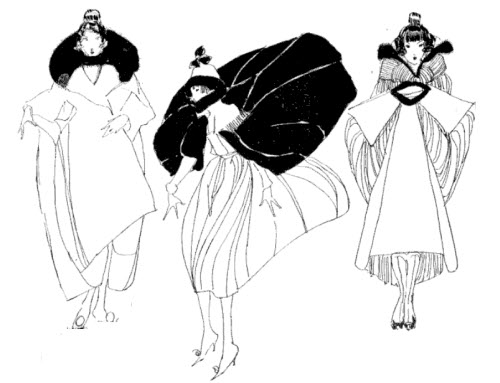 What Enchanting, Irresistible Spectacles These new Coats and Wraps Are! Women Will Revel In Them!
JACOB RAPOPORT, of Jacob Rapoport & Co., one of the leading creators of coats in America, returned from Paris a few weeks ago with a most interesting collection of French model wraps for afternoon and evening wear.
In a recent interview, Mr. Rapoport declared that he had been more than pleased with the offerings of the French couturiers, which he found in Paris.
He admitted that he had had some misgivings before he started on his trip abroad, but that these fears had all been dispelled by the convincing newness of the styles displayed by the leading Paris authorities.
Just before he sailed, Mr. Rapoport outlined in an interview with a representative of this paper, his idea as to what he wished to find in the line of a distinct change of the fashion line in Paris in order that he might get away from the conglomeration of styles which has existed for the last four years.
He found that the Paris couturiers had made determined efforts in this very direction. While there is no concerted action in Paris, nevertheless each of the couturiers individually is working toward a new silhouette.
Of the large number of models brought over to America by Mr. Rapoport, fully ninety percent, outline this new silhouette, although the models were selected from a dozen different sources.
The name of this new silhouette is "La Merveilleuse." It is vouched for by the highest authorities in France.
To describe the evolution of this silhouette, artists Monsieur Fritz Juda and Monsieur Hirsch from Bernard & Cie, authorized Mr. Rapoport in their name to appoint the new silhouette in this manner, vouching for it as the authoritative silhouette for the Fall and Winter seasons of 1919-20.
This silhouette is a natural evolution from the lines which have existed, to the new styles, and is considered a serious practical proposition.
The price of merchandise for the coming Fall and Winter seasons has leaped to such unprecedented heights that to help the sale of this merchandise, so that the retailer may be assisted to pull not only the usual volume of business but an even larger volume, the new silhouette becomes of paramount importance.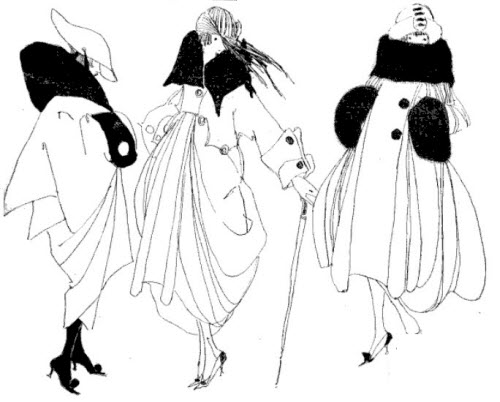 The New Silhouette "La Merveilleuse" Grace, Charm, Beauty, Form are Personified in This New Silhouette. They Mark One of the Achievements that Came Out of the War.
"From my viewpoint," Mr. Rapoport continued, "it is most gratifying that there is a complete change of silhouette to help the prevailing conditions. Style becomes of paramount importance in times like these.
France does not lack in style or materials of every description, including duvetyns, but there is a lack of woolen materials. I predict a season of gorgeousness.
I predict a season of richness, and I also predict a season of the most significant activity that has ever been known either by the manufacturer or the retailer. Paris is rushed with business.
Prices seem to be no object at all. A garment which cost six hundred or seven hundred francs a few seasons ago is now twenty-five hundred francs, and these high prices are paid readily."
"The women of France," Mr. Rapoport said, "are in a victorious spirit, and the couturiers are also in this same frame of mind, and the revolution in the style world that will spring from that spirit will be phenomenal."
"For the coming season, I predict a shortage of the finer merchandise which will be helpful to both the retailer and the manufacturer, as in our industry it has always proven that a surplus of merchandise is not profitable to either the maker or the retailer. Every sign points to a most phenomenal season," Mr. Rapoport concluded.
Mr. Rapoport's ideas upon economic conditions of supply and demand in the huge ready-to-wear industry, in which he stands as one of the foremost American creators, is always of particular interest because Mr. Rapoport is conceded to be a real thinker, who weighs cause and effect carefully before he gives expression to his ideas.
All of his many friends and acquaintances know him as a man of great sincerity and splendid judgment.
In the interesting collection of Paris models which Mr. Rapoport recently brought back to America with him are garments from the following houses, Jenny, Renee, Worth, Paquin, Frances Rolfe, Monjarret, Bernard, Cara, Royant, Chanel, Georgette, Premet, Lanvin, Drecoll, Boue Soeurs, Cheruit, Brandt, Agnes, Pantel, Parry, Doeuillet, Margaine Lacroix. Rolande, Lina Mouton, Bulloz, Fairyland and Lelong & Fried.
Jacob Rapoport & Co. "The Story of The New Silhouette," in The American Cloak and Suit Review, Volume 18, No. 1, July 1919, p 154. Images from a frontispiece advertising section by Jacob Rapoport & Co entitled "The Story of the Birth of the New Coat Silhouette for the Fall of 1919 "La Merveilleuse." in the same issue.
Note: We have edited this text to correct grammatical errors and improve word choice to clarify the article for today's readers. Changes made are typically minor, and we often left passive text "as is." Those who need to quote the article directly should verify any changes by reviewing the original material.