The Increased Charm of Lace - June 1918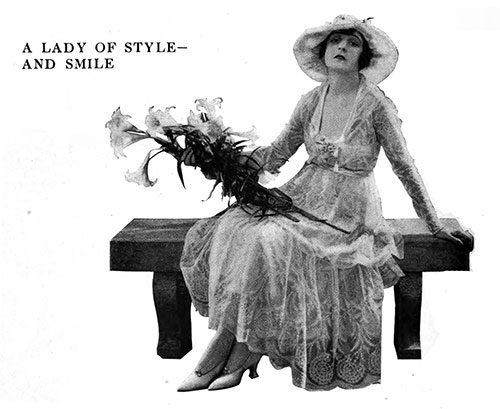 Chantilly and Filet Leaders; Val Has Returned with the Cotton Frock Jenny's latest collection of models are chiefly of lace, with black, cream, and white in for a good Summer season rather than heavy metallic designs when dyed laces are taken of a light effect.
Filet everyone seems to approve of Black Val is quite the pet for a flounce skirt and cream d'Alencon as tunic overskirts. Jenny keeps to light white effects.
Laces are much prettier; tabliers are in again at 24-inches. Jenny if pleased wears black satin and cream d'Alencon side panels. Black Val, 14-inch, is used for corsages passed under the arms straight around the body. Jenny likes lace and uses it always when fashionable and sometimes when not.
Laces are "looking up" in a cheerful, "come to stay manner" which is very inspiring to the manufacturer, retailer, and designer; the latter especially will rejoice in the softer gowning now regaining style and position.
For the street, a plain tailored coat suit or dress but for the house the soft, beruffled 1860 styles so charming in dainty lace-trimmed cottons.
This is the secret, who will solve it—did laces bring such frocks back or did the frocks capture the laces?
Wash Laces Wanted
Vals, Cluny's and other wash laces are wanted in generous quantities to trim sheer and other cottons. The ruffles of Val trim tunics, fichus, elbow and cuff sleeves.
Flat rows of Val insertion, cross and lengthwise, are appearing on the Midsummer gowns of white and colored effects. The cutting trade has taken hold of lace in a manner that indicates business. The neckwear trade is also using generous quantities of Val flatly and as ruffles.
Lace is also used of tunic depth, 18 to 27 inches, often colored either to match the skirt or to contrast artistically. Five-inch and narrow Venise edgings are called for, also narrower widths of filet. As a finish to edges, narrow laces will obtain.
Venise is selling well in widths of 1/2 to 1 1/2 inches to finish collars, cuffs, fichus, jabots, tunic, and blouse edges, etc. They are very lightweight and are close imitations of the old "real" Venise.
Filet is now made at Calais and Valenciennes, the former place introducing medallions of Venise when intended for silk underwear. Cotton lingerie is also trimmed freely with lace.
Black Chantilly Leads
The hold that the above lace has on dressmakers and the cutting trade cannot be broken. It flourishes from entire gowns to a shoulder scarf draped over the exposed shoulders. Whole gowns of the lace vie with side and back panels, parts of a bodice, etc.
Silk net may also form the gown and trimmed with Chantilly. The net is also hand or machine-embroidered to make it unusual. A few tailored silk gowns have a vest of cream or white Venise or Irish lace.
The latter is warmly recognized in London and is being warily used by French dressmakers. All these maneuvers indicate a good season for the evening attire and next Summer wear trimmed with lace.
Chantilly's are now made in this country and are, in many instances, worthy of being labeled "made in the U. S. A." Fancy net tops are combined with Chantilly edge and designs.
The 27-36-inch widths are the best sellers; if the lower skirt is used as a deep flounce, the 40-45 inch prevails as women are growing so tall nowadays. The use of laces always brings in nets, a productive partnership.
Many Classes Returning
Oriental, shadow, Maltese, point d'esprit have been noticed besides the qualities named previously. High-class blouses have bits of real Val that add to the value, but also to the appearance.
French blouses have a natural aptitude for "real" lace. Fine handkerchief linen and "real" Val makes a dream of a $25.00 note, but the exquisite artistry of the garment is unmistakable.
"The Charm of Lace Increases: Chantilly and Filet Leaders; Val Has Returned with the Cotton Frock" in Dry Goods and Apparel, New York: The Dry Goods Publishing Co., Inc., Vol. XIX, No. 4, June 1918, p. 45.
"A Lady of Style and Smile" image from Dry Goods and Apparel, New York: The Dry Goods Publishing Co., Inc., Vol. XIX, No. 2, April 1918, p. 12.
Editor's Note: Some terminology used in the description of women's clothing during the 1800s and early 1900s has been changed to reflect more modern terms. For example, a women's "Toilette" -- a form of costume or outfit has an entirely different common meaning in the 21st century. Typical terms applied to "toilette" include outfit, ensemble, or costume, depending on context.
Note: We have edited this text to correct grammatical errors and improve word choice to clarify the article for today's readers. Changes made are typically minor, and we often left passive text "as is." Those who need to quote the article directly should verify any changes by reviewing the original material.